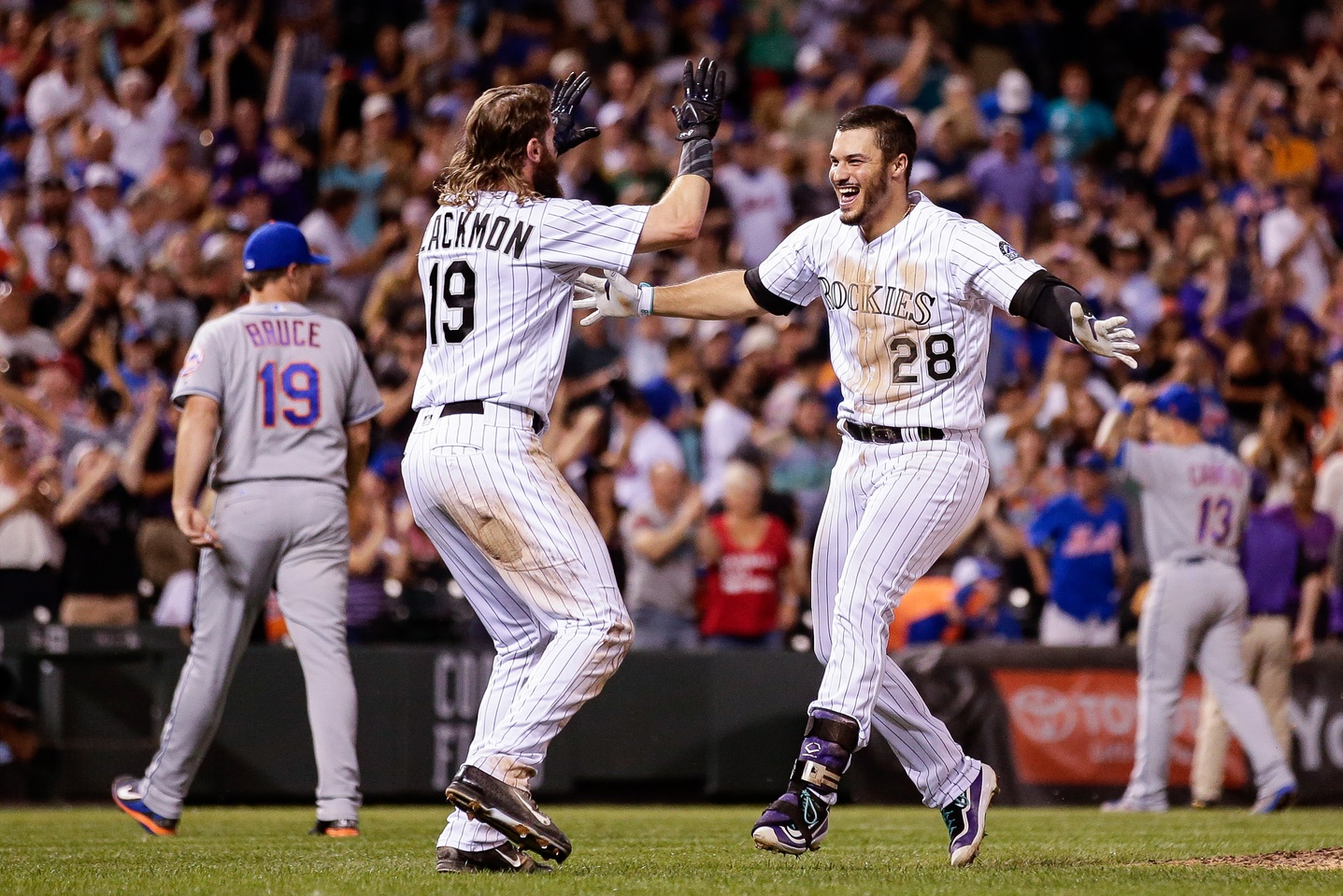 The Colorado Rockies defeated the New York Mets 5-4 Tuesday night thanks to another magical night at the plate from one of baseball's best, Nolan Arenado.
Arenado put the team on his back Tuesday night, driving in four of the Rockies' five runs.
In the sixth inning, with the Rockies down 2-0, Arenado stepped up to the plate with two runners on. In typical form, Arenado belted a three-run home run to right-center field to give the Rockies a 3-2 lead.
From there, the Rockies and Mets exchanged blows with Asdrubal Cabrera driving home a run on a sac fly in the 7th and Jay Bruce pushing the Mets ahead again in the eighth via the long ball.
However, the Rockies answered quickly when Carlos Gonzalez reached base on an infield single to score Mark Reynolds and tie things up at four runs a piece heading into the ninth inning.
After a miracle game-saving catch by Charlie Blackmon in the top half of the frame, the table was set for the Rockies to walk off.
Blackmon led off the bottom of the ninth with a walk followed by an error committed by Amed Rosario, the Mets' top prospect, on a ground ball hit by DJ LeMaheiu. The stage was now set for Arenado to work some magic once again.
With an 0-2 count, Arenado snuck a single into center field, scoring Blackmon to give the Rockies their 61st win of the season in epic fashion.
Electric performances in pressure situations are becoming the norm for Arenado and he's loving every second of it.
"I don't mind it," Arenado said of hitting under pressure following the game. "To be honest, I want those at-bat's, those moments. I don't mind. I want to hit in them."
For Arenado, the heat of the moment is where he performs best. Before Tuesday's ball game, Arenado owned a whopping .429 batting average with two-outs and runners in scoring position.
"He can put the bat on the ball when he really needs to," Manager Bud Black said of Arenado. "And he plays to the situation. He knew we needed a hit there."
The Rockies and Mets meet again at Coors Field on Wednesday. First pitch is 6:40 p.m. MDT.