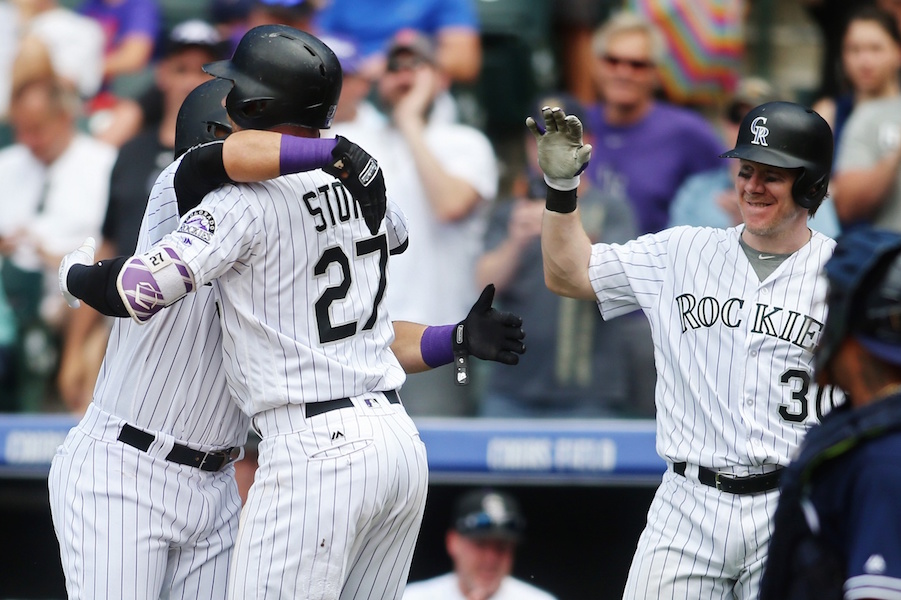 Having scored nine or more runs (taco's [sic] for everyone!) in six of their last nine games, it seems the Colorado Rockies' bats are back.
During a 5-15 stretch that spanned both sides of the All-Star break (okay, only two were on  the "post" side, but still), the Colorado Rockies batted just .243 as a team and averaged 6.3 runs per game. In their 15 losses during that stretch, they scored just 41 total runs (an average of 2.73 per game).
Through five innings on Wednesday, the Rockies had pounded out 16 hits and scored 13 runs against the San Diego Padres – tying their season high in runs, recorded just a few days prior against the Mets. They eclipsed that total with a new high for the year, winning 18-4.
Over four games against the Mets and Padres, including a three-game sweep of San Diego, the Rockies recorded 61 hits and 49 runs. They hit 13 doubles, two triples and 11 home runs in those four games.
After a night off on Tuesday, Nolan Arenado had a monster day at the plate against the Padres on Wednesday. The reigning back-to-back Sliver Slugger, home run and RBI champ was 5-for-6 with seven RBIs and four runs scored, including three home runs. He was one of three Rockies to go deep on the day.
The offense had been showing signs of breaking out in a big way, putting up a pair of double-digit lines against the White Sox just before the All-Star break.
Gerardo Parra has been the hottest of the Rockies hitters of late. Parra, who was one of the few Rockies without an RBI on Wednesday, had at least one RBI in eight straight games after coming of the disabled list. On Tuesday he was 3-for-3 with a pair of walks and three runs scored to go with his lone RBI. He was 4-for-5 on Wednesday with two runs scored, but failed to drive anyone home.
Trevor Story, who entered the game Wednesday hitting just .227, is starting to pick up steam. He was 3-for-4 with a triple and a home run in the finale against the Padres. He is hitting .300 (10-for-30) with 10 RBIs over his last eight games.
Charlie Blackmon continues his hot season at the plate. Over the past nine games, the All-Star centerfielder is hitting .473 (18-for-38) with two doubles, two triples and five home runs.
Naysayers will argue that these inflated numbers have come against terrible pitching teams. They'd be mostly right.
Entering Wednesday's game, San Diego had the No. 23 ERA in baseball at 4.65. (It will be much worse on Thursday). The Mets are even worse at 4.94 (and the Rockies dropped two of three in that series). The White Sox are more respectable (and above the Rockies) at 4.50. However, the only pitcher who picked up a win for Chicago in that series against the Rockies has since been traded to the other side of the Windy City, and is now pitching for the team hot on Colorado's tail for a Wild Card spot – the Cubs.
The Rockies will have some big tests over the rest of the month to see if their bats really have come alive. Up next they host the Pittsburgh Pirates, with a team ERA of 4.12 (12th). After that it's a trip to No. 5 St. Louis (3.88) and then on to Washington (4.06, 9th).
For 48 hours, though, they can enjoy their biggest offensive output of the season.