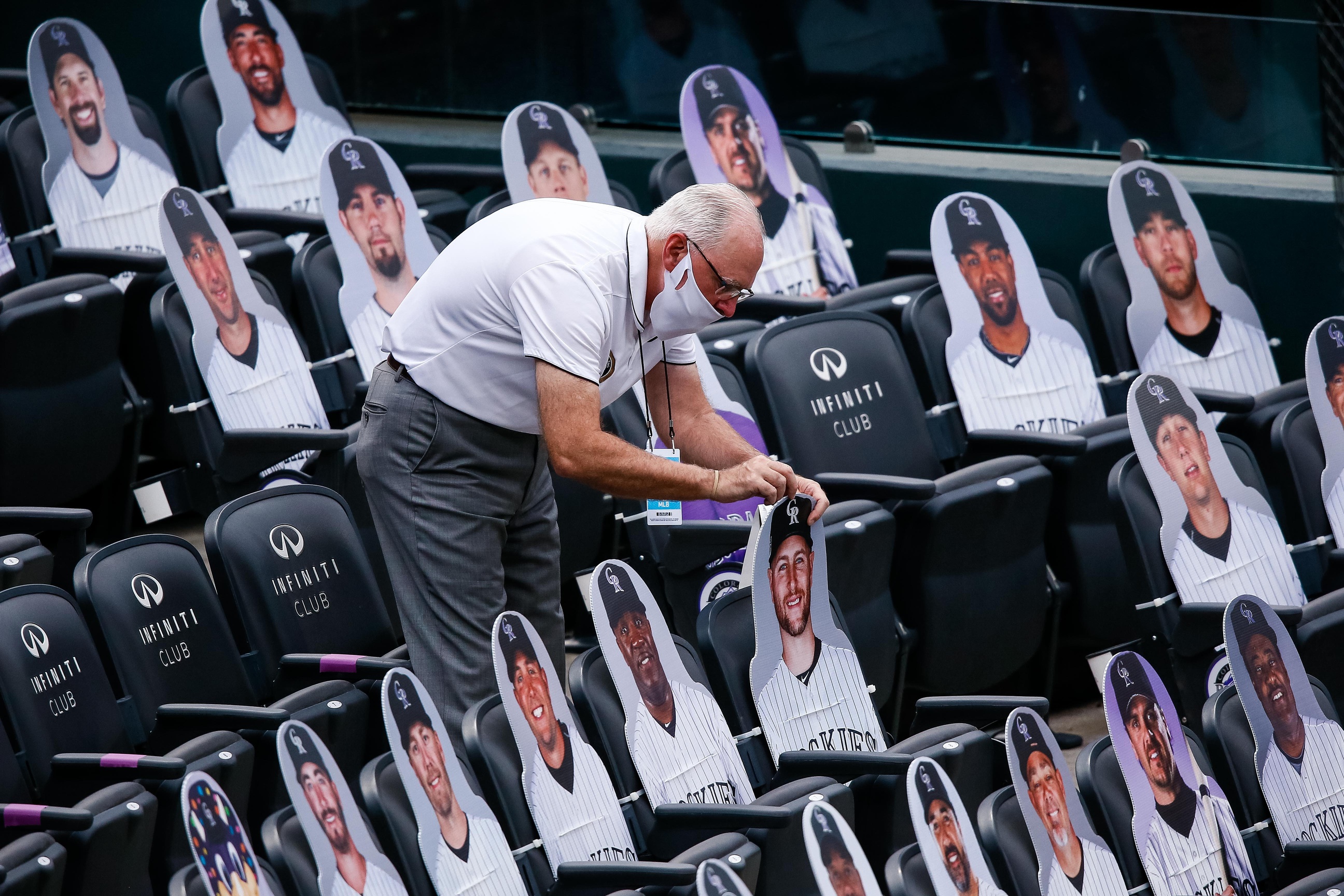 Doing what they can to make the baseball experience seem normal, MLB has opted to put cardboard cutouts of people in the seats to simulate a crowd as you watch your favorite team from the safety of your home. Most teams have gone with fans who have paid for the privilege of having their grinning mugs stare at you, lifeless and cold as real people silently (except for Robbie Ray) go about their business on the diamond.
The Rockies have gone with former players to populate the seats at Coors Field and while it's nice seeing Todd Helton and Larry Walker in the stands, I'm not quite sure why they didn't go the fan route. It seems like teams are charging anywhere from $25 for season ticket holders to upwards of $100 for the privilege of your face being there. And since MLB owners will let you know how poor they are at any chance they'll get, I'm surprised it's not more.
But since the Rockies don't have fan cutouts (yet), I've compiled a list of people I'd like to see in the seats at Coors. Please let me know if I've missed anyone.
Dog the Bounty Hunter
Denver native, Duane "Dog the Bounty Hunter" Chapman would be instantly recognizable in the seats at Coors and a constant reminder to not skip bail, you naughty boys and girls.
Chauncy Billups
Another Denver guy who needs to be there. I'm still not sure why there isn't a statue of him outside George Washington high school.
John Elway
Every home game will be John Elway's birthday with a cutout of the Duke staring back at you.
Dikembe Mutombo
This one will have to be wagging a finger at any pitcher thinking he can escape the clutches or Coooors.
Supreme Court Justice Neil Gorsuch
He paid for his tickets and he's ruling that second deck shot, a home run.
Rodney Dangerfield (from Ladybugs)
Colorado's most famous soccer coach will get some respect sitting above the Rockies dugout.
Mike Shanahan
Mike is always there anyway, getting some sun when he sits behind home plate. So it's odd not to have him there now. It doesn't take a Mastermind to see he needs to be there.
Jared Polis
The governor loves himself some Rockies and a prominent spot in the stadium would be a nice thank you for guiding us through these troubled times.
Shag Man from Rocky's Autos
Is the Shag Man still making commercials? Is he still alive? Has internet car buying made a used car lot obsolete? Who cares. Shag Man will be with you forever every time the camera shows Trevor Story looking at his bat like it just spoke to him in Gaelic.
Sister Who
The Sacred Clown of local Denver cable access. Look it up.
Barrel Man
His place is forever Mile High Stadium and maybe they'll have one of him ready when the faux-football season begins, but for now he can show his eternal support of Colorado teams from behind home plate.
Honorable Mentions for being from Denver or being Denver famous:
Trey Parker
Bret Saunders
Don Cheadle
Adam Cayton-Holland
Amy Van Dyken
Ann B Davis (Alice from the Brady Bunch)
The guy who used to roller skate around in a tu-tu on Colfax
Frank Azar (the Strong Arm)
Pam Grier
Neal Cassady and Jack Kerouac
Kip Winger
You, the fan
Peyton Manning…but have it be the real Peyton Manning holding still and when he moves after the 3rd inning, everyone will freak out.
And, as usual, here's some bets for the week:
Avs are -180 on the moneyline and the O/U 5.5 in its first game against the Coyotes. My take is the Avs come out flying and will try to dominate the Yotes early and often. I'd take the Avs on the moneyline but I'm thinking the under is what you should be looking at in a tight but fairly lopsided affair. Oh and Carl Soderberg is +390 just to score. If anyone on Phoenix is going to score against the Avs, it will be him.
In a final tune up for the Nuggets as they prepare for its run to the finals, the team takes on the Clippers on Wednesday and the Raptors on Friday. Stay away from the Clippers game, but do take the Nuggets up on the Raptors. It will depend on what the lines are but after Malone benched everyone against the Lakers and almost won, stay away from any individual player props that could blow up in your face. Definitely not speaking from experience from the other night.
YOUR Rockies will have had three games at home against the Dbags which I assume will be high scoring and then they meet the Rangers at Coors for three more to take you through the weekend. If they tear through Arizona like kleenex at a snot party, expect Charlie Blackmon and company to keep rolling against Texas. Just keep an eye on who's pitching and what the lines are. Then they get Houston and the Dodgers which will be a conversation for next week.