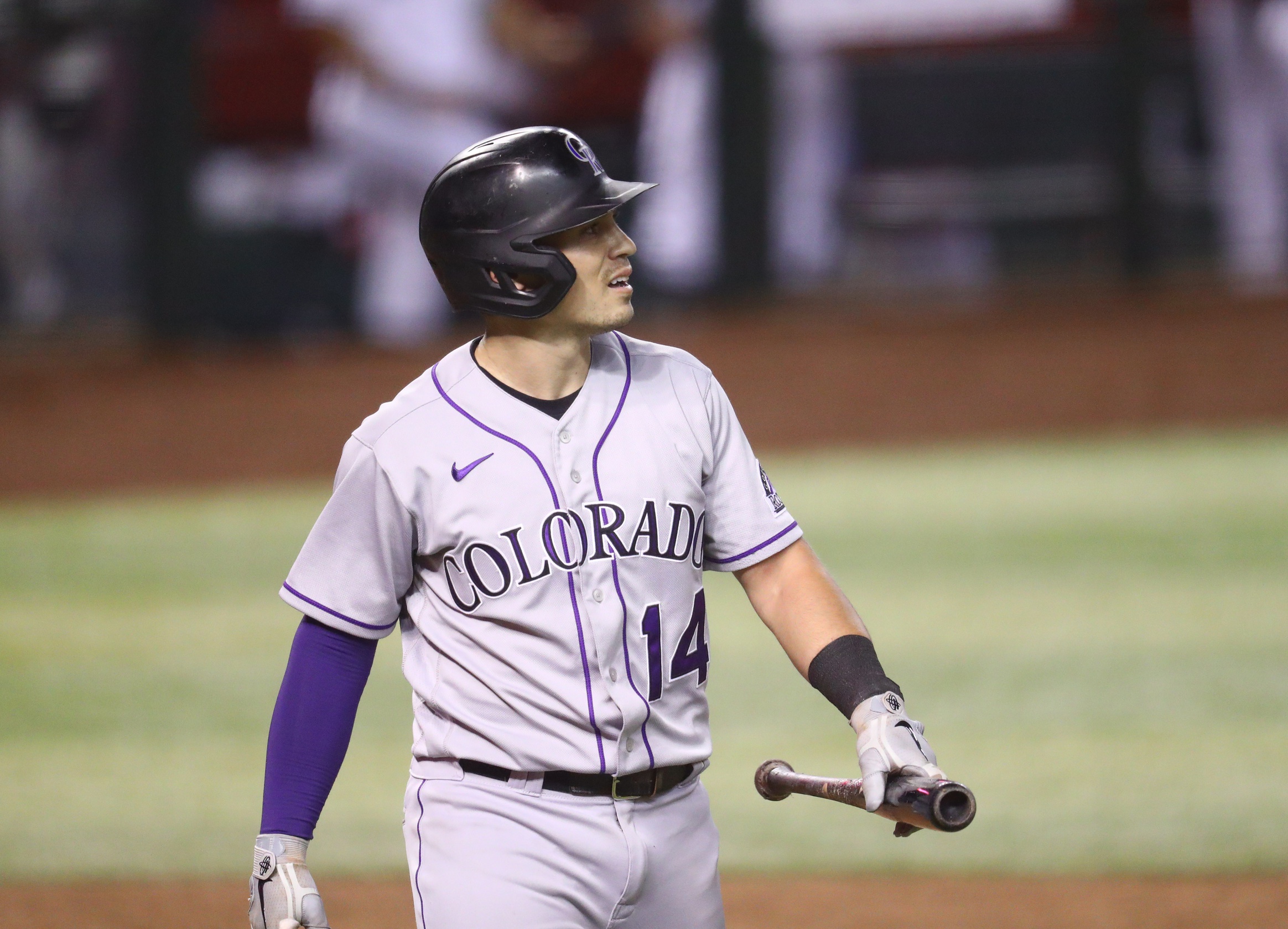 The Colorado Rockies entered the 2020 season with a group of catchers that combined to put up an OPS near .600 and, overall, were exactly replacement level during the previous season, so it wasn't exactly a stretch to say that the position was a glaring weak spot. Several months and 60 games later, that assessment could not have been more accurate; in fact, things were probably worse than expected behind the dish for the Rockies.
Colorado's catching corps ranked 29th in baseball in rWAR, finishing the season worth -1.1 wins. Only the Arizona Diamondbacks had worse production from behind the plate. Tony Wolters, Drew Butera, and Elias Díaz combined to hit just .230/.264/.305 in exactly 200 plate appearances. The .569 OPS was better than just three other groups of catchers, and keep in mind that's not a park-adjusted stat. Worse, the Rockies' catching trio didn't exactly light the world on fire defensively; Wolters was dinged for minus-2 Defensive Runs Saved, and all three backstops ranked in the bottom third among MLB catchers in pitch framing effectiveness, per MLB's Statcast.
No matter how you slice it, 2020 wasn't a good year for Rockies catchers. Here's a more detailed look at what happened, and what to expect going forward:
Most Valuable: Elias Díaz (-0.1 rWAR, -0.1 fWAR)
For the Rockies' most valuable cacher to be worse than a replacement-level player says all you need to know about 2020. He did it by showing somewhat of a pulse at the plate; the 29-year-old backstop hit a middling .235/.288/.353 with a pair of homers—the only two hit by Rox catchers all year—but he also finished with the fourth-best hard-hit rate (39.6 percent) on the team, suggesting his production might have been a little better with some luck. Díaz is capable of regularly hitting the ball hard to the pull side, and his strikeout and walk rates were better than those of both Wolters and Butera.
None of this is to say Díaz is the answer going forward. He caught just one of eight attempted base stealers, offered negative value in terms of pitch framing according to both Statcast and Fangraphs, and didn't offer the Rockies great platoon production (.670 OPS vs. left-handed pitchers). He did, however, hit better on the road (.662 OPS) than he did at home (.598 OPS), and that's always welcome from Rockies position players.
Least Valuable: Tony Wolters (-0.5 rWAR, -0.6 fWAR)
Wolters had some moments early in the season, hitting the ball consistently hard despite not getting a ton of results. But all of that went away rather quickly for the fifth-year big leaguer, who finished his second consecutive season without a single barreled batted ball event. Wolters hit just .230/.280/.270 with four extra-base hits in 109 plate appearances. And, he wasn't much better defensively; after nabbing 34 percent of attempted base stealers last season, Wolters' caught stealing rate was just 15 percent in 2020. In terms of pitch framing value, Wolters ranked 19th of 24 MLB catchers with at least 250 innings behind the plate.
In short, we've always known that Wolters isn't much of a hitter, but he's been able to balance that with decent-to-good defense behind the plate. He wasn't able to do that in 2020, and the Rockies have to consider looking elsewhere for a No. 1 catcher as a result.
Just Kinda There: Drew Butera (-0.3 rWAR, -0.5 fWAR)
Butera was given only 43 plate appearances in 2020 and still managed to cost the Rockies half a win in terms of value. The 37-year-old veteran had just six hits in 39 at-bats and didn't contribute much of anything tangible defensively. He's a clubhouse guy on a team that finished with a .433 winning percentage. Not great.
What Happens Next?
That all depends on whether the Rockies are truly going to give this another go in 2021. If they want to have any shot at competing for a postseason spot, even if we see an expanded playoff format again, the organization has to upgrade at catcher. Signing J.T. Realmuto, the best catcher to hit the free-agent market this coming offseason, to a long-term deal probably isn't realistic. And, there's little immediate help in the farm system (at catcher or, really, at any position, as we'll find out the further along we get in this series). So, Colorado will have to get creative and seek out a trade. That might not be easy given the previously mentioned shape of the farm system. But if they can swing it, trading for Boston Red Sox catcher Christian Vásquez—a free agent after next season—and his near-.800 OPS over the last two years would be a solid win-now move.