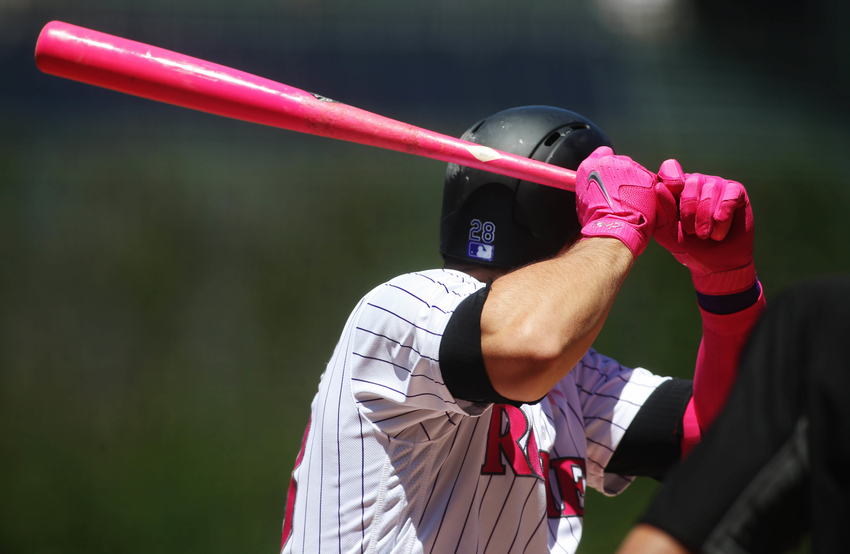 The Colorado Rockies will have a different look Sunday afternoon. The team will be honoring mothers around the globe with pink uniforms accessories for the rubber match against the Milwaukee Brewers, an annual tradition that the majority of players around the MLB seem to really enjoy.
Colorado's young outfielder Noel Cuevas posted a photo with a preview of the 2018 Mother's Day gear Sunday morning.
Mothers Day Gear is just ???? #happymothersday pic.twitter.com/jhu8oD3d1I

— Noel Cuevas (@noelcuevas56) May 13, 2018
Ten years ago, players would use pink bats but rarely made serious alterations to their traditional uniform choices. But in 2018, the MLB really goes all out with pink uniforms, hats, bats, cleats and a variety of other accessories.
Along with the gear on the field, the Rockies are partnering with Susan G. Komen Colorado to raise funds for breast cancer research. According to the organization's official website, their promise is "to save lives and end breast cancer forever by empowering people, ensuring quality care for all, and energizing science to find the cures."
For every ticket the Rockies sell as part of its Mother's Day package, they team will donate $5 to Susan G. Komen Colorado. The ticket package includes an opportunity for families to walk on the field pre-game and participate in a parade around the warning track.
The Rockies snapped a three game losing streak with a 4-0 shutout victory over the Brewers Saturday night. In the victory, Kyle Freeland recorded his fourth consecutive quality start, tossing 6 1/3 scoreless innings.
Jon Gray will be looking to match the success of his young teammate with another strong performance as well. Gray has won three consecutive starts, tossing at least six innings in all three of those ballgames. Over that span, Gray has given up only one run and recorded 25 strikeouts.