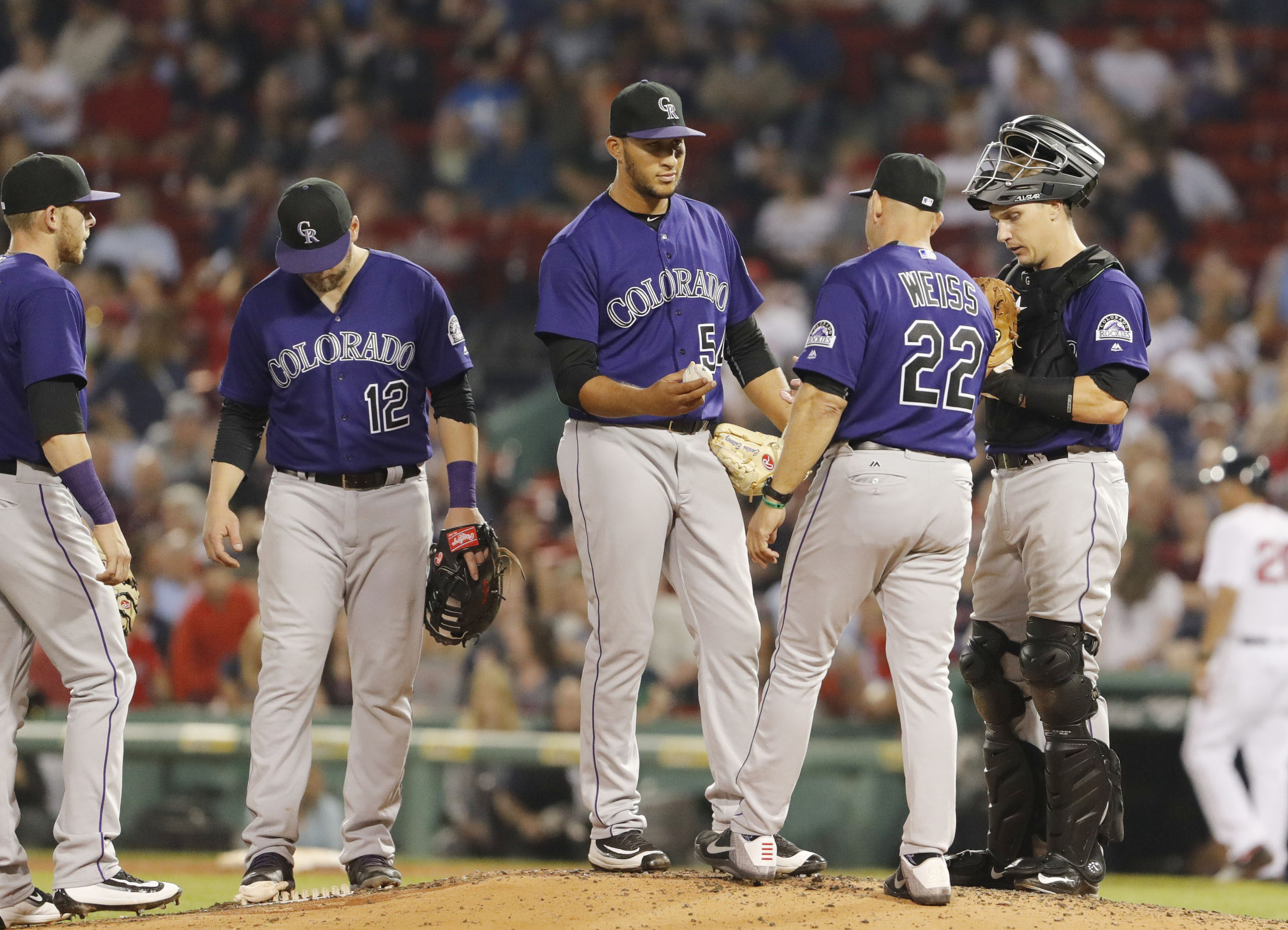 This 10-9 slugfest which turned into the longest nine-inning game in National League history* will give a journalist enough copy, that will never see the light of day, to write a novel.
But even with four lead changes and nearly a walk-off fifth, the script for the Rockies Friday night looked quite familiar.
After taking a lead in the sixth, the bullpen gave up six runs in the seventh inning, giving the D'backs their biggest run differential of 8-3. But the Rockies kept chipping away as they have continued to come back from big deficits in the last three games.
If this team were bad, they would have lost by that score. Filling the gap to win is what will give the Rockies the chance to be competitive come the trade deadline.
For Carlos Gonzalez none of that past few days mattered as he came to pinch hit in the eighth inning and hit a double to score the go-ahead run. Entering the game he was hitting .138 in his career as a pinch-hitter.
Walt Weiss said to start the game, Gonzalez was 50-50 whether he'd even play his All-Star or not coming off a slight wrist injury the night before. Cargo said the game dictated that he was meant to play.
"[Walt] didn't even ask me anything because he knew that I was mentally and physically prepared. Especially after that game I played last night when I missed a lot of opportunities," he said. "But that is the good thing about this game. You always will get another opportunity and today I had a great at bat and came through. But too bad we couldn't hold the lead."
The manager and his team, without prompt, continue to defend their young closer, Carlos Estevez, who was unable to hold consecutive leads in the ninth.
"Estevez has been pitching pretty well. Just two bad outings yesterday and tonight, and we believe in him, and we're not going to point any fingers because a lot of guys had a bad game, just the way I had a bad game yesterday," Gonzalez said.
Yasmany Tomas hit a game-tying home run off Estevez that he said he missed over the plate middle away instead of up in the strike zone where Nick Hundley wanted. Estevez said otherwise he was confident he made good pitches the rest of the way.
"I still have confidence in how I pitch and in my team too," Estevez said. "I know they have my back. I know Walt has shown me before that he is going to put his confidence in me every time he needs. I'm confident now that things are going to get better. Rough few days we're going to wash it off, and we're going to get going again."
What got lost in all this resiliency was the resiliency of starter Tyler Anderson who gave up eight hits but limited the damage to two runs and gave the Rockies another solid start. He became the second Rockies pitcher to go five or more innings and allow two or less runs in his first three career starts (Jason Jennings was the other). Hundley said the young lefty has a ways to go, but he's done well for the team so far.
In the ninth, Hundley hit a monster shot that looked like the walk-off homer but too much topspin and a remarkable catch by Ricky Weeks Jr. alluded the team of the break they so desperately needed. The Rockies have scored 23 runs in the past three games but haven't come away with a victory. All these runs may seem wasted but not for Hundley.
"I don't think anything is wasted," he said. "You don't play in a park like this and not be able to be resilient. If you don't want to play here, go somewhere else. We chose to do this. The ebbs and flows of the game are going to be a lot higher. That's not anything but the truth. We have resilient guys who are going to come out and play hard tomorrow."
The team now is in fourth place in the NL West standings — not to mention, the first place Giants are 31-9 in their past 40 games, which is their best span going back to when they were the New York Giants. The Rockies went 4-for-26 with runners in scoring position and left 16 runners on base, which is the most since 2013. This team needs amnesia quick, and  they need to take the advice of their veteran.
"For me, I have been in the big moments before. Being clutch in my career and you're going to fail a lot times in your career too," Gonzalez said. "What works for me is that failure can make you even better. I smile whenever I have an opportunity like tonight because it's just another great opportunity. I'm like okay, yesterday didn't work but today is going to work."
For the sake of the Rockies, let's hope game three of this series works and not like the last three games.
*The previous record was 4:27 (Dodgers at Giants in 2001)