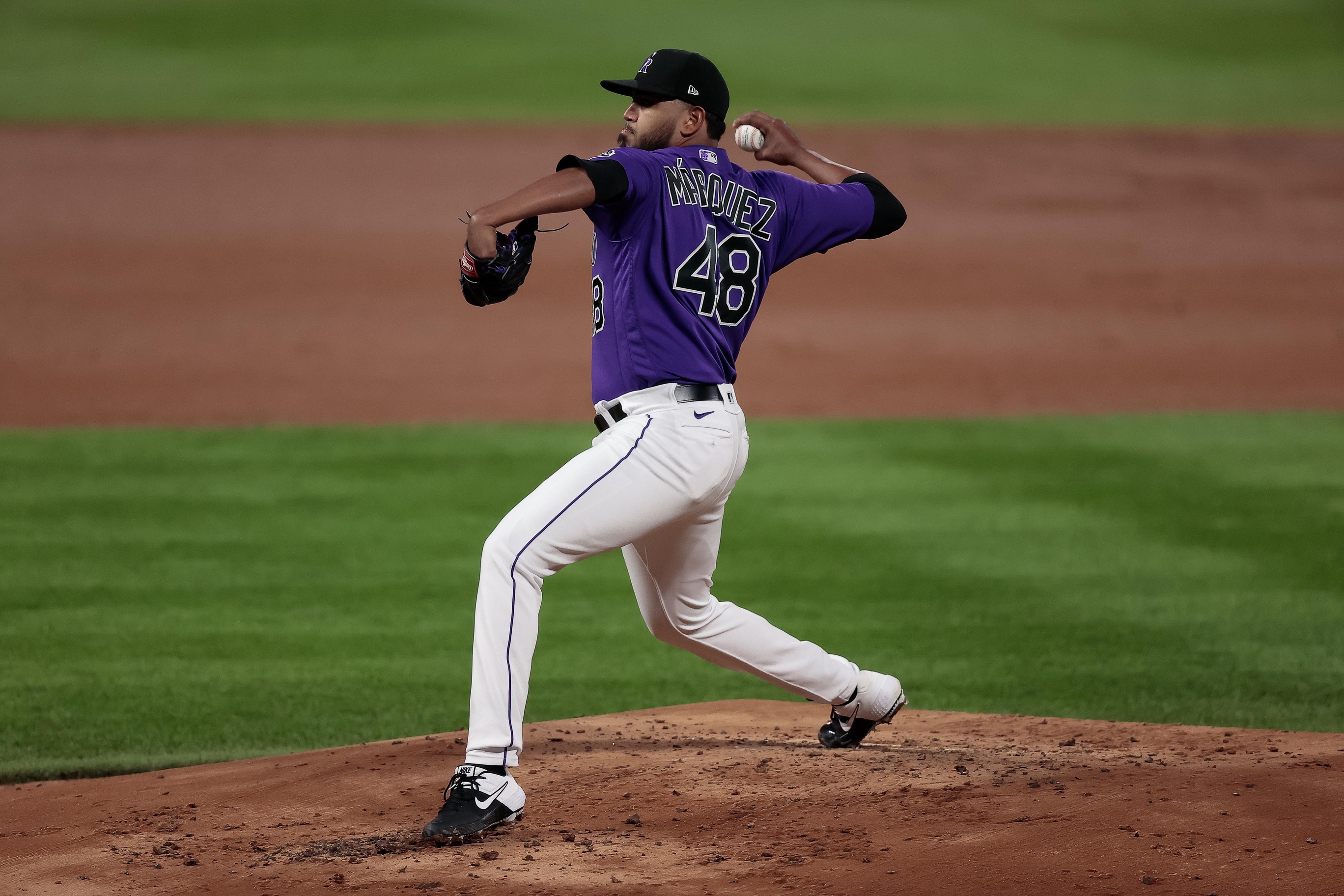 The Colorado Rockies' weekend series against the San Diego Padres painted a picture of two franchises headed in opposite directions. The Rockies, though fresh off of three consecutive wins over the Arizona Diamondbacks, appeared sluggish, downtrodden, and borderline bad. The Padres, meanwhile, showed their resilience in between a pair of dominant performances filled with youthful exuberance and general excitement.
Colorado was outscored, 32-10, en route to losing three of four to San Diego at Coors Field over the weekend. Aside from the Rockies getting great work from Antonio Senzatela in a walk-off win Saturday, there was little—if anything—to be excited about in a non-competitive slate of games. Kyle Freeland had his first bad start of the season, allowing four runs on 11 hits in just 4 1/3 innings on Friday. Ryan Castellani continued a downward trend two days later, this time surrendering five runs on six hits in two innings. And, Germán Márquez—despite notching seven strikeouts—allowed five earned runs on Monday, extending a poor stretch that now includes a 6.89 ERA in five starts.
The Rockies' bullpen was a mess all weekend, giving up 17 runs in 13 2/3 innings of work. That included Carlos Estévez squandering a 3-0 lead in the eighth inning on Saturday before Daniel Murphy bailed him out with a game-ending single in the ninth. The bullpen's continued struggles makes the timing of the acquisition of Mychal Givens, whom the Rockies picked up in a trade with the Baltimore Orioles on Sunday, perfect. Whether it will be enough to overhaul the unit remains to be seen.
Colorado's offense didn't play well at all over the course of the four-game set.  Matt Kemp his a three-run homer to help his team jump out to a 4-0 lead in the first inning of the opener, but the Rockies did little else for the rest of that game, which ended in a 10-4 victory for the Padres. The Rox offense scattered 12 hits on Saturday, which was enough to win the game, even though just one of those hits went for extra bases. The key for Colorado was a 5-for-11 performance with runners in scoring position after going just 1-for-8 the night before. It didn't really mattered what the offense did on Sunday because the pitching staff gave up 13 runs on 17 hits, eight of which went for extra bases—including five home runs. But only Nolan Arenado had more than one hit for the Rockies in the 13-2 loss, during which Colorado hitters struck out 12 times and never got going against Chris Paddack and the Padres' bullpen. Concerned by the Rockies' poor offensive performance and overall lack of energy, general manager Jeff Bridich worked out a trade for veteran outfielder Kevin Pillar, a defense-first player who hit 21 home runs last year and owns a career-high .795 OPS this season.
On the bright side, the aforementioned Arenado continued to swing the bat well—at least, until Monday, when the Rockies as a team again did nothing offensively in a 6-0 loss—going 7-for-15 with a walk in the series. The star third baseman finished last week 11-for-25, perhaps indicating he's coming out of an extended slump to start the season. The Rockies also got a great outing from Senzatela, who has been one of the brightest spots for the team in 2020. The 25-year-old right-hander tossed seven scoreless innings on Saturday, holding the Padres to seven hits—just one of which went for extra bases—and a walk while throwing 70 of 101 pitches for strikes. Senzatela owns a 3.32 ERA through seven starts.
The Rockies, who are now 5-11 against teams with a winning record and 12-7 against sub-.500 teams, enter a two-game set against the 17-19 San Francisco Giants, a team in the mix—along with the Rockies and a few others—for the last couple of playoff spots. It would be wise for Colorado to pick up a couple of victories before it embarks on another weekend road trip to face the division-leading Dodgers in Los Angeles, where the Rockies were recently swept.