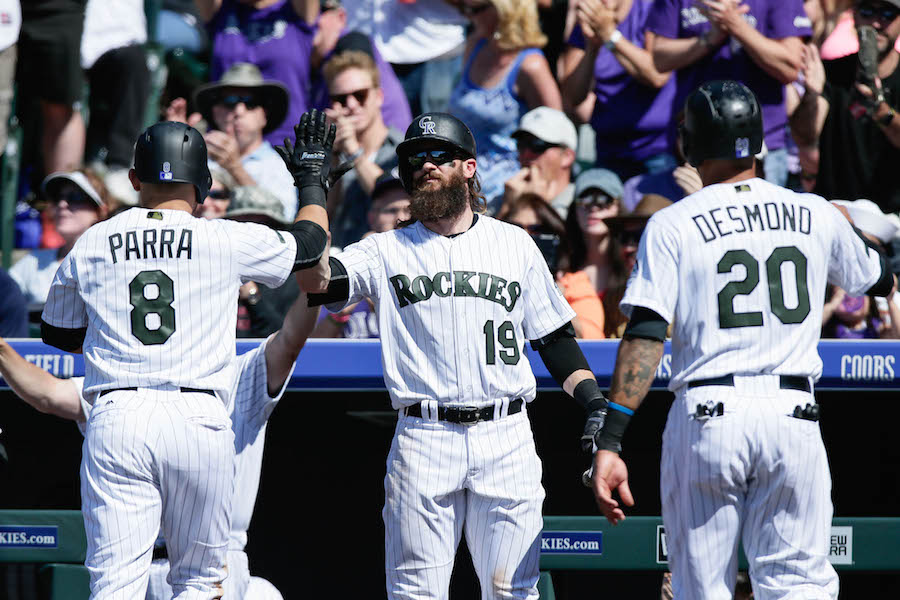 With each passing Cactus League game, it seems more and more likely that Charlie Blackmon will be moving out of the leadoff spot in Bud Black's lineup and bat third for the Colorado Rockies.
Blackmon set a MLB record with 103 RBI from the leadoff spot (104 total) and led baseball with 14 triples in 2017. He won the NL batting title with a .331 average. In moving Blackmon to the third spot in the lineup, Black can surround the centerfielder's already dangerous bat with a pair of All-Star hitters in Nolan Arenado and DJ LeMahieu. The latter has hit above .300 in each of his last three seasons, including a NL-best .348 in 2016, and the former has hit 37-plus home runs and driven in at least 130 runs over each of the past three seasons. The move also allows Black to go right-left-right with his 2-3-4 hitters.
The move has the potential to help LeMahieu, Blackmon and Arenado push their combined numbers even higher in 2018, but it will require a capable hitter in the leadoff role to get on base for that trio to do their damage.
So far in Spring Training Black has experimented with several options atop the lineup, yielding mixed results.
Ian Desmond seems a logical option; however, and icy start to the spring could complicate his candidacy.
A three-time Silver Slugger, Desmond is as versatile in the lineup as he is in the field. Just like he can play virtually any position outside of the battery, Desmond has the potential to be effective anywhere in the lineup.
He has not been effective in any role, however, through five Cactus League games in 2018.
Desmond is just 1-for-16 through six starts this year, with no runs scored and no walks. He has struck out five times. It's a somewhat disconcerting start for the two-time All-Star who is coming off a disappointing first season in Colorado complicated by a hand injury suffered in Spring Training.
Black doesn't put much stock in Cactus League stats, but Desmond's five strikeouts in just 16 at-bats do not bode well.
Against Chicago on Monday, a 5-4 loss, he struck out looking to lead off the game. His next two at-bats were no more productive — a ground out to lead off the third inning and lining into a double-play to shortstop to end the fifth.
On Wednesday against the Rangers he was 0-for-3 with a flyout, an inning-ending fielder's choice and a strikeout. He stranded four baserunners.
For his career, Desmond is a .267 hitter and his strikeout-to-walk totals (110:42) are much higher than Blackmon's (156:41) on a 162-game average basis. Desmond has been a consistent base-stealer throughout his career, though, averaging 22 steals to only six caught per 162 games.
Desmond as a leadoff hitter has 434 career plate appearances (less than 10 percent of his career PAs), with a .272 average and .303 on-base percentage. His numbers when leading off an inning are right around his career average — .268 / .317 in 1,069 PAs.
None of that is particularly inspiring when compared to Blackmon's recent stats, but that comparison may be a bit unfair given Blackmon's proficiency of late. He was a .287 hitter out of the leadoff spot prior to his breakout seasons of 2016 and '17.
Matching that prior average of .287 seems within reason for Desmond, although the Rockies would love to see that number climb closer to .300 — a mark Desmond has never reached for his career.
Gerardo Parra, who is coming off his first season hitting above .300, presents the next most logical case among Black's choices for batting leadoff. The problem with Parra is that he has yet to take an official at-bat so far this spring.
The left-handed outfielder not only turned in a Gold Glove finalist performance in the field in 2017, he also had his one of his best statistical seasons at the plate. His .309 average and .341 OBP were both career highs, as were his 71 RBI.
Unfortunately, he has been unable to try and build off that campaign as he recovers from surgery to remove a bone from his hand. Parra was already at the team facility in February when pain in his right (bottom) hand revealed a broken hamate bone. The timeline for his return should have him back before Spring Training ends, but he will have limited time to get up to regular-season playing speed.
Parra has more experience in the leadoff role than Desmond, logging 954 plate appearances there over his nine-year career. That's just under 22 percent of his career PAs. He has a career .281 average out of the leadoff spot, and has hit .318 as the first batter of a game for his career.
Parra doesn't bring the same base-stealing prowess that Desmond would — the lefty averages just 10 stolen bases and six caught stealing every 162 games — but his strikeout to walk numbers (102:35) on a 162-game average are mostly in line with what Desmond offers (110:41). Parra cut down his strikeout total in 2017 with 67 in 115 games, a 162-game average of 94.
Us Parra in the leadoff role also keeps a left-handed bat atop the lineup and allows Black to go left-right-left-right through his first four hitters. Of course, Parra has to get back to full health in order for that to happen.
Black has limited options in his starting lineup beyond Desmond and Parra.
Shortstop Trevor Story, a right-handed hitter, strikes out far too much (he led the National League in 2017). Rookie first baseman Ryan McMahon (left) will need the protection of more established hitters around him. And Chris Iannetta (right) is a catcher.
Beyond the aforementioned players, Black will have at least one — possibly two — players on his Opening Day roster who would slot in nicely in a leadoff capacity; however, that would mean putting either Desmond or Parra on the bench.
Raimel Tapia, David Dahl and Mike Tauchman are all battling for the fourth outfielder position, and another could end up on the bench depending on how Black decides to utilize his fourth bench spot.
Tapia has the long-term potential to be a prototypical leadoff hitter for Colorado — think Dexter Fowler but hitting strictly left-handed. Dahl and Tauchman, who also hit left-handed, profile much more like Blackmon — power-hitters but also capable of posting high averages and runs scored.
Of course, playing any of those three would mean benching one the established veterans, Desmond or Parra (not to mention either $10 million in 2018 salary for Parra and $22 million for Desmond).
With their stats being so equal, Parra seems like a better fit than Desmond simply for the fact that he is much more the "spark plug" type player both in the locker room and on the field. Plus, having that left-handed bat atop the lineup means Black can avoid going right-pitcher-right when his lineup flips (assuming Iannetta or Story hits eighth).
What seems most likely, at least to start the season, is that Black will platoon hitters atop the lineup. Desmond very well could get that chance first simply because of his health, while Parra and one (or two) of those young outfielders platoon as the established veteran gets back up to full speed.
Of course, Black could always decide to put Blackmon back into that leadoff spot if he doesn't feel completely comfortable with the alternatives. A true pro's pro in the batter's box, returning to the leadoff spot wouldn't faze Blackmon in the least.