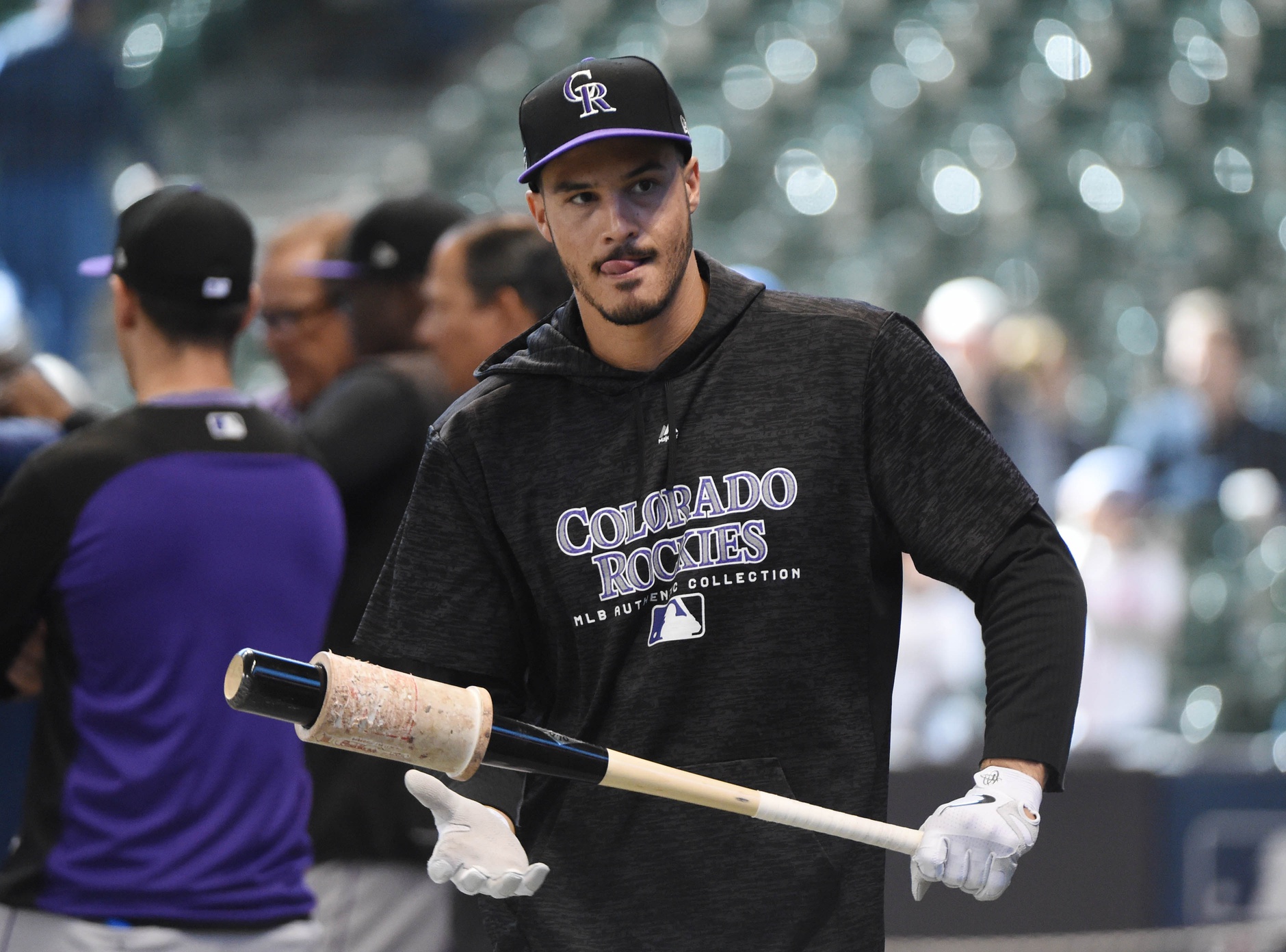 The MLB Winter Meetings are underway in Las Vegas, NV, and the Colorado Rockies will be swirling in the hot stove conversation. And one of the hottest storylines attatched to Colorado is the contract situation surrounding Nolan Arenado.
Arenado is set to become a free agent following the 2019 season. The Rockies have expressed interest in retaining the superstar third baseman long term, though there has been no reported traction on a deal.
Rockies General Manager Jeff Bridich is in Vegas and caught up with MLB Network to talk about the Rockies offseason and was asked in particular about Nolan Arenado.
"We are still communicating with Nolan," Bridich said. "There is nothing to report one way or the other."
Nothing to report means the Rockies aren't close. That's not a positive, considering Arenado has been with the team his entire career and is by-far the best player on the team. Maybe, the best in team history.
So, are the Rockies ready to give Arenado that massive deal?
"Yeah, sure." He said. "Our payroll has grown a lot over the past half decade, and we are continuing to plan on, as I have said in the past, responsible growth. We are not in a holding pattern, we are not drawing back on our payroll. We believe that we can continue to grow responsibly. It's not going to grow by huge jumps every single year, but we have made some commitments that we believe in, guys that we believe in."
Arenado will likely command north of $200 million if he hits the open market. While the price tag is Rocky Mountain High, Colorado still has a legitimate chance of retaining him. Colorado has anteed up money before to retain players long term, including a massive seven-year deal worth more than $125 million for Troy Tulowitzki in 2010, among others.
"We would love to have Nolan around for a long period of time," Bridich said. "We have had a great relationship with him."
Any negotiations the Rockies have with Arenado will be internal, but ideally, the Rockies would like to have their star signed to a new deal before the season starts. But, as one of the best players in the world, that seems less than likely.
Still, the Rockies and Nolan are working to get something done.
"Guys get to this point in their career," Bridich said of Arenado's impending free agency. "He's earned it. He's become one of the top three or five players in the entire game, and we are at a certain point in his career, and a lot of guys arrive at that point. Now it's time to make adult decisions for everyone involved."
Or, is Bridich calling Arenado out there, at the end?
Some general managers' careers are defined by one or two big moves. If Bridich re-signs Arenado, that will be a home run, a highlight of his career. If he strikes out, that will be damning for Bridich's legacy.
What comes next?