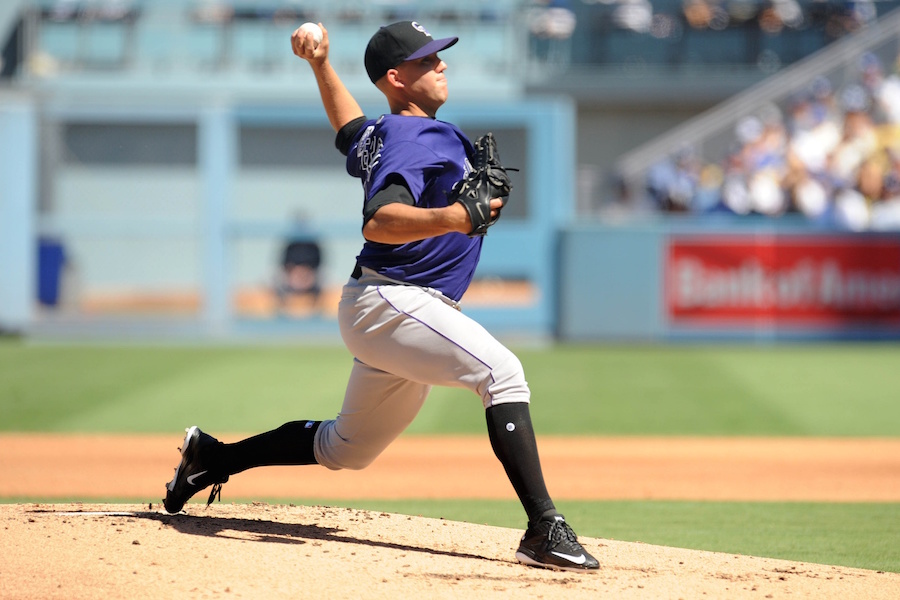 It takes a certain toughness to be a pitcher in Major League Baseball – to march out to that mound every five days with no less than 30,000 fans all fixated on your every move, your every pitch. It's even more exaggerated for pitchers who call Coors Field home – a park with a cavernous outfield and where the ball flies 10 percent farther than anywhere else in baseball. But new Rockies manager Bud Black likes the toughness he's seen in his pitching staff since they first reported to Spring Training back in mid-February.
"What I've gathered so far in four weeks," Black told reporters following Colorado's 3-2 Cactus League victory over the Rangers on Tuesday, "there's some toughness to these guys. They've been taught well in the minor leagues about what it takes to pitch in our ballpark and in the big leagues."
Colorado pitchers combined to strike out 12 Rangers in Tuesday's win, including three from starter Tyler Anderson, four over three innings pitched by Antonio Senzatela and three from newly acquired reliever Mike Dunn, who struck out the side in his one inning of work.
Of that trio, Anderson had the roughest day, allowing one run (a home run) on three hits and a walk in 2.2 innings pitched. Although Anderson labored a bit in the second inning, Black was pleased with the lefty's outing.
"I thought Tyler threw the ball well," Black said. "Again, I thought, good [changeup]. You know, his strength is his mix and his deception. His intent is to be aggressive, to go after guys – which he does. I thought he threw the ball fine."
Anderson didn't appear as pleased with his performance, saying from the locker room that there was room for improvement on his command – especially in the second inning.
"I think in the first inning I was focused on executing pitches," Anderson said. "In the second inning, the home run was still an executed pitch, [but] probably not the right pitch."
After allowing a leadoff home run in the second, Anderson retired the next two batters before running into a little trouble. He surrendered back-to-back singles and a stolen base before walking the bases loaded. But Anderson found some of that toughness Black reference and forced a groundout to third to keep the Rangers from putting up a crooked number.
Overall, Anderson saw some positives in the outing.
"I think it was pretty good – just location, missing some pitches, in the second inning was really the only big thing. And there weren't a lot of pitches that were really missed in terms of not executing, but they were pretty close. Just not quite there," he said.