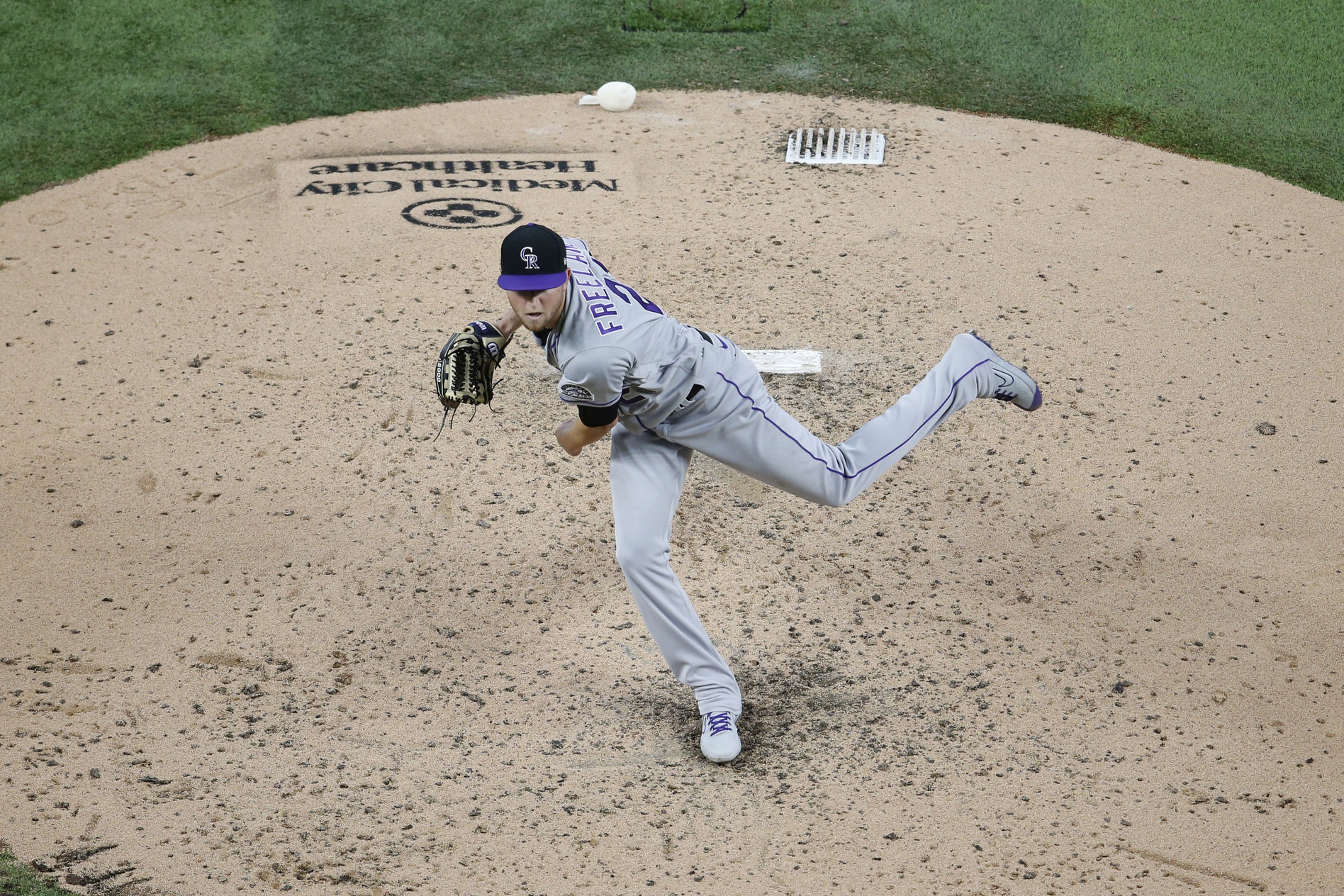 The Colorado Rockies, with a 5-2 win over the Texas Rangers on Sunday at the brand-new Globe Life Park in Arlington, opened the 2020 season with a series victory in somewhat of an unconventional manner given what we knew about both teams heading into the year.
The Rockies held the Rangers to just five runs in three games, a significant development for several reasons. First and foremost, Colorado's bullpen allowed just one of those runs in 9 2/3 total innings. That comes after a season in which the Rockies' relief corps finished with the second-worst ERA and WAR among NL bullpens. It's obviously early, but a good performance from the bullpen might be more sustainable than you might think. A shortened season, combined with expanded rosters, should help curtail the type of wearing out that we've seen happen with that unit in most years. Plus, any improvement from the starting rotation—a terrific group in 2017 and 2018 but not so much a year ago—will assist the bullpen that much more.
Speaking of the rotation, there was a lot to like—in particular, from Germàn Màrquez and Kyle Freeland. Màrquez took a no-hitter into the sixth inning on Opening Day before allowing a pair of doubles, one of which scored the game's only run, prior to his exit. Though he seemed to overthrow at times, particularly after questionable calls by the home plate umpire, Màrquez was generally dialed in and pitched well en route to a six-strikeout performance.
That type of outing from the staff ace wasn't much of a surprise, but Freeland's start in the series finale might have raised some eyebrows. The fourth-year big leaguer looked much less like the mess he was in 2019 and more like the guy we saw in parts of 2017 and all of 2018, limiting the Rangers to just two runs while needing only 80 pitches to get through six innings. The key for Freeland was limiting hard contact while mixing in strikeouts. Last season, 6.6 percent of batted balls yielded by Freeland were barreled, and he struck out only 16.7 percent of the batters he faced. Both of those figures were near the bottom among all NL starters with 100 or more innings pitched. But on Sunday, just one of 15 balls in play—Joey Gallo's towering second-inning home run—against Freeland qualified as barreled and the Denver native struck out five batters, or just shy of 22 percent of those he faced.
As impressive as the Rockies' pitching was, their offense was almost as equally unimpressive. Colorado was able to muster just eight runs against a Rangers pitching staff that is largely the same as the one that finished 2019 with a collective ERA north of 5.00. Until Trevor Story's two-homer performance as part of a five-run Sunday, the Rockies had just nine total hits—only two of which went for extra bases—and struck out 23 times. Charlie Blackmon had his first and only hit of the season in the series finale, and three other Opening Day starters—Ryan McMahon, Sam Hilliard, and Raimel Tapia—are still hitless while looking mostly clueless at the plate.
There is a silver lining, though. The Rockies have drawn 14 walks through three games and boast a team base-on-balls rate of 12.6 percent. In 2019, they had the third-lowest walk rate in the NL at 7.8 percent. Colorado hitters made an erratic Lance Lynn work for everything he got on Opening Day, and their approach was generally good in the absence of being able to buy a hit against the rest of the Rangers' staff, too.
The caveat with all of this, of course, is that it's an extremely small sample. Not to mention, the Rangers' new ballpark played every bit like a pitcher's park when you look at what happened to well-hit balls, as infrequent as they were, which would be quite a 180 from their previous home. However, all of that aside, the entire 2020 season is going to be a small sample. In that vein, every series—and every game—matters, especially with eight teams from each league being eligible for the postseason, and that's why it was important for the Rockies to get off to a good start. They did just that. And the good news is that their next series also takes place in a cavernous, pitcher-friendly environment in Oakland, albeit against an A's team coming off two consecutive postseason appearances. If the Rockies can continue their generally strong approach at the plate and combine it with more stinginess from the pitching staff, they should return home with a winning record. And with almost 1/10 of the season already under their belt at that point, that isn't nothing.