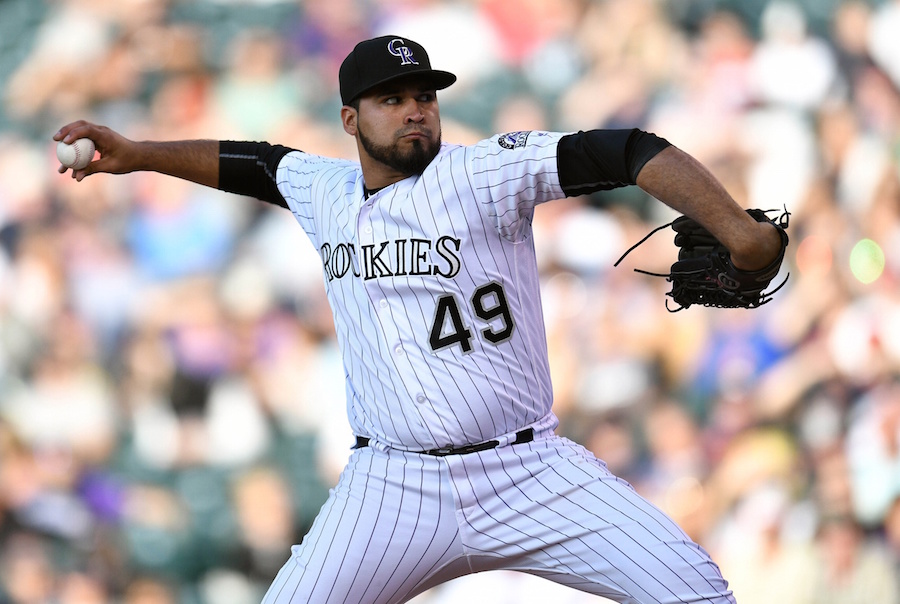 The Colorado Rockies have more wins (38) than any other team in the National League thanks in large part to the success of four rookie starting pitchers. Combined, Antonio Senzatela (8), Kyle Freeland (7), German Marquez (4) and Jeff Hoffman (3) account for 58 percent of Colorado's wins this season. Not bad for a group whose average age is 23 years old.
Don't be concerned about whether or not this group of youngsters shoulder the load over the long run, however. Despite their youth, they have plenty of innings under their collective belts to last into September, or (we hope) longer.
Senzatala has come out of nowhere to lead the National League in wins, becoming one of the truly great stories in baseball this year. The 22-year-old has been rock-solid for the Rockies, despite bringing a résumé to Spring Training that didn't even include a single Triple-A start. The right-hander has already proved that the jump from Double-A hasn't fazed him when it comes to squaring off against big-league hitters. Now, the Rockies are hoping Senzatela will have the durability to maintain this productivity through a playoff push in August and September.
At his current pace, Senzatela would make at least 31 starts this season for the Rockies. He's also on pace to pitch 188.2 innings (not including a possible playoff run).
Only one pitcher made that many starts for Colorado last year. No Rockies pitcher reached that innings mark – let alone a rookie. Chad Bettis led the team with 32 starts and 186 innings; Jon Gray, in his official rookie season last year, threw 168 innings over 29 starts.
Senzatela is listed at 6-foot-1, 180 pounds, but he looks and pitches bigger than that. He's got the build of a Clydesdale, which bodes will for his durability. He's showed signs that he's capable of reaching those start and innings marks, but he also had an important season cut short because of injury.
In 2016 he pitched just 34.2 innings at Double-A Hartford before an injury shut him down for the year. The disconcerting part is that it was a shoulder strain that cut his season short.
The good news is that in the three years prior Senzatela was on pace to be a 180-plus inning guy by this time in his career. In 2013 he threw a combined 93.1 innings in Rookie ball and Single-A (Short). In 2014 he tossed 144.2 in Single-A (Full), and in 2015 he threw 154 in Single-A (Advanced). The foundation seems to be there. Making the leap from less than 35 innings last year to more than 180 this year could be a big one, but he has the longevity in the years prior and the physical build that suggest he can go the distance.
Freeland is on a similar pace, with a similar foundation. The good news on Freeland is that he posted his heaviest workload last season and does not carry any significant injury history with him.
Like Senzatela, Freeland has 12 starts to his credit this season. He's logged 70.0 innings, also putting him right around the 180-inning threshold over 162 games.
Freeland combined for 162 innings between Double-A Hartford and Triple-A Albuquerque last year, posting an 11-10 record and 3.89 ERA. The area for concern is that he made a leap of more than 200 percent from 2015 to 2016. In his second year of pro ball, he combined for 46.2 innings between Rookie and Single-A (Advanced); he threw another 25.1 in the Arizona Fall League for a total of 72. His first year with the Rockies he pitched only 39 innings between Rookie and Single-A (Full). That first year comes with an asterisk, however, as he pitched 99.2 innings for the University of Evansville for a net total of 138.2. That three-year progression bodes well for his being able to hit at least 160 innings this season.
Marquez did not begin the season in the Rockies starting rotation, but has been solid for Colorado in his eight starts since taking over a spot for the injured Jon Gray. At his current clip, Marquez would make 22 starts this year and throw 124.1 innings.
Those numbers are skewed slightly, as they're a percentage of current starts vs. total games played by the Rockies. If he remains in a five-man rotation, they would probably be closer to 26 starts and 132 innings.
Either way, those numbers would actually be right in line with what he's done over the past two years in the minors, if not even a slight step back in innings. In 2016 he logged 166.2 innings in 26 starts combined between Double- and Triple-A. He also had 20.2 innings in the big leagues in a September call-up. In 2015 he threw 139 innings in 26 starts as well. With 98 innings in 2014 at Single-A (Full) Bowling Green, he has a very solid foundation for again reaching at least 150 innings if needed.
Hoffman has only made three starts for the Rockies in 2017, all as a spot starter because of injuries. He's been dominant in all three outings, posting a 3-0 record and 2.33 ERA in his starts. (He has one relief appearance, as well.) It's hard to make a long-term projection on total starts for Hoffman, as his role in the rotation is a bit unclear. He recently told Mile High Sports he's unsure if this current stint with the club will last beyond Tyler Anderson's knee injury, and that he's really not concerning himself with it.
Rockies fans shouldn't be concerned with the workload Hoffman could be asked to shoulder if he does stick with the big club long-term this season.
In only two seasons in the minor leagues, he's logged more than 100 innings each year. He tossed 104 innings over three levels of minor-league ball in 2015, and 150 last year between Triple-A (118.2) and the big leagues (31.1).
Gray should be ready to return to the Rockies rotation by the All-Star break, at the latest. Bettis, who has returned to baseball activities after undergoing cancer treatment, has set an optimistic timetable of returning around that same time. Anderson could return to the rotation in a week.
Of course, all three of them could miss even more time if their recovery doesn't go on schedule.
Fortunately for Rockies manager Bud Black, the four rookies have more than enough experience and stamina to shoulder the load all season long if called upon.