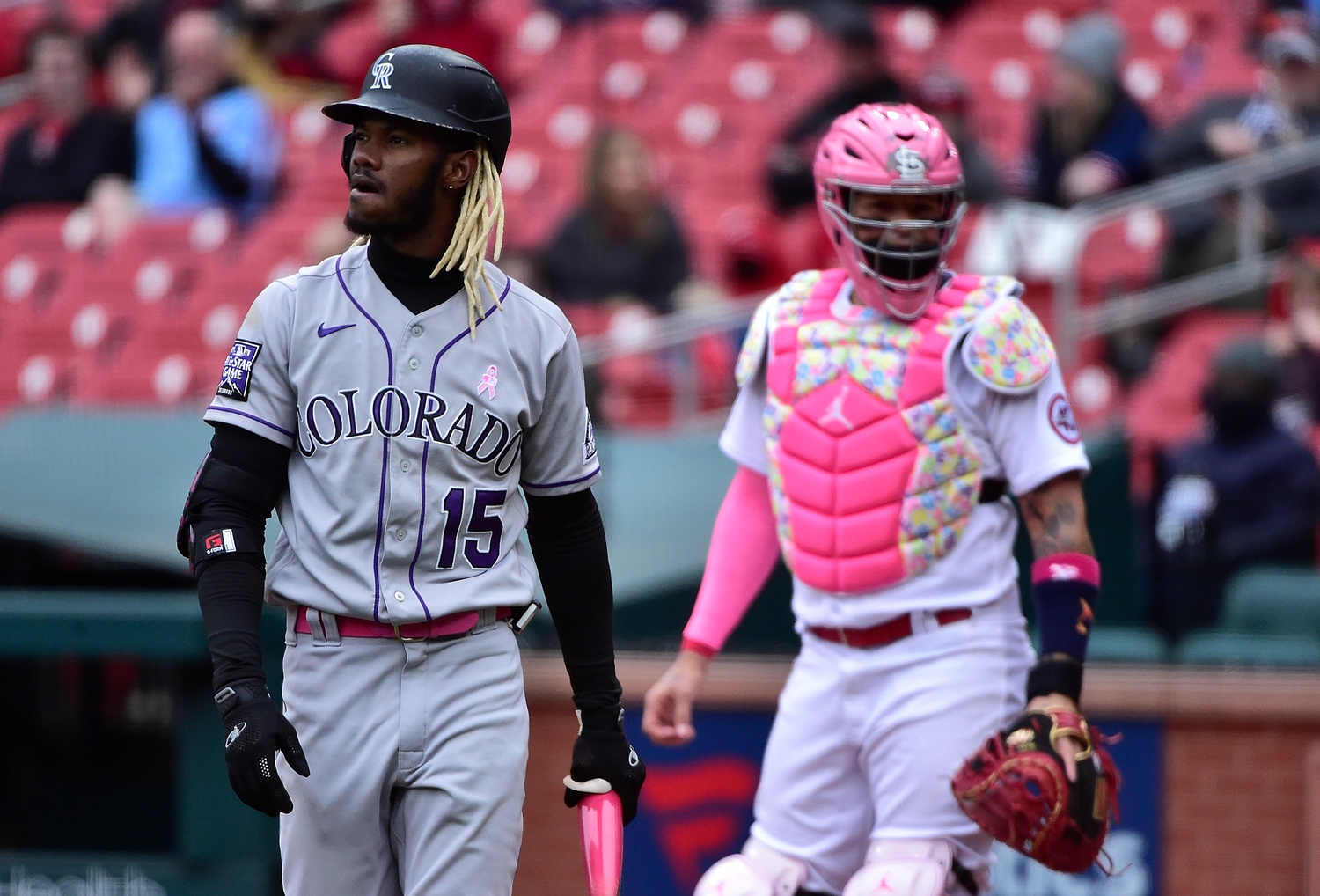 The Colorado Rockies' road woes are becoming legendary.
Colorado, after being swept in a three-game series by the St. Louis Cardinals, is now 2-14 away from Coors Field. The Rockies failed to score at all on Friday and Sunday, and eight runs wasn't enough to pull out a victory on Saturday thanks to a poor outing from starter Chi Chi Gonzalez.
The root cause of the problems seems to be more of the same. The Rockies, who rank No. 5 in baseball with a .788 home OPS, have the third-worst batting line—.224/.291/.319—in the majors. The adjustment between Denver and everywhere else continues to perplex the entire roster save for Trevor Story, who has managed to post an .808 OPS on the road.
All of this has contributed to a 12-22 overall record, which firmly entrenches the Rockies in the National League basement and gives them the second-worst record in all of baseball ahead of only the Detroit Tigers.
What (else) went wrong
The Rockies had a chance to put some runs on the board and ultimately tie, or win, the finale in the top of the ninth inning, loading the bases with one out via a single and a pair of walks. But Josh Fuentes hit a soft grounder to short that resulted in a game- and series-ending double play. Fuentes went 1-for-10 in the series and continues to play every day because of his above-average defense (3 total Defensive Runs Saved) despite hitting .191/.206/.266 with just two walks in 97 plate appearances. A total lack of patience at the plate has contributed to a hard-hit rate that is well below average not only for this season, but for his career in general; Fuentes has walked in just 2 percent of his career plate appearances and boasts a hard-hit rate of just 24.7 percent; the league average hard contact rate for the last three seasons is in the high 30s.
What went right
Germán Márquez still struggled with walks but looked a little more like himself on Sunday. After giving up eight runs in two-thirds of an inning in his last outing, Márquez came away with a quality start despite taking a 2-0 loss. He struck out six batters and allowed just one earned run—a homer off the bat of former teammate Nolan Arenado—in six innings, scattering six hits and walking three. Márquez leads the majors with 24 walks and 24 earned runs allowed in 39 1/3 innings this season, but it's hard to deny that his most recent start was a step forward especially when considering the Cardinals scored a total of 14 runs over the previous two games.
What's next
The Rockies head back home for three against the second-place San Diego Padres before welcoming the Cincinnati Reds for a four-game set. Colorado is just 7-16 against NL West foes this season, though they've been considerably better (5-5) against those clubs at home.
Antonio Senzatela will make his return from the injured list to take the hill on Monday opposite Dinelson Lamet, who is also slowly returning from an injury that knocked him out of the postseason last year. Both teams' situations are currently up in the air regarding who will start Tuesday and Wednesday.