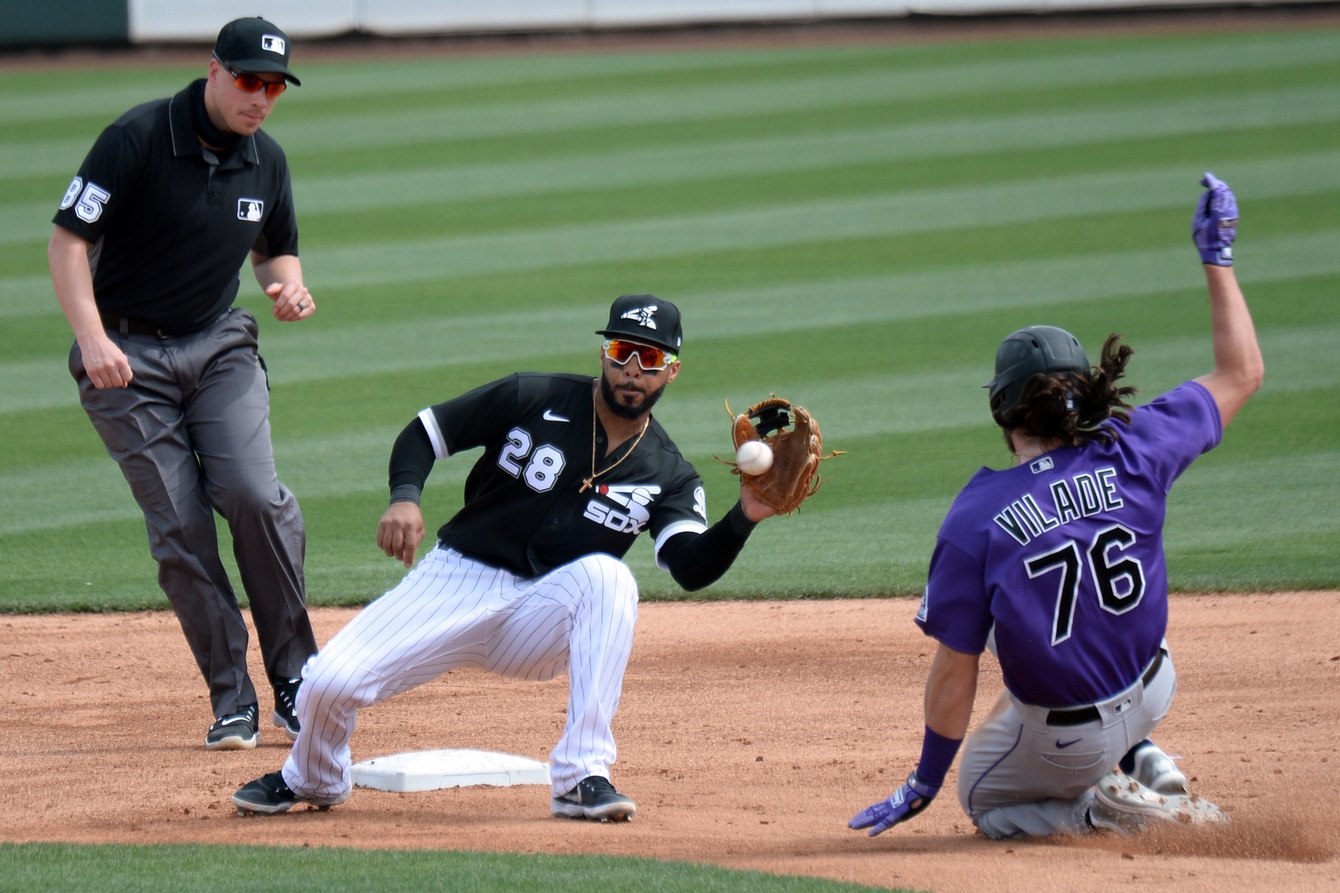 The cancellation of the 2020 minor league season threw a lot of things into flux, but it's hard to think of many players—on a baseball level, at least—who were affected quite like Colorado Rockies prospect Ryan Vilade.
The 22-year-old Texan, who went to the same Oklahoma high school as Rockies legend Matt Holliday, ended the 2019 season as an infielder in A-ball. That year, he exhibited strong on-base skills for the Rockies' former High-A affiliate in Lancaster, Calif., posting a .303/.367/.466 line in 587 plate appearances. A pandemic and all sorts of other circumstances later, Vilade, who was almost three years younger than the average California League player, is playing a whole new position. And, he's doing it in Triple-A, where he's facing competition nearly five years his senior.
"They moved me last year during COVID, so I got to spend some time at the alternate site playing outfield, which was a great experience for me because I got to play a little bit at Coors Field," Vilade told Mile High Sports prior to the Albuquerque Isotopes' 5-4 loss to the Salt Lake Bees on Monday. "Here I'm playing in left and right and getting more comfortable there," Vilade added. "I think I can be a really good outfielder so I'm working hard to become just that."
The Rockies thought the same thing, which is why, in November of 2020, the club made the decision to convert Vilade despite his reputation among talent evaluators as a strong defensive infielder.
"My scouting eye sees a guy who's going to play a very good corner outfield," Rockies director of player development Zach Wilson said in an interview with Baseball America last year. "He's going to make every play you want him to make and probably make the special one every once in a while."
The plan was initially to ease Vilade into outfield duty while he made the natural jump to Double-A in 2020, but that obviously didn't happen. Instead, Vilade is suddenly dealing with a position change while also tasked with figuring out how to hit against far more experienced pitchers than he's ever seen to this point.
"The biggest difference between High-A and Triple-A pitching is that a lot of these guys are established big leaguers who are trying to get back there," Vilade said. "They throw a lot of strikes and their stuff is good."
Pitchers at lower levels are often trying to prove that their stuff alone can get batters out, but Vilade sees a huge difference in approach the closer he gets to the majors.
"The big thing I'm realizing as a hitter in this league is that I'm getting myself out more so than they're getting me out," Vilade explained. "They want weak contact and they want you to chase. That's where the discipline side of hitting is a big factor because all of these guys have good stuff but whenever you're getting yourself out, it's more frustrating."
Vilade, despite a wRC+ hovering around 90, has a respectable walk rate that has led to a .344 on-base percentage. The average and power haven't fully shown up yet, and bat speed concerns from scouts who observed him in instructional league play over the past year-plus led to Vilade's prospect status taking a dip in some circles. However, on Monday, Vilade showed impressive raw power in batting practice—he clubbed one ball about 450 feet into left center with the wind blowing in—and that bat speed certainly wasn't an issue on a third-inning single in which he watched a breaking ball travel all the way through the zone before ripping it through the hole on the right side.
Vilade finished that game, during which he saw more pitches than any of his teammates, 1-for-3 with a pair of walks and followed with a two-hit effort in the series finale on Tuesday. He looked smooth in the outfield throughout the entirety of the six-game set. And even observing from a distance, it wasn't hard to see the work ethic and overall feel for baseball for which Vilade, the Rockies' No. 4 prospect according to MLB Pipeline, has consistently been praised.
"Growing up, my dad was a hitting coach and the one thing we always talked about is being the toughest out in the league," Vilade recollected. "Whenever I go up to the plate, I want teams to say, 'Damn, we have to face this guy? He's a really hard out.'"
"Battling with two strikes, taking your walks, being hard to strike out, hard contact throughout the whole at-bat … that's what I take pride in."
While he continues to find his way after such an exceptional jump in minor league levels, Vilade is relying on that spirit—and the skills he very much possesses in order to make it come to fruition—to hold his own. It's only a matter of time before things fully click.