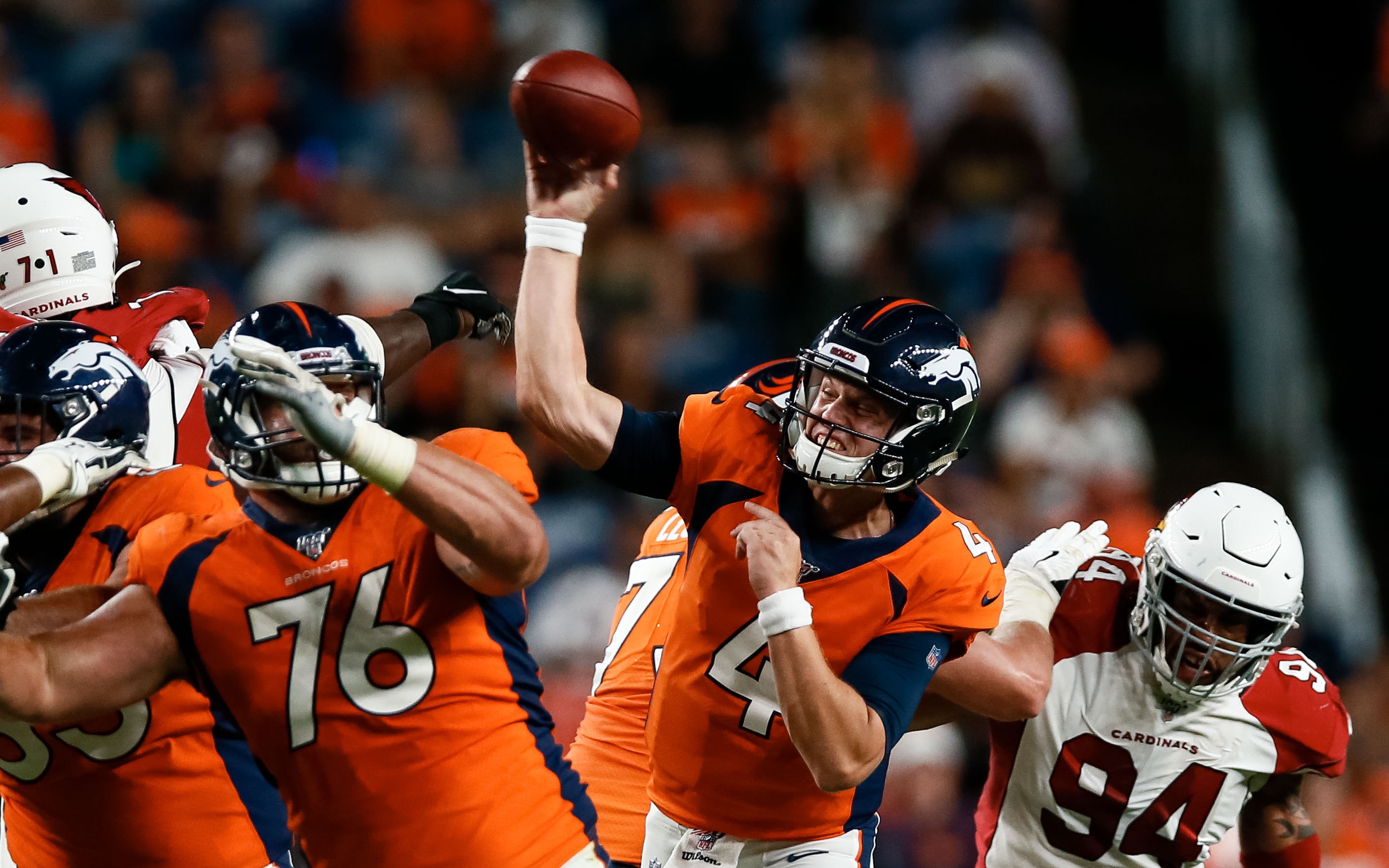 This weekend, moves have come fast and furiously for the Denver Broncos as they trimmed the fat and found their way to a 53-man roster.
After all that trimming, the Broncos had to call in three players in Corey Nelson, Keishawn Bierra and Devontae Harris as Drew Lock, Theo Riddick and Jake Butt were all sent to the Injured Reserve.
The cut-downs led some of those Broncos 53-man hopefuls to be placed on the Practice Squad, though; let's take a look at who made the squad.
1. QB Brett Rypien
Rypien, a 6'2″ and 203 pound quarterback, was found by the Broncos after the draft. He enjoyed a wildly successful college career at Boise State, setting many Mountain West Conference records, but his play in preseason wasn't good enough to make the final roster. Brandon Allen will be the Broncos' backup quarterback, and Rypien will be waiting in the wings on the practice squad in case an injury occurs.
2. ILB Josh Watson
The 6'2″ and 240 pound inside linebacker impressed coaches in training camp and in the preseason enough to be held around on the practice squad. After Todd Davis' injury in the first training camp practice of the year, inside linebacker immediately became thin. Watson, who was a captain at Colorado State as a senior, will help sure up that back-end depth in case injuries linger.
3. RB Khalfani Muhammad
Muhammad, a smallish back at 5'7″ and 175 pounds, was also impressive in the leadup to this signing. His similarities to Phillip Lindsay in size and speed made him an easy cut, but, just in case Lindsay can't stay healthy all year, the Broncos have Muhammad.
4. OLB Ahmad Gooden
As is the theme with practice squad players, Gooden provides depth at maybe Denver's deepest position of outside linebacker. He's the perfect size at 6'2″ and 245 pounds and enjoyed a superb career at Samford University rushing the passer and playing the run.
5. DL Deyon Sizer
Sizer, a 6'4″ and 280-pound lineman, gives Denver some needed beef after they cut Zach Kerr earlier in the preseason. He dominated at CSU-Pueblo and looks to continue to improve his individual play in hopes of one day playing in an NFL game.
6. CB Alijah Holder
The Broncos have loaded up on cornerbacks recently, trading for Duke Dawson as well as the moves for Bryce Callahan and Kareem Jackson this offseason (though Jackson will play safety). Holder, a 6'1″ and 181 pound corner out of Stanford, played well in college with two picks and 28 pass deflections during his time.
7. WR Fred Brown
Brown, a 6'1″ and 195 pound receiver, first entered the league with the Colts in 2017, but was waived before spending some of the season on Indianapolis' practice squad.
8. OL Quinn Bailey
A 6'6″ and 334 pound beast of a lineman which helps bolster the Broncos depth.
9. OT Tyler Jones
A 6'3″ and 306 pound offensive guard who can also play tackle.
10. OL Jake Rodgers
Rodgers is a special addition in that he's an NFL veteran and we could see him play in an actual game relatively soon depending on the heath of the offensive line. Rodgers, a 6'6″ and 320-pound tackle, has been in the league since 2015 and has bounced around a ton of teams' practice squads.
Denver is currently preparing for the kickoff of the 2019 season against the Oakland Raiders on Monday, Sept. 9 at 8:20 p.m. MT.