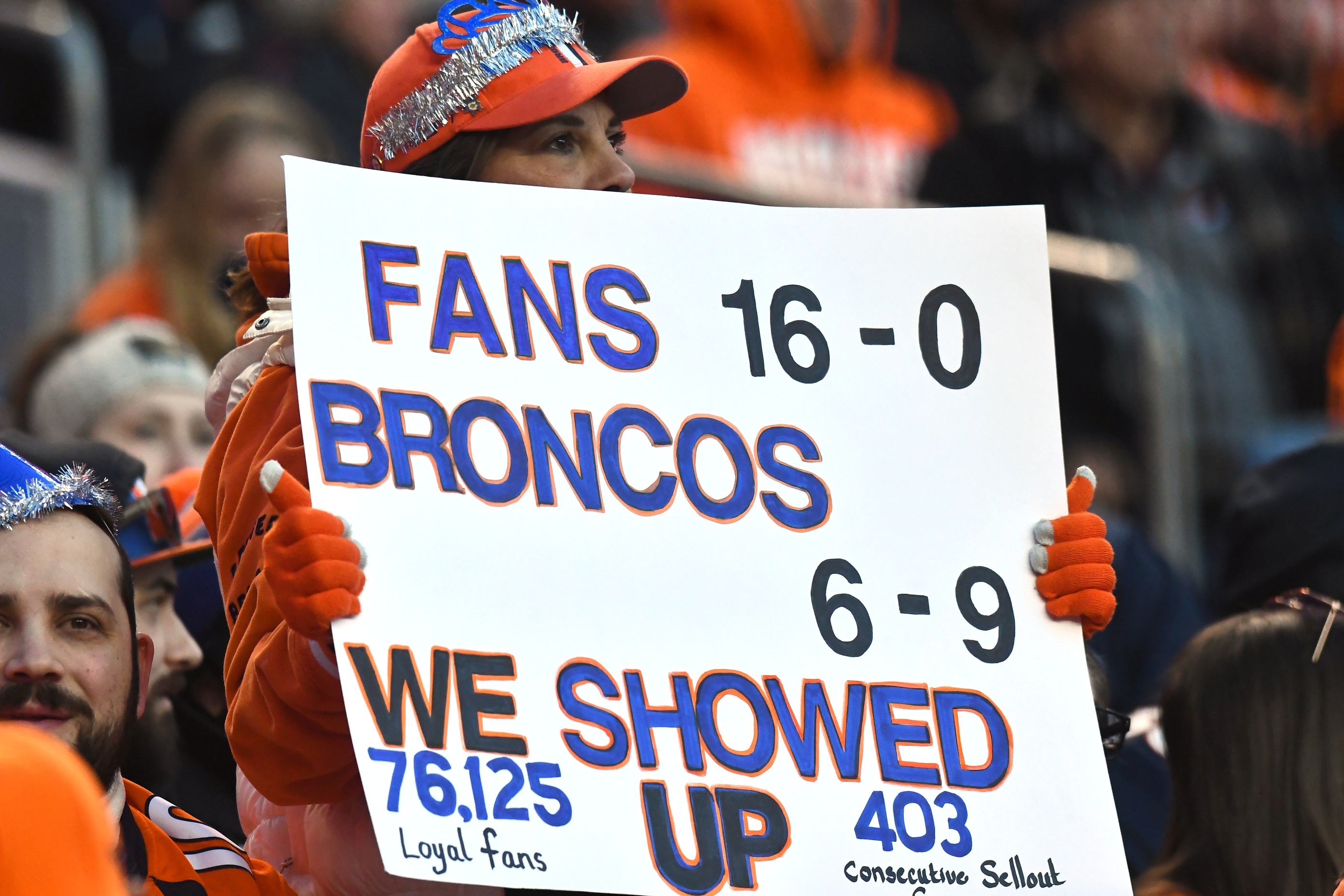 Serious question: Is it possible that the Denver Broncos become irrelevant?
I'm not talking about the sellout streak going away. Not talking about a complete lack of interest, like, let's say, the Colorado 14ers or Rocky Mountain Rage.
I'm talking about, "Ho. Hum. I think I'll go mountain biking instead."
I'm talking about, "Did the Broncos play yesterday? Did they win?"
I'm talking about, "Who is Drew Lock?"
Irrelevant. Just one of many things fighting for attention along the landscape of Colorado sports, outdoors, entertainment, et al. Don't really know. Don't really care. That kind of irrelevant.
Personally, I don't think so. I could envision a scenario, however – perhaps a different sort of irrelevant – where the Broncos don't occupy the same sort of relevance they once did. I'd call it the "Bad Rockies in September" kind of irrelevant: Everyone goes to Opening Day; those who care pay attention through July; but if the team is out of the playoff race by September, nobody but nobody is talking about the Rockies.
Could the Broncos get there? Could the Broncos only occupy the sports talk airwaves of Denver only when something big and unusual is happening? When the Avs or Nuggets or Rockies are plodding along, nobody talks about them. When they make a push for the playoffs or draft a star player, people do. Until Broncos season, and then everyone changes their focus toward football.
I pose this question because for me, last season, the Broncos almost became irrelevant. Most Sundays, I did "better" things – see, more important things – than watch a bad, bad football team that showed no signs of improving, much less going anywhere. I still watched, but I'd often watch games that had been recorded, already knowing the score. I did that because it was my job; the fan in me had lost interest early in the season, actually, when Vance Joseph came back to coach for a second straight season.
In my lifetime, the Broncos have never – ever – been irrelevant. If they're great, it's great. If they're good, there's hope they'll be great. If they're average, there's a belief they'll be better soon. And if and when they've ever been bad – something they really haven't been very often, certainly not in many consecutive years – there's pure anger.
Last year was the first year since 1972 that the Broncos posted back-to-back losing records. Not so coincidentally, last year was the first year that I truly felt some apathy setting in. From the outset, most people knew the team was going nowhere. Again.
There have been a few bad teams throughout the last 46 seasons, but rarely are they chased with one that's nearly as bad. Rarely are the followed up by one that's as boring.
Remember how bad an boring Kyle Orton was? Remember how exciting – good or bad – Tim Tebow was?
Even some of Mike Shanahan's worst teams had things to like. For starters, they always had Mike Shanahan, and the Mastermind was always willing to roll the dice on an exciting new player; he wasn't about to sit still while losing. Even though not all of Shanahan's later teams were great, everyone who followed the Broncos believed there was a chance that a Shanahan-led team could be.
And that's why this season is so important. There's a lot that's "different" about the Broncos heading into this season.
The late, great Pat Bowlen, while essentially inactive for the past few years, is no longer with us. The future is unknown.
There's a new quarterback, a new coach and new coordinators.
The links to Super Bowl 50 are few and far between. It's a mostly new cast of characters.
There's a new sense of desperation – or at least they should be. The Broncos simply don't lose this much.
And the landscape is new, too. Lots of new Californians and Chicagoans and East Coasters. People who don't have the same life-long bond with the team. People who will undoubtedly have less patience with a losing football team than you or I. People who moved here because of the mountains or sunshine or… mushrooms. There are two very good indoor teams across the highway and a baseball team that's been to the postseason two years in a row.
Take for example The Fan sports talk radio station. When the Broncos were winning, The Fan vowed to talk only Broncos. After three years of the Broncos missing the playoffs, and two years of the Avalanche and Rockies making them, paired with one postseason run for the Nuggets – lo and behold – The Fan went back to talking a little bit about everyone. Why? How much can one talk about a losing football team? Better yet, how much can one stand to listen?
I'm not saying that any one of these things alone can knock the Broncos off their pedestal. But if you factor in all of them, and then consider the idea that the Donkeys could post yet another losing season (like this Adam Rank fella … who says Denver will win only go 2-14 ), it makes you wonder.
If the Broncos go 5-11 or 6-10 or 7-9, how relevant will they be to you? If they're sitting at 4-8 or 3-9, how will you be spending the four Sundays that follow?
When John Elway was quarterbacking the Orange and Blue, there was always a chance something special could happen. Now that he's GM'ing, does that same belief hold true? The Broncos were never irrelevant when Elway was on the field, but could they be if it's not him doing the passing?
Broncos Training Camp kicks off tomorrow. And if there's ever been a bigger season on the brink for a previously 6-10 team, I'm not sure what or when it was. We're certainly not familiar with this scenario in Denver, Colorado.
This season is huge.
Because of tradition. Because of standards. Because of relevancy.
Concepts nobody in these parts has ever questioned before.