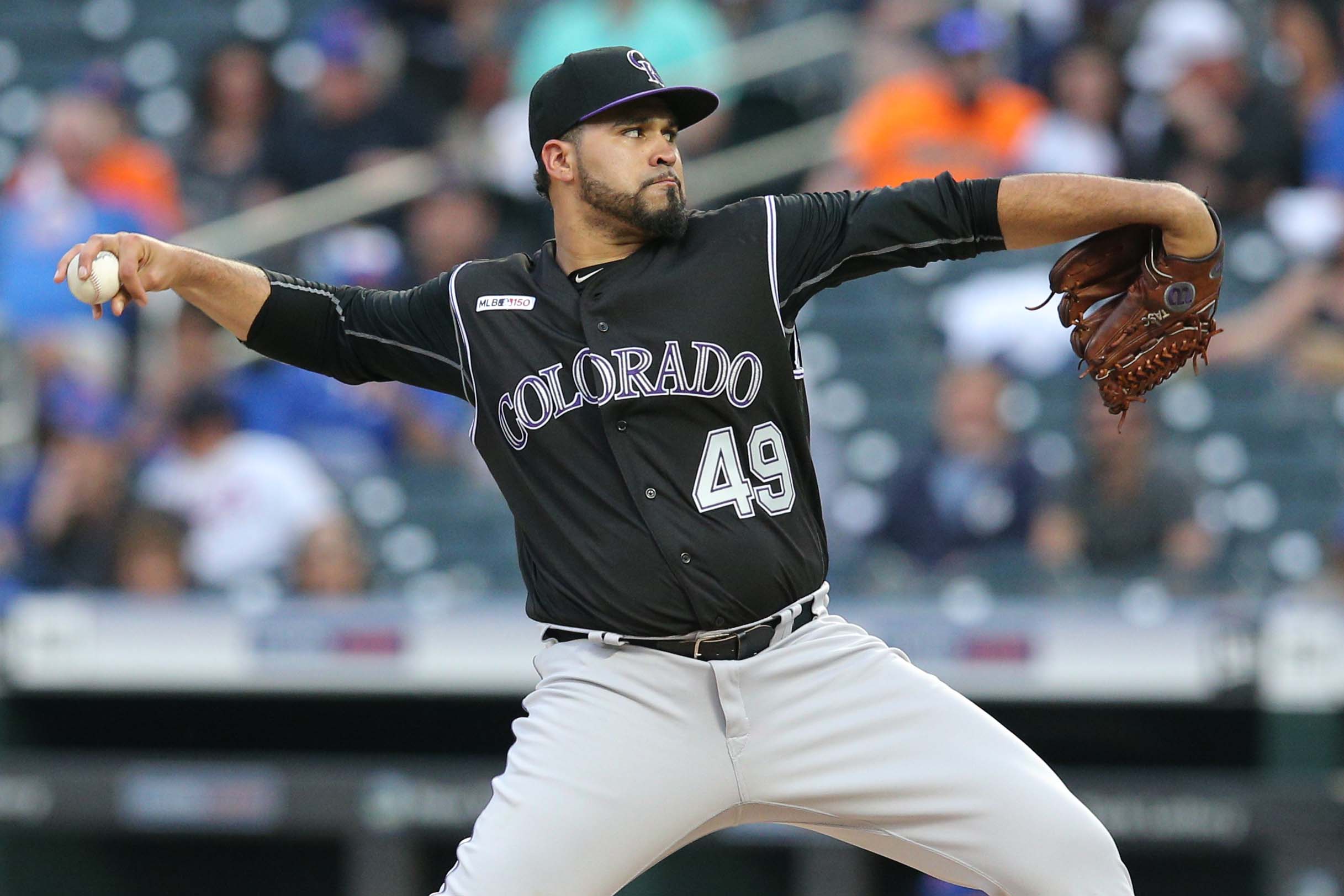 After losing two of three games to the Chicago Cubs, the Colorado Rockies were looking to bounce back in the Queens borough of New York City against the Mets, who are 30-32 at 17-10 in the friendly confines of Citi Field.
By the time all nine innings had concluded, the Rockies found themselves on the right side of the scoreboard with a 5-1 road win over the Mets.
Colorado had Antonio Senzatela on the mound while the Mets countered with 2018 Cy Young Award winner Jacob deGrom. For the Mets, deGrom was once again deadly from the mound, but the Rockies continually fought off his pitches to at least force his pitch count high and were able to score a pair of runs off of him in back-to-back innings. For Senzatela, he struggled to put batters away, but still managed to put together a quality start and out-duel deGrom.
The Rockies have now won 33 games on the year against 29 losses and have won nine of their last 11 games. With that being said, here are five takeaways from the Rockies win over the Mets.
Reinforcements have arrived
Within the same week, the Rockies lost Charlie Blackmon and Wade Davis to a right calf strain and a left oblique strain respectively. Now, after both finished their time on the 10-day injured list, both were active on Friday night against the Mets.
Despite being activated from the 10-day inured reserve list, Blackmon did not start against New York, but that does not mean that he is still hurt or anything of the sort. Blackmon played the last two days for his rehab assignment in Omaha and had to fly to New York the morning of the game. Additionally, Blackmon is only batting 2-for-19 against deGrom so why rush him back?. It makes sense to let Blackmon get a day of rest before throwing him back into the lineup. Instead, Ramiel Tapia continued to fill in for Blackmon as he has done since Blackmon went down.
Despite the Rockies four-run lead, Davis did enter the game in the ninth inning to put it away for his first appearance since going on the 10-day injured list. He ended up retiring all three batters, but he allowed a double to Dominic Smith and a single to Todd Frazier before closing the game out.
Daniel Murphy returns to Citi Field take on his former team
Daniel Murphy, who spent the first seven years of his career playing for the Mets, was back in Citi Field looking to continue his annihilation of his former team and he was carrying quite the hot streak with him for his return.
In the last 15 games, Murphy has really come on strong. He is batting .364 and has 17 runs batted in thanks to a .582 slugging percentage. Additionally, as a visitor against the Mets, Murphy has .383 batting average and has always crushed his former team in their own arena. On Friday night, the Rockies hoped that he would be able to continue his strong offensive play.
Murphy had some good swings on deGrom in his first at-bat, but eventually struck out. In the fourth inning, Murphy finally got to deGrom as he squeaked a single into right field to give Ian Desmond a RBI opportunity with men on first and second base; a situation that came to fruition as Desmond lined a single to right field to score David Dahl. That run put the Rockies up 2-0 and also helped elevate deGrom's pitch count so that the Rockies can get to the bad Mets bullpen quicker which is a win for Colorado.
Then, as a cherry on top, Murphy hit a solo shot to right field in the eighth inning for his fifth home run of the season to give the Rockies a four-run lead. He finished the day going 2-of-4 at the plate with one run scored and one run batted in.
Jacob deGrom fails to hold Rockies lineup in check
In 32 innings leading up to Friday's matchup between the Rockies and deGrom, Colorado only abled to muster one singular run, but on Friday night, the Rockies bats finally found a way to produce against the reigning Cy-Young award winner.
The Rockies allowed deGrom to get through six innings, but he threw 112 pitches, gave up six hits which led to two runs. Despite his laborious start, deGrom had 10 strikeouts against just one walk.
Most of the damage was done in the third and fourth innings as the Rockies accumulated both of their runs on six hits against him. Then, once the Rockies got deGrom out of the game, they proceeded to score another three runs against the Mets bad bullpen.
The Rockies were the worst team in Major League Baseball when facing deGrom, but on Friday night, they were able to exorcize those demons.
Antonio Senzatela continues to struggle striking players out
All year long, Antonio Senzatela has gotten two strikes on batters and has been unable to strike them out as his pitch count continues to climb higher and higher
Throughout his six innings on Friday night, Senzatela had 10 two-strike counts, but was unable to register a single strikeout. His inability to strike out batters let to 15 extra pitches, two walks, one error, and one home run to Michael Conforto.
While it is not fair to expect Senzatela to strike out every batter who he gets two strikes on, it is clear that his inability to put hitters away is becoming a bigger issue with each start. He continually allows more and more opportunities for opposing hitters to hurt him and, on Friday night, it almost came back to burn him and his team.
Still, despite all of the opportunities he provided to the Mets to hurt him, Senzatela managed to put together a very strong outing. He went six full innings, only gave up four hits and two walks which resulted in one single run on a solo homer by Conforto.
Battle of the bullpens
Both starters turned in quality starts for their respective squads, so the battle between the Mets and Rockies came down to which bullpen would be able to hold strong.
The death blow came in the eighth inning when Tapia hit a single, stole second base, and then was sent to home plate thanks to David Dahls' sixth home run of the season to give the Rockies a three-run cushion by a score of 4-1. Then, to provide more insurance, Murphy hit a solo home run to push Colorado's lead to 5-1. All three of those runs came off of Drew Gagnon out of the Mets bullpen.
By the time the game had ended, the Rockies bullpen ate up three innings, gave up only one hit, and did not allow a run while striking out three batters. The Mets gave up four hits and three runs in the same three innings which ended up being the deciding factor.