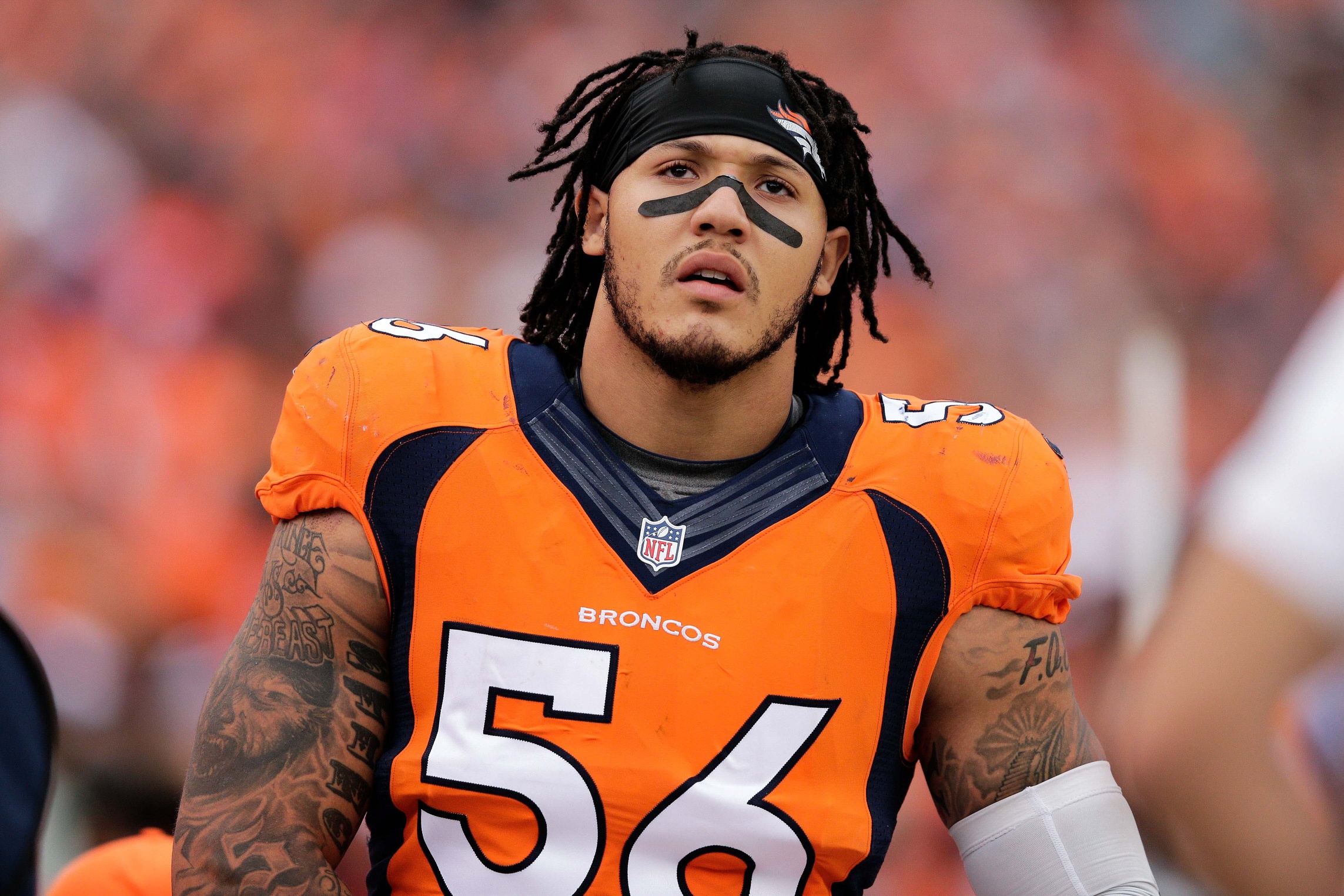 The Denver Broncos built their latest championship run on the backs of the league's most fearsome pass rush. Led by outside linebackers Von Miller and DeMarcus Ware, Denver's 2015 Super Bowl title embedded the notion of a relentless, quarterback-rattling rush into the DNA of the franchise, and in the post-Peyton Manning era, it persists today, years beyond the era of competent quarterbacking in the Mile High City.
Intent on enhancing that pass rush, general manager John Elway and the Broncos gladly selected North Carolina State defensive end Bradley Chubb with the fifth overall pick in April's draft. After the woebegone Cleveland Browns discovered yet another way to screw up, the best pass rusher in the draft by far — and perhaps its best player entirely — fell right into the Broncos' laps; their good fortune earning Elway and Co. plaudits from around the NFL echosphere.
It's hard to imagine the same response on Thursday night if the Broncos decline linebacker Shane Ray's fifth-year option; giving up on a provably successful draft pick for no good reason at all.
Embedded Broncos reporter Mike Klis wrote on 9News Monday that the Broncos were not expected to pick up Ray's option, allowing the 2015 first-round draft pick to become an unrestricted free agent after the season, explaining that "All in all, the Broncos were expecting more than 13.0 sacks through three seasons from their first-round draft pick."
Ray, who will turn 25 this month, was considered quite the draft steal himself not so long ago, falling all the way to 23rd overall following a citation for marijuana possession mere days prior to the draft. Ray was considered a top-ten pick prior to that, and since his arrival in Denver, hasn't made any waves off the field. Ray's 2019 option is admittedly significant; a roughly $9.2 million commitment that the Broncos now appear unwilling to make.
That would be a mistake; an unforced error that could potentially derail the Broncos' rebuilding efforts — and they are rebuilding, whether they'll admit it or not.
Ray's sack total doesn't tell the whole story. When he joined the Broncos in 2015, the first-round pick was never expected to start. Miller was entrenched at one outside linebacker position, and future Hall-of-Famer Ware manned the other side. Ray served as the backup that season, primarily to Ware, and collected four sacks in his rookie season, despite never starting a game. Only second-year linebacker Shaquil Barrett, with 5.5 sacks, had more than Ray as a backup — and Barrett actually started six games thanks to a midseason injury to Ware. In the final analysis, Ray's rookie season saw him serve as the fourth outside linebacker on the depth chart, and he still finished only 1.5 sacks behind ends Derek Wolfe and Malik Jackson for third place on a team that went on to win the Super Bowl.
In that Super Bowl, by the way, rookie Ray also had a pair of tackles while taking only 20 snaps — among backups, only cornerback Bradley Roby had more, and he took more than twice as many snaps (41).
Ware returned as the starter in the 2016 season, starting eight games out of the 10 he played in an injury-plagued, final campaign, finishing with four sacks and 15 combined tackles. As a second-year player, Ray started the other eight games of the season, leapfrogging Barrett and collecting eight sacks, 48 combined tackles and recovering a pair of fumbles to tie for the team lead with safety T.J. Ward. Ray's eight sacks were easily good for second place on the team behind Miller, and no player who started as few games as Ray had more combined tackles — by any measure, a productive and very promising season for the Broncos' rising star.
Through Ray's first two seasons with the Broncos, the team's top four in sacks looked like this:
Von Miller 24.5 (32 starts)
Shane Ray 12.0 (8 starts)
DeMarcus Ware 11.5 (18 starts)
Derek Wolfe 11.0 (26 starts)
No other Bronco had double-digit sack totals over that two-year span.
Then came 2017. Ray, now ascendant, was expected to take another leap forward as Miller's running mate. He didn't — but Ray didn't exactly regress, either. At the very start of last summer's training camp, Ray suffered a freak wrist injury that required three different surgeries and installed metal hardware to keep his injured wrist stable during the arduous healing process.
The third-year linebacker couldn't lift weights, couldn't do push-ups, couldn't do much of anything to stay in game shape, telling The Athletic's Nicki Jhabvala last week that he "had to rebuild himself from the ground up."
When Ray finally returned in Week 8, he wasn't in playing shape and had to take the field with a cast on his wrist to protect it. The Broncos never saw Ray at his best, who told Jhabvala that opponents "lucked out last year playing a guy with one hand and underweight".
After a Week 15 victory over the Colts — the Broncos' last win of their disastrous 2017 campaign — Ray returned to the injury list, finishing his season with a disappointing 16 combined tackles and only one sack. But blaming Ray's effort for his hard-luck season would be ludicrous if it wasn't so insulting; at the time of his injury, it would suspected that he might miss the entire season.
As I was told by personnel source, not picking up Ray option would be less about drafting Chubb and more about disappointing production. #9sports https://t.co/82KlxcRmP0

— Mike Klis (@MikeKlis) May 2, 2018
If Ray's injury has anything to do with Elway and the Broncos declining his option, a quick look at the Broncos' double-digit sackers since Ray joined the team — and even including his injury-plagued season last fall — should give them immediate pause:
Von Miller 34.5 (48 starts)
Shane Ray 13.0 (15 starts/8 without wearing a cast)
Derek Wolfe 13.0 (37 starts)
DeMarcus Ware 11.5 (18 starts)
Shaquil Barrett 11.0 (15 starts)
Barrett signed a one-year deal as a restricted free agent in the offseason; he'll be an unrestricted free-agent after the 2018 season comes to a close. Ware is retired and Wolfe is signed through only the 2019 season. Miller may be the most-feared pass-rusher on the planet, but he can't do it alone.
Which brings us back to Chubb, a 'good football player' whom Broncos coach Vance Joseph has big plans for. "He's a good football player. Obviously, a great rusher, also he's a good player versus the run game. He's a good player," Joseph said last week. "He plays hard, so as far as his position, he's going to be an outside linebacker. He's a great fit, we have a plan for him as an outside linebacker, so we're excited."
There's just one problem with all of that: Chubb isn't an outside linebacker.
At 270 pounds, he weighs 20 pounds more than Miller or Barrett, 25 more than Ray. He's only 15 pounds lighter than defensive linemen Wolfe and Adam Gotsis, who not only play on the edge, but even on the interior of the defensive line at times.
His 4.65 40-time at the combine was third-best among all defensive linemen, befitting his lofty pre-draft rankings. As a linebacker, however? That time would rank him 14th, right in the middle of the pack of 27 prospects that tested at the combine.
Moreover, Chubb played all 38 games he started at N.C. State as a defensive end. Every single one of them. 
In other words, Joseph and the Broncos are apparently planning to take an elite athlete at defensive end — blessed with natural gifts that give him a chance to become a unique talent at his position — and instead put him at a position that he hasn't played since he was a teenager, and one where those same gifts are now par for the course at the NFL level.
To make things worse, in order to cram that square peg into that round hole, they're willing to discard the most dangerous pass-rushing linebacker on the team not named Von Miller.
For nothing.
Luck landed both Shane Ray and Bradley Chubb in Denver, but even luck can only take you so far. Elway and the Broncos are clever, but if they choose to move on from Ray, and compound that error by playing Chubb out of position, then they'll have outsmarted themselves.
Teams that outsmart themselves don't make the playoffs. Just ask the Browns.