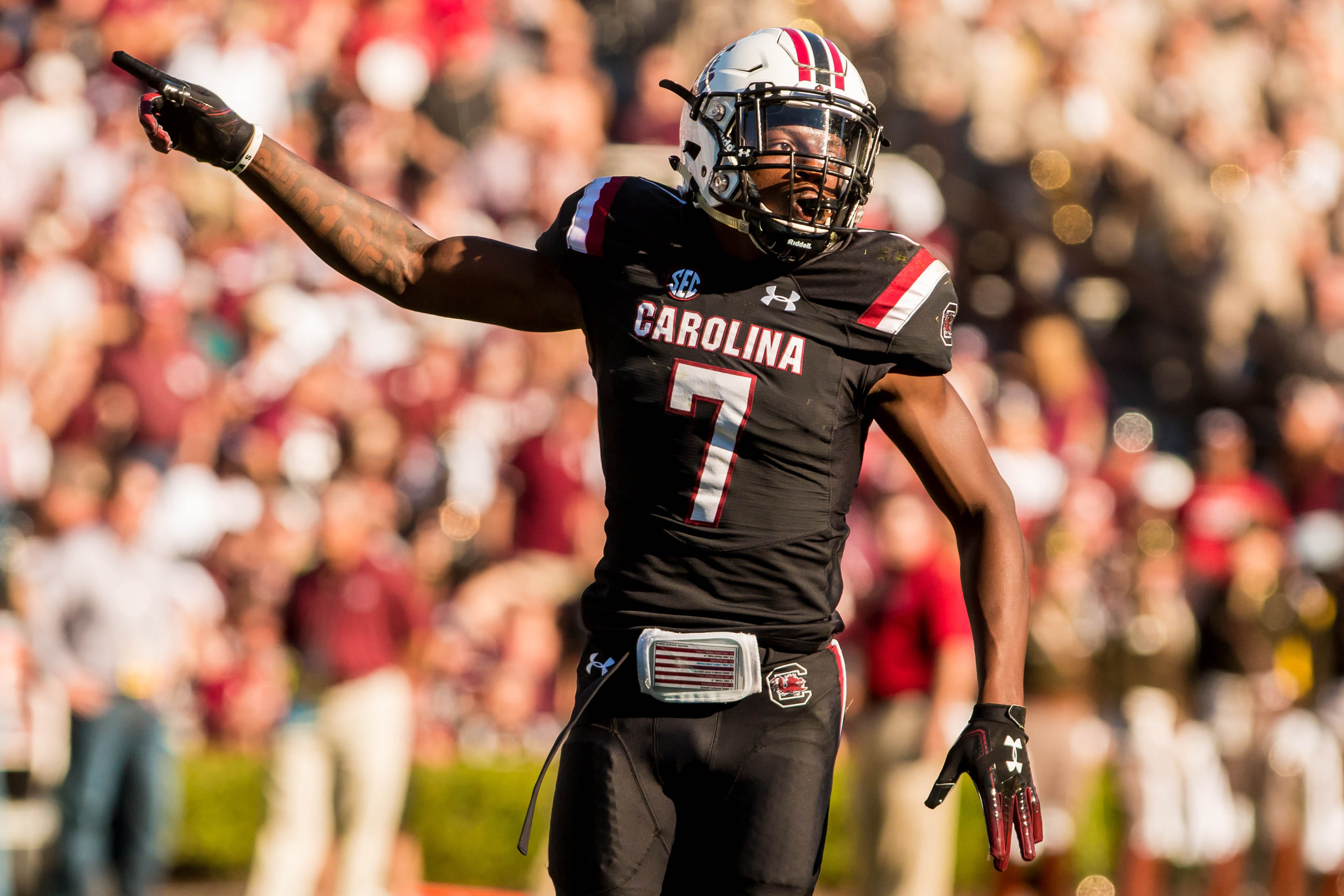 The Denver Broncos made two big splashes by signing Ronald Darby and Kyle Fuller to their defensive backfield but that shouldn't remove them from the first-round cornerback conversation entirely.
The two best members of the cornerback room, Fuller and Bryce Callahan, will both be unrestricted free agents next year, and both Callahan and Darby of troubled injury histories. The Broncos need depth and potential starters for the future.
At that point, the question becomes, is Jaycee Horn the guy to fill that needed role?
Positives
Athleticism is king at the cornerback position and Horn has a marvelous set of athletic tools to help him succeed at the next level.
In Kent Lee Platte's Relative Athletic Score (RAS) formula — which uses combine or pro day measurements and times to create a composite score out of 10 to reflect a player's overall athleticism — Horn scored a perfect 10 and ranked as an 'elite' cornerback in terms of his size, speed, and explosiveness.
The one asterisk on Horn's impressive score is that he didn't compete in 'agility' drills like the shuttle and the three-cone, and the one athletic concern with Horn is his agility and fluidity.
At times, Horn can be a truly imposing cornerback in coverage, especially when in press-man coverage. There he can utilize his impressive physical tools to win at the point of attack, allowing him to physically dominate the opposition until the whistle is blown.
Much like an anaconda, once Horn gets a hold of you, you're done.
The one problem with his excellence in press-man coverage is that Vic Fangio's defenses don't often play that style. Fangio is one of the most zone-heavy defensive play-callers in football, but fortunately, Horn shows some talent in that area as well.
In fact, one could argue he's a better zone cornerback because it still allows him to show off those impressive athletic gifts while hiding his struggles with changing direction and being agile.
Negatives
A hyper-athletic zone coverage cornerback that bullies opposing receivers with physicality might sound perfect for Fangio's scheme that relies heavily on his cornerbacks to be physical, but Horn's physicality is unfortunately one-dimensional.
It constantly shows up while in coverage, but when it comes to making a tackle — either on a running back or a receiver downfield — Horn's physicality suddenly goes missing far too often. He struggles to make the tackle more frequently than he should, considering his aforementioned athletic profile.
The other problem is that physicality shows up in coverage, which is normally the time when it's a penalty for a defensive back to be physical against receivers. SEC referees didn't call Horn for too many defensive pass interference or holding penalties, but NFL officials are known to be much less lenient in that area for college defenders.
It's fair to wonder if Horn will be a massive penalty liability at the next level, and so much of his trademark style is based on bullying receivers throughout their routes, so it's also fair to wonder if he'll be able to successfully pivot away from that playstyle.
Finally, when asked to play off-man coverage where he can't torment the receiver at the line of scrimmage and latch on throughout the route, he really struggles and his problems with changing direction and hip fluidity leap out.
Verdict
Jaycee Horn's upside and physical attributes are incredibly tantalizing, as are the flashes we've seen of him in zone coverage. Unfortunately, he's a poor fit for Fangio's system because his physicality doesn't show up when you would want it to, and his reliance on mauling receivers raises questions about how he'll transition into the league.
Unless he surprisingly slips into the mid-to-late 20s, the Broncos would be much better off trading back for a cornerback prospect like Virginia Tech's Caleb Farley or Northwestern's Greg Newsome II. This cornerback class also has appealing day two depth with players like Washington's Elijah Molden or UCF's Aaron Robinson.
Jaycee Horn isn't a bad prospect by any means, but he isn't a good enough fit with the Broncos to justify a top-20 pick, which is his likely range.
Draft Projection: Top 20