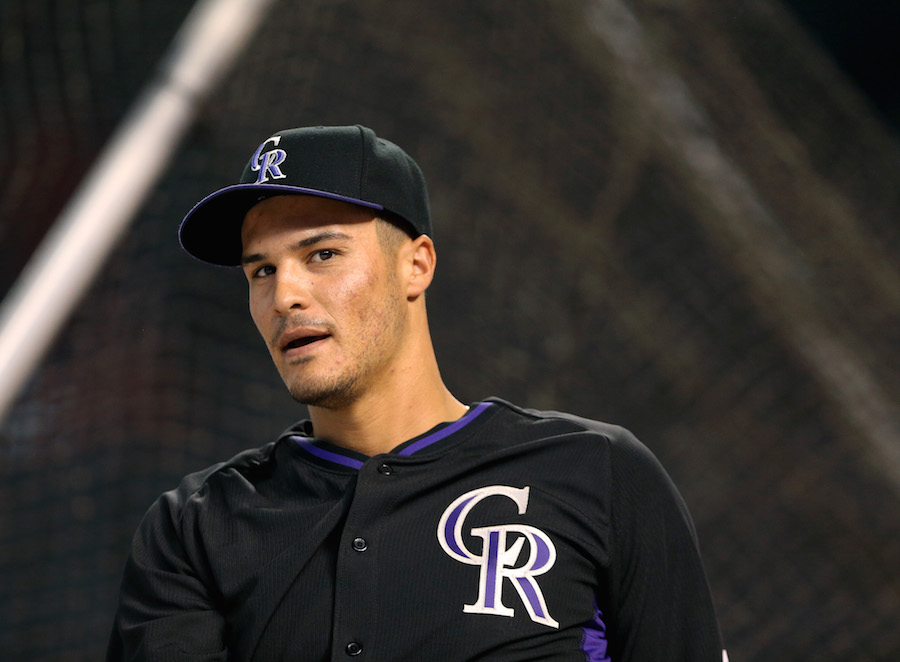 The Colorado Rockies have been scorching as of late, winning seven of their last eight games. As of this Thursday afternoon, they're only 5.5 games out of the final wild card spot, which is held by the Miami Marlins.
At this point, if they keep playing the way they're playing, Colorado is well within the playoff conversation, but the question becomes: What can they do to push themselves over the top?
The trade deadline is less than a week away, and while everyone has been talking about the Rockies as sellers for the last month or so, it looks as if they've wiggled their way into the buyer category. But who's for sale?
Well … Chris Sale, of course.
Now, while Sale and the White Sox aren't exactly living in perfect harmony, it's still going to cost a pretty penny for Colorado to steal the ace away from Chicago. It would cost something like … Nolan Arenado.
Jason Hirsh, former Rockies pitcher and a regular guest on the Afternoon Drive on Mile High Sports Radio AM1340/FM 104.7, joined Eric Goodman and Les Shapiro to discuss whether the Rockies would be better off with Arenado or Sale.
In the end, Hirsh believed it came down to the fact that you just can't, in good conscience, trade a guy like Nolan Arenado.

"I think the idea that Nolan is a proven commodity at a premium position right now, he's got a little bit more untouchable value there," Hirsh said. "I'm gonna say Arenado is not going to go anywhere, anytime soon. Nolan is a once-in-a-lifetime, once-in-a-generation player."
But that doesn't mean he wasn't intrigued, or that he believes the Rockies are better off with Arenado in the lineup than Sale on the mound.
"I think they're better with Sale and Gray," Hirsh said. "I just don't know who you're going to put at third base, not with that glove, not with that bat."
There could be a solution, though. If the Rockies moved on from Arenado, they could theoretically move Trevor Story to third and call up Brendan Rodgers at shortstop long term.
Rodgers is a top-25 major league prospect who's currently playing in the minors with the Rockies Single-A affiliate, but he has a lot to prove before he even steps on to the field as a major leaguer.
Hirsh and Goodman agreed that a trade between the two stars would benefit the team in the long haul.
If Rockies fans can imagine a future with a starting rotation consisting of Chris Sale, Jon Gray, Jeff Hoffman and Riley Pint, there's a world in which the Colorado Rockies — yes, the Colorado Rockies! — have one of the best rotations in baseball.
Of course, it would come at the cost of one of the best players in baseball and one of the best third basemen we've seen in decades.
To hear more on the Nolan-for-Sale debate, check out the podcast below …
Catch the Afternoon Drive every weekday from 4p-6p on Mile High Sports AM 1340 | FM 104.7 or stream live any time for the best local coverage of Colorado sports from Denver's biggest sports talk lineup.