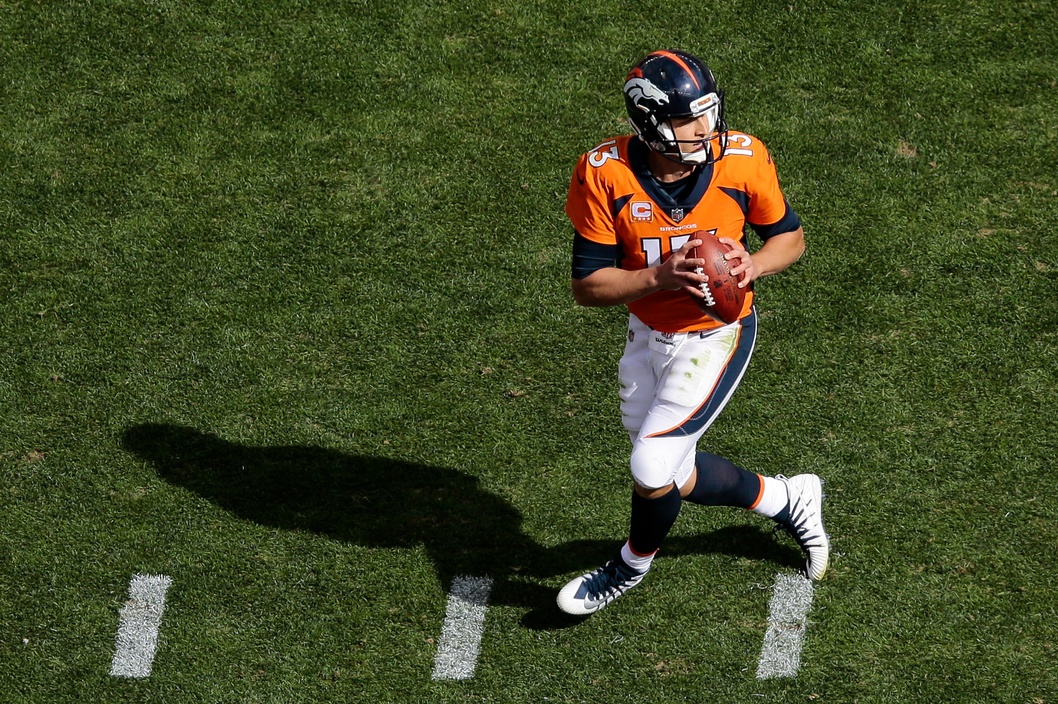 Coming out of their bye week, the Broncos' offense will get a favorable matchup against a struggling Giants defense, and hopes that they can get back to the blistering pace they had set during the first two games of the season.
After scoring 24 points against the Chargers and 42 points against the Cowboys, the Broncos' offense cooled significantly, only putting up 16 points in back-to-back weeks against the Bills and the Raiders — fortunately, in the latter case, that was enough to earn a win. If the Broncos wish to serve notice as legitimate threats in the AFC, they'll need to make an offensive statement against the winless Giants, starting with quarterback Trevor Siemian.
The Broncos' starting quarterback is coming off of an unimpressive effort against a middling Raiders pass defense, only throwing for 179 yards against a defense that gives up 226.6 yards per game, good for only 18th in the league. The Giants' pass defense is ranked slightly better, giving up 224.8 yards per game; good for 16th. However, the Giants give up 24.4 points per game, compared to Oakland's 21.8.
Despite their talent, cornerbacks Eli Apple, Janoris Jenkins and Dominique Rodgers-Cromartie have only pedestrian, combining for only one interception while surrendering 10 touchdowns. Safeties Landon Collins and Darian Thompson represent the backbone of the Giants' secondary, combining for 50 solo tackles and 12 assists. Opposing quarterbacks, overall, have a 96.4 rating, noticeably higher than Siemian's 89.0.
The major threat to Siemian, though, is the Giants pass rush — hypothetically, at least. Captained by Jason Pierre-Paul and Olivier Vernon, the Giants have one of the strongest pass-rushing lines in the league, though that potential has not turned into production thus far this season. Through five games, the Giants rank a woeful 29th in sacks with only eight. Vernon had to miss the Giants; loss to the Chargers with an ankle injury, but if he can return against Denver, tackles Garett Bolles and Menelik Watson will have their hands full protecting Siemian from threats on both sides.
An effective running game would go a long way toward short-circuiting that pressure. The Giants are near the bottom of the league when it comes to rushing defense, giving up an average of 139 yards per game and 4.5 yards per attempt. This matchup looks favorable for the Broncos, who have developed running backs C.J. Anderson and Jamaal Charles into a versatile and dangerous tandem.
Anderson leads the way for the Broncos with 330 yards this season and an average of 4.5 yards per attempt. Charles has fewer touches, but has been explosive in spurts, gaining ground at 5.3 yard-per-carry clip; a rate not far removed from the rarefied air of his career average of 5.5 coming into the season. Both players have scored a touchdown on the ground, while Siemian's added one of his own.
The reeling Giants come to town at a time when the Broncos look to tune up their offense, and facing the mediocre New York defense could help with that process. As the Broncos look to be more prolific on the scoreboard, a solid running game and some improved pass blocking will open up opportunities for Siemian to regain his rhythm in the passing attack.
The Broncos will find out how productive their bye week has become when they face the Giants on Sunday night in Denver at Sports Authority Field at Mile High.