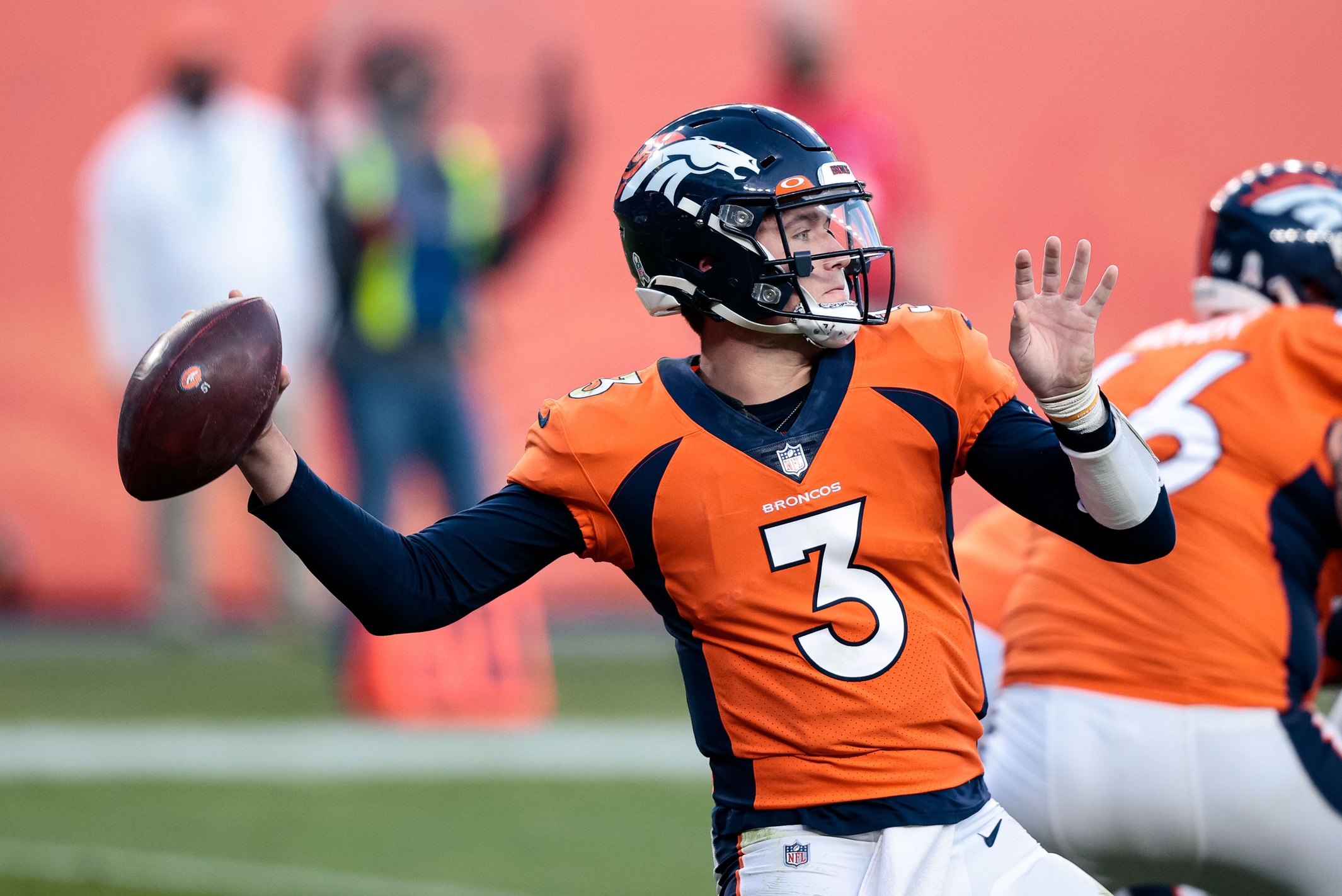 Just when we'd all written off the Broncos.
Just when we were all about to blow the whole thing up.
Drew Lock? Not the answer after all.
Vic Fangio? Pat Shurmur? Hey, it just wasn't working.
John Elway? Maybe it's time. He's the one, after all, who put this mess – and the messes that preceded it – together.
The first half against the Chargers was as ugly as it gets. The Chargers had 250 yards of offense. Denver had 61. L.A. racked up 14 first downs. The Broncos had two. On third down, Justin Hebert's team was 5-9; Lock's team was 1-7. Halfway through the third quarter, the Chargers led 24-3 and were bullying the Broncos in every way imaginable, on home turf no less. This was bad – very, very bad – bad enough that it felt as if collectively Broncos Country was throwing in the towel. It seemed that yet another Denver Broncos experiment had failed – miserably.
"You're being nice by just saying 'so bad.' It was worse than that," Fangio told the media after the game.
But despite the ineptitude that oozed from an emptier than already-empty stadium, Drew Lock and the Broncos pulled off a miracle of sorts. In fact, it was reminiscent of something a certain John Elway used to do.
Just about the time that everyone was about to go ahead and pencil in Herbert as the unanimous choice for offensive rookie of the year, Lock did what Lock can do.
For the better part of three quarters, Herbert was nothing short of phenomenal. His numbers jumped off the stat sheet and he'd engineered four consecutive scoring drives – including three straight touchdowns on drives of 80, 80 and 75 yards.
Lock, conversely, looked out of sorts. Like he'd lost his swagger. Like he was as sick of Pat Shurmur's offense as everyone else. Like he was a baby-faced version of Trevor Siemian.
And then.
A Phillip Lindsay 55-yard touchdown scamper quite literally changed the course of the game, and perhaps, for all intents and purposes, the future of the Denver Broncos.
Drew Lock suddenly looked like his old self (you know, the one we've known for all of 10 games now), zipping the ol' pigskin around like the gunslinger that he is, hitting receivers in stride and fearlessly threading the ball into tight windows. At worst, it looked like the Broncos didn't need to decide – just yet – that Lock wasn't the future of the franchise. At best, they might just win the damn game. It was a long shot, but like the good ol' days of the Elway-led Broncos, nobody was about to change the channel as night settled in on the Front Range.
With only 2:24 remaining on the clock, the ball on Denver's 19 and just one timeout left, Lock calmly and coolly sliced and diced the Chargers defense all the way to the Charger 1-yard line. And if what was taking place wasn't magical enough, Lock went ahead and tossed the game tying touchdown with exactly no time left. A Brandon McManus extra point followed, and the swagger was back in Denver, like it had never left in the first place.
If you're a fantasy football player – or really most any GM in the NFL – you probably still like Justin Herbert. What's not to like? The kid certainly looks like the real McCoy. Lock, on the other hand, won't be drafted too high in most fantasy drafts in the foreseeable future.
Then again, if you care about wins, the case study of Lock and Herbert is worth examining.
With numbers that dazzle, Herbert's record is a lackluster 1-5
With ups and downs and stats that make you scratch your head, Lock is now 6-4. And, oh by the way, he's got the same number of fourth quarter comebacks – and one more game winning drive – than the man who drafted him did at the same point in their respective careers.
That's just a fact. It's also a fact that there's no responsible way to compare Lock and Elway just yet.
Lock has moxie though. He's got that intangible thing that great ones have. At this point, Lock is not great – he's got a long, long way to go – but that sort of thing cannot be taught or developed. A quarterback either has it or he doesn't. "Tools" are different from "intangibles." Tim Tebow had nothing to work with, but he had all the intangibles. Lock has some tools, some of which still need work, but he's already show that he can shine when the pressure is on.
Lock is not a lock.
But Sunday's win over the Chargers was a signature moment. And the great ones all have a handful of those.