EDITOR'S NOTE: Colorado Avalanche executive vice president and general manager Joe Sakic long has been one of the marquee name constants on the Colorado sports scene. For Mile High Sports Magazine's 200th issue, we asked Denver journalist and author Terry Frei – another constant, who has covered the Avalanche off and on for the team's 25-year stay in Denver – to chat with Sakic about his time in Colorado … and, as it turned out, more.
Terry Frei: In August 2002, when Mile High Sports Magazine debuted, it was a little over a year since the Avalanche's second Stanley Cup championship and you had just been eliminated in seven games by the Red Wings after being up 3-2 in the Western Conference Finals. As you look back on that, was that a lost opportunity? Should the Avalanche had won the Cup more times than it did during your tenure as a player?
Joe Sakic: When we look back now, it's like we left a couple on the table. That year, we lose Game 6 at home to Detroit. We lose two Game 7s to Dallas [in 1999 and 2000]. We won two Stanley Cups, but when we talk about it now, we had some real good teams. But, you know, we lost to some real good teams, too. There were three or four teams then in that mix – us, Detroit, Dallas, New Jersey – and it could have gone to any of them. But we certainly feel with the teams that we had – well, I shouldn't get greedy, but we should have at least had one more.
TF: Do you still see Adam Deadmarsh hitting the post in the final seconds against Dallas in your sleep sometimes?
JS: Every once in a while. (Laughs.) That was a long time ago, but yeah, that was the close call. Everyone always says it's a game of inches, and it certainly was that time.
TF: Okay, time to activate the flux capacitor. They don't call you "Burnaby Joe" for no reason. What was it like to grow up there, outside Vancouver, as the son of Croatian immigrants and speaking Croatian at home? Your dad, Marijan, was a carpenter and fisherman who had ridden to Canada in steerage from what now is Croatia, and your mother came over separately.
JS: It was great. Great city, I had a lot of great friends, and I was playing hockey. As a kid, I couldn't have asked for anything more. Geez, I didn't start learning English until kindergarten. But you pick it up pretty quick.
TF: Where did hockey fit in? I know you told me many times your dad hammered away at the need for a work ethic, and that it showed on the ice.
JS: When my dad came over, he had to watch "Hockey Night in Canada" like everybody else. And then I remember when I was a young kid — I think I was about 4 — he took me to a Canucks game, and just being in the Pacific Coliseum up in the nosebleeds did it for me. Maybe it was just the atmosphere. I just felt I wanted to play it. It just took one game. Then he took me power skating and I started playing at about 6. I watched the Canucks every chance I could. It wasn't like now with every game on TV. It was Wednesday or Saturday.
TF: So you head off to Saskatchewan –a long way from home – to play major junior for the Swift Current Broncos. How challenging was that for a young kid, especially in your situation?
JS: I knew it was great opportunity. I got "listed" by Lethbridge [Alberta]. They didn't have a bantam draft then, you just got listed. I was excited to go and played there the last three games of one season, and then they moved to Swift Current. I was excited to go. It didn't matter that I was going to the prairies. I just wanted to play hockey and get to that next level.
TF: How'd you meet your wife, Debbie, in Swift Current?
JS: School. I think it was in the first week. I met her in the hallway.
TF: You're not the most talkative guy in the world, even now. How'd that happen?
JS: My roommate, Danny Lambert. I had him stalk her for me. (Laughs.) It took a little bit of courting, but it's been great. I've been lucky there. Swift Current was a special place for me. It not only helped me get to my NHL career, but more important, it's where I met my wife.
TF: The horrible Swift Current downside was the December 1986 team bus accident that killed four of your teammates – Trent Kresse, Scott Kruger, Chris Mantyka and Brent Ruff. They were playing cards in the back. You were 17. To what extent does that still scar and affect you?
JS: You never forget. It was a horrific time for everybody that was involved, and the families. The whole city of Swift Current and all of us had tough times trying to overcome that. The support of everybody in Swift Current, the whole hockey community and everybody in the Western Hockey League, was terrific and you really appreciate how caring everybody was, going through something like that.
TF: I won't drag you through all of this again, but as I remember it, you were up front?
JS: I was sitting up front with Sheldon Kennedy. All the windows shattered. We just walked out the front part of the window.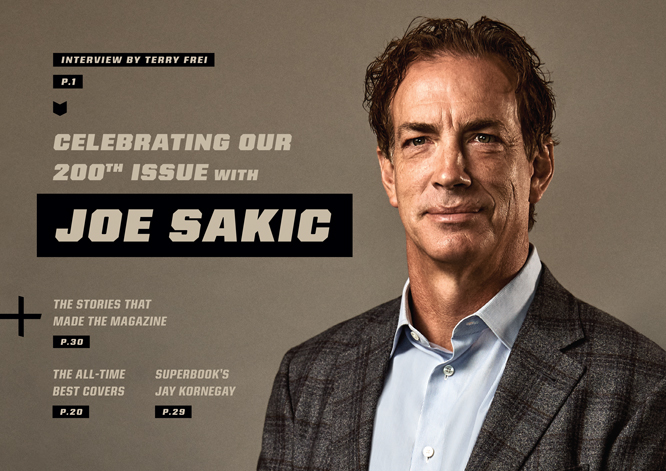 TF: You were Quebec's first-round draft choice in 1987 and joined the Nordiques in 1988. We'll be nice and say there were some lean years. But you were known as the "Croatian Sensation" and it sounds like a fun time. Was that a good place to start your NHL career? It's not in the spotlight as much as Toronto, it's not Montreal, yet you're in a hockey-crazy city.
JS: It was amazing. It was such a great hockey town. As a kid, I followed the Montreal-Quebec rivalry and maybe it was because of the jerseys, I don't know, but I was cheering for the Nordiques. My dad was for Montreal and a lot of people around us were Montreal fans. Not me. I was always for the Nordiques, even before they drafted me. When I got there, it was the only sport in town, in a small city. Unfortunately, it took us a little while to get good. Even though we were rebuilding and all those lean years, the support we had was amazing. The Colisee was packed every game. It didn't go well on the ice all the time, but talk about an environment to get you up for every game. It was such a fun building to play in.
TF: Did you have someone getting one of the Colisee's famous hot dogs for you between periods? That time the Avs played the exhibition there, Adam Foote asked me to get a dozen for the boys at the morning skate. And the concession stands were open for the open morning skates.
JS: I had a lot of hot dogs there … but not between periods.
TF: It was a young and developing team, as you've noted. You became full-time captain at 23. You've talked about getting sage advice along the way from a couple of older teammates headed for the Hall of Fame – Peter Stastny and Guy Lafleur. You all knew what Peter had gone through to get to the NHL, defecting from Czechoslovakia.
JS: Peter, what a great leader! When he spoke, everybody listened. He was stubborn, he was hard-headed. He was great for me to learn from. And then to watch him play, to see how good he was and what a competitor he was. He would say you have tough times, you never quit, you do your part. You have to get ready to play every night. You can't take anything for granted. And when he was traded to New Jersey in my second year, I remember him saying, "You know what, this is your team now. Lead." It meant a lot coming from him. Peter loved Quebec City. He loved that team. It was pretty hard for him to go. And Guy Lafleur, he did that to me on the back of the bus one time. It was in our 12-win season. He said, "Kid, don't worry about anything. You're going to be here a long time. A lot of these guys won't be. You have to stay positive, not worry and play your game and not worry about anything else."
TF: I'm laughing because I'm seeing Guy Lafleur talking to you on the back of the bus. I'm assuming he was smoking a cigarette at the time?
JS:  Noooo, not on the back of the bus. But between periods? Yes.
TF: Flash forward. You've played seven seasons in Quebec City. The Nordiques have made progress. You hear the franchise is going to be sold and moved to Denver. You're the captain of a team moving 2,000 miles. What were you expecting and how did it compare to what you found?
JS: We had such a good fan base in Quebec and felt for everybody there. I think [Nordiques owner] Marcel Aubut and [GM] Pierre Lacroix called me in May, right around the time we finished in the playoffs. I think we all visited Denver the July 4 weekend to look around and check out McNichols Arena at that initial kickoff. We didn't even have a name yet. We were pretty amazed with the city, flying in and seeing the mountains. Actually, we had played an exhibition game – I think it was 1990 – against the Kings at McNichols Arena. So, I'd been there before. But when we got here, we were excited, and we knew we had a young team and a good team. We were coming here to get to the next level after losing in the first round as the No. 1 seed. Now, we heard that the fans were excited, but we didn't realize what it would be like right from day one. I think we had one non-sellout that first year and that was because there was a foot of snow at gametime against Calgary [on November 1]. With all that excitement and us being a new group, it was an amazing season.
TF: That December, Pierre Lacroix – who had gone from player agent to GM – made the trade for his former client, Patrick Roy. Did you look at him as the final piece? You, Peter Forsberg, Adam Foote, Val Kamensky, Claude Lemieux … and now a peerless goaltender?
JS: We really believed that was the last piece, yeah. And Pierre had just got Claude, who'd just won the Conn Smythe for the Devils. As much as you hated to see Owen Nolan leave in the trade for Sandis Ozolinsh, Sandis was the dynamic D-man we needed. He led rushes, he was so good with the puck, and that added that element. And then you get arguably the greatest goalie of all time? We all knew that Detroit was a pretty amazing team that year, too, though.
TF: What's memorable to you about that playoff run – Vancouver, Chicago, the beginning of the blood feud with Detroit, then the almost anticlimactic sweep of Florida?
JS: Everybody knows what happened against Detroit. That was amazing and it started the rivalry, but they were all tough series until the Final. We were close to going back to Vancouver down 3-2. We rallied and won in overtime, then won a close one in Vancouver. I though the Chicago series might have been the best series, the most entertaining series that we as an organization played in. It was six games, but four overtime games.
TF: And Ozolinsh did not trip Jeremy Roenick.
JS: (Laughs.) It's only a penalty if they call it. Those were the good days when they pretty much let everything go anyway. That's what made playoff hockey so exciting. We won in six, but wow, what a tough series. And so entertaining. And then to go and play Detroit, which won 62 games, and leaving the Joe up 2-0 in the series, things were going pretty good for us.
TF: Then the sweep of the Rats … I mean, Panthers. What was it like to raise the Stanley Cup that first time and become Colorado's first major-league champions? What I remember was everyone – players, families – jammed into that little locker room in the Miami Arena and celebrating like you didn't want to leave.
JS: To win your very first one and lift the Cup over your head, that's what you dreamed of as kids. And you hear, because we had lost some playoff series at Quebec, we heard we were a young team, that we don't know how to win. We were changing cities. It was a new environment. And win a Stanley Cup? It was a relief to achieve what every hockey player wants. It was a thrill. It was everything.
TF: You can correct me if I'm wrong, but I thought your best team was the next year, 1996-97, when you won the Presidents' Trophy but lost to the Red Wings in the conference final. It was like you each won the "wrong" year. Patrick's theory always was you got too concerned with and distracted by the rivalry boiling over that season.
JS: I'm not sure. We were deep, we fell short, but I guess you could argue that. I guess we ran out of gas and it was Detroit's turn to do to us what we did to them the year before.
TF: After that, you signed the offer sheet with the Rangers. Three years, $21 million. Constructed to make it difficult for the cash-starved Avalanche ownership to match. Did you want to go to New York? Did you expect to go to New York?
JS: I was kind of, "Let the chips fall where they may." If the Avalanche didn't match, I was more than prepared and ready to go to the Rangers. It would have been an exciting time. I would have had a chance to play with Wayne Gretzky and play in New York. But the Avalanche matched, and I was excited about that, too. I had a chance to finish my career here and I loved Denver. It worked out really well for me and my family. At the time, I'd only been here two years, though.
TF: Have any agents or players thrown that back in your face during negotiations?
JS: (Laughs.) Yeah, every once in a while, they talk about my offer sheet. I say, "Hey, different times."
TF: Plus, it underscores to both sides of the table that, hey, it's a business.
JS: Yes, and we'll see where everything goes now.
TF: You alluded to the two Game 7 losses to Dallas in 1999 and 2000, but now we come to the magical 2000-01 season. Personally, you win everything that season but an Oscar and a Tony – the Hart, Lester Pearson and Lady Byng. You beat Joel Quenneville's St. Louis Blues in the conference final and come back from down 3-2 against the Devils to win the final two games and the series. But let's do this first. Before you get to those last two games, what was that season like?
JS: Both personally and team-wise, what a run we had. It started right at training camp, and I think it was Chris Drury who set it up. Bob [Hartley] asked all the players, "What would be your goal?" We knew we wanted to win the Stanley Cup. But I remember Chris saying – the year before we lost some games to teams we should have beat, and it cost us home ice – he said our goal is to have home ice throughout the playoffs. And we did that. And I remember Pierre telling Patrick, myself and Rob Blake that we all had been unrestricted free agents, and when we signed, the expectation was to win the Cup. No promises after that. We knew what our mission was. Ray (Bourque) came back, we won a lot of games, we were consistent throughout. I mean, we had just lost two Game 7s in a row, the next time you better just get it done.
TF: Patrick is heroic in Game 6 at New Jersey and the series comes back to Denver. Alex Tanguay scores twice and you win 3-1. I consider it and the Broncos' transformative win over the Raiders in the January 1978 AFC title game to be the greatest single games here in Colorado sports history. That was before your time, I know …
JS: (Laughs.) I don't remember that game, Terry.
TF: Remind me to get you a book. But what so many remember as the crowning moment and even a summation of what you're about was your touch pass of the Stanley Cup to Ray Bourque and you watching him raising it overhead first. How long had you thought about what you did and why did you decide to do it?
JS: It was probably on the plane ride on the way home after Game 6. I just went up to Ray and said, "Hey, we have a …" He cut me off and said, "No, no, no." He was superstitious. I wasn't a superstitious guy. I was like, "All right." But when we won, I knew Ray was getting the Cup first. After the game, I really didn't know what I was going to do, other than he was going to be the next to have the Cup. Once we won, I guess it was the moment, there he was. I didn't think about it, I just handed it over to him as quick as I could. (Laughs.) If it was the very first time I had won it, he probably wouldn't have had it. I would have made sure I lifted it up first. If he was there in 1995-96, there was no way I would have done that. I have to come clean.
TF: Are you amazed about how many people remember that as perhaps the defining moment of your career?
JS: Yeah, a lot of people bring it up as the favorite thing they saw. I didn't really think of it like that. It was, "Here's a guy who has played for 22 years, a legend of the game, and in the entire playoffs, everybody's rooting for him." I just felt it was the right thing to do.
TF: You played until 2009, when you were 39. You struggled with injuries the last two years. Any regret on retiring when you did? Too soon? Too late?
JS: The year before I retired, I had hernia surgery and I was contemplating retiring that year. I just kind of thought, "Time's running out, I'd like to go out on top," and I didn't know if I wanted to come back. I started training in the summer. By the time I got to August it was, "I've already trained all summer so I might as well give it one more year." But my back just kept going out. I'd come back, play a game, play a couple of shifts. I remember a game about Thanksgiving. I turned one way and the hernia just exploded. I knew I was going to be done, but I was hoping I could come back and finish the year. I knew then it was my last year.
TF: After you retired, what went into the decision to stay in Denver? Why not go back to B.C.? You didn't join the Avalanche front office for two years.
JS: I never thought about moving back. The kids were here, I was going to enjoy life and go skiing. The boys were playing hockey, my daughter was doing her thing, dance and gymnastics and things like that. Deb and I never thought about moving. It was too easy to stay. We loved Denver. The kids had their friends. We had our friends.
TF: I went out to see you coach with your son's team at a practice, and you were just Coach Joe to those kids.
JS: Yeah, it was nice. They already forgot. (Laughs.) It didn't take long. But, no, I enjoyed those two years, just coaching the kids. No stress. No pressure. Then Pierre gave me a call and asked if I wanted to go to a league board of governors meeting to see if it was something I'd like to consider. I took him up on the offer and tried to learn about the business side. I started with the executive vice president title. I haven't looked back. Pierre gave me a great opportunity. I think over time, you miss the competitiveness. You miss the game. People always said, "Don't stay out of the game too long." And I didn't.
TF: Was it always pre-ordained that at some point you were going to go into NHL management? Or did it take Pierre's phone call?
JS: I had calls from people asking me what I was doing, and I'd say, "Nothing … but loving it." I didn't have any intention of going back in the game after I retired. I was going to travel and enjoy my kids. But the game sucked me back.
TF: You mentioned Pierre. He wasn't a hockey guy in the sense of being a former player and coming up through the ranks that way. What did you learn from him?
JS: Just seeing how he handled himself as a general manager. He wasn't a player, but he was an agent, so he knew everything about the game. He knew where the players were coming from, so I think it helped him being an agent and coming into the management side. It was just watching his demeanor. He was so passionate about what he did. He always did say that everything stays within the group. The quieter you are, the more things you can do. You never heard anything from him. I'd like to think that's a good way to run your team. And I don't think you want to talk too much about conversations with other GMs. It's got to be quiet. It's best for your teams and your players if it's not out there, going public on everything you're trying to do.
TF:  During that semi-internship period, you went into the Hall of Fame in 2012. Stanley Cup, individual awards, an Olympic Gold medal. Now this.
JS:  It was a culmination of my whole career. Walking in and being there for the festivities of the whole event, and then I can tell you that when you're getting your speech ready, you're really nervous. But seeing that wall with all the Hall of Famers and seeing your plaque among them, your childhood idols growing up, and now you're one of them.
TF: In 2013, you and Patrick sign on as teammates again. You're the GM, he's the coach coming in from major junior with a VP title.
JS: I knew Patrick was the next one coming up, being ready to be a coach, move out of junior and move to the NHL. That was his goal and I thought for our organization, it was a perfect fit. He did a tremendous job. He's a passionate man and we knew we needed a little passion in our organization at that time. You saw what happened that first year.
TF: Startling turnaround, from second-worst in the NHL in 2013 to 112 points in 2013-14, and Patrick wins the Adams Trophy. Nathan MacKinnon wins the Calder. We all thought it was going to be happily ever after.
JS: During that year, that's what you're thinking, for sure. Like, "This is easy." But you look back, it was an incredible run. We came back in a lot of games, pull the goalie with four minutes left and tie it and get points. It was just a consistent performance from everybody. I still [can't] believe Semyon Varlamov didn't win the Vezina or maybe Hart that year; he was so good. He'd keep us in it, and we'd find a way to battle back. Looking back going into that summer, maybe we thought we were farther ahead than we were. But that first year was pretty remarkable.
TF: With his VP title, Patrick envisioned it as being a partnership and having a voice in the player procurement. You didn't make the playoffs the next two years, but Patrick was "safe," until he shocked us all by resigning in the middle of the offseason. He made it clear he didn't believe he was having enough input. Did you sense or know of his dissatisfaction with that before it boiled over? Were you going at it behind the scenes?
JS:  We weren't going at it, but we threw concepts at each other all the time. I remember telling him after that year (2015-16), "You're coming back," from my end, and he was fine. I guess he had a change of mind later in the summer. But no, we might not have agreed on everything personnel-wise, but I kind of felt at that point we needed a rebuild. For two years, we tried to do a quick fix, just trying to keep our team at a certain level and trying to make the playoffs. That's when the difference in where we needed to go came in. That year he retired, we knew we weren't going to be very good and we had to start to try and rebuild, from my point of view. We did have a difference of opinion on that. I wanted to start rebuilding and he wanted to try and help that team move forward. I understand that. You want to win every year and every game. My vision was to more get through that year and let the younger guys step in here.
TF: Were you blindsided by his resignation? Did you have any indication it was coming?
JS: I wasn't expecting that call August 11. It wouldn't have surprised me in June, around draft time. I'd rather that than have him come into training camp without his mind right, so it worked out, no problem.
TF: How did it affect your friendship?
JS: I haven't talked to him in a little while. But we got together later that year. When you go through things together as players, when you get back together, it's like it was when you were players. There's no animosity. I know he's going to get another NHL job soon. I still consider him a good friend and obviously a great teammate.
TF: After hiring Jared Bednar, you seemed prepared to perhaps struggle that next season, but how tough did it turn out to be? Forty-eight points while scraping the salary cap ceiling.
JS: We actually got off to a decent start. We were 9-9 and it just derailed when Semyon Varlamov went out. You need a No. 1 goalie to mask some flaws. When he went out, you couldn't mask them. The league was getting faster and we weren't. It was a really, really miserable year, but we got through it and we started our rebuild. It was nice at the end of that year to get some young guys to come in. We didn't win many games down the stretch, but we felt like things are going to get better here.
TF: Have the past three playoff seasons been the payoff for that rebuild?
JS: In that '17-18 season, I think the guys could see we had youthful energy. It took us to the last game of the year to get in the playoffs, but we did it. It took a little weight off shoulders. If you can have good chemistry, excitement, and with players sticking up for one another and believing in one another, that adds a lot.
TF: Lost to Nashville in the first round in 2018. Lost to San Jose in the second round in 2019, and in the Edmonton bubble lost under bizarre and trying circumstances to Dallas in the Western Conference Finals this year. Of course, you had injuries and were down to your third goaltender at the end.
JS: I know it was disappointing. The guys understand injuries, but there are some that are tougher to overcome than others, and when your two goalies are both injured, that's difficult. But I'll say the guys in our dressing room always believe they're going to win. No one ever quit. It's an impressive group of guys. Hopefully we can stay away from injuries next season and take the next step from where we were this year.
TF: Your stamp as a GM the last couple of years especially seems to be solid, augmenting moves rather than big free-agent signings. Is that the thinking with trading for winger Brandon Saad from the Blackhawks and defenseman Devon Toews from the Islanders?
JS: I have a great staff with my scouts and Chris MacFarland and we're always trying to get better. The big thing is the salary cap. We know what's coming. We know we have to pay our guys, so we don't want to handcuff ourselves with the big long-term signings. We felt we needed another D-man, we needed another scorer, and the best way to accomplish that for what was out there was to see if we could do it trade-wise rather than go for the splash. And we're there. We're pretty much a cap team this year and especially now with the flat cap, it makes it a lot more difficult.
TF: The core's in place with MacKinnon, Mikko Rantanen, Cale Makar, Gabe Landeskog.
JS: We love our core. We want to build around that and accomplish our goals.
TF: Nathan MacKinnon now is one of the best – or maybe even the best – players in the NHL. The irony is you took him No.1 overall in a year when nobody available was considered that rare "generational" talent, but after some ups and downs, he's become one.
JS: No one competes like him. The way he's wired, the way he works off the ice, takes care of himself, he wants to be one of the best ever. So, it's not a surprise. I just think when we drafted him, we saw the way he skates with the power that he can take it to another level. Unbelievably strong skater, a powerful player.
TF: But was there ever a point where you were giving up on him becoming that kind of dominant player?
JS: No. You have to learn the league a little bit. He's a student of the game and would watch different clips, learn to change the pace and give himself a little more room out there. He's done everything with that and he's going to continue to do that because that's how he's wired.
TF: And your coach? You're in a league that treats coaches as easily disposable. After that awful first year, albeit under trying circumstances following Patrick's departure, you stuck with Jared Bednar and didn't make him the scapegoat during some ups and downs since. Why?
JS: I think he's the right coach for us. I think he's a super person who works extremely hard. He's trying to get better all the time at making adjustments. I just think for our group, and our core, he's the right guy. I've never believed in hiring and firing coaches just to do it. There are times you have to make tough decisions. I get that. But for me, I'd rather work through things and try to accomplish things as a group. That's coaches and players together.
TF: Here we are, in November. It's uncertain going forward on so many fronts. What's your view as you look forward to next season, trying to make plans?
JS: We're just kind of waiting to see. Our team's set, ready to go. We're just waiting to be told when we're going to go and what it's going to look like. We're like everyone else, hoping we can start sooner than later. I know January 1 is the date they have tentatively set right now to start the season and hopefully that can work. And hopefully at some point we'll be able to play with fans and full buildings and have playoffs here in the Ball Arena with fans behind us. We're just waiting.
TF: Last question. Everybody wants to know the answer to this one. Do you hire somebody else to use the snowblower now?
JS: (Laughs.) No, I have it ready to go for the next snow.
Joe Sakic is a two-time Stanley Cup champion, a three-time First-Team NHL All-Star, winner of the Conn Smythe Trophy, the Hart Memorial Trophy, the Lester B. Pearson Award, the Lady Byng Memorial Trophy and NHL Foundation Player Award. This issue marks the sixth time Sakic has appeared on the cover of Mile High Sports Magazine. 
Terry Frei is a seven-time winner of state sportswriter of the year honors – four times in Colorado and three times in Oregon (in peer voting conducted by the National Sports Media Association). He's the author of seven books, including "Horns, Hogs, and Nixon Coming; Third Down and a War to Go"; and "'77: Denver, the Broncos, and a Coming of Age." Information is available on his web site, www.terryfrei.com.