 Standing one on top of the other on top of the other, they barely measure over 17 feet tall. That's about the size of your average teenage giraffe. Together, they weigh in at a total of 585 pounds. That's about standard weight-lifting plate heavier than famed wrestler Andre the Giant tipped the scales for his fighting weight. Yet, there's nothing little about the style of play Denver's three diminutive draft picks will bring to the football field this fall.
The Broncos rookies took the field for the first time in orange and blue this past weekend for a 40-minute practice with their peers. Their short stature notwithstanding, Carlos Henderson, Isaiah McKenzie and De'Anglo Henderson stood out.
Carlos Henderson, a third-round pick out of Louisiana Tech, brings the "height" to the party among this new draft group at 5-foot-11. In three years for the Bulldogs, the wide receiver pulled in 147 receptions for 2,878 yards. He posted more than half those numbers in 2016 alone, going for 82 and 1,535 to go along with 19 touchdowns. He added another two touchdowns rushing and two more on kickoff returns in 2016 (for a sum total of 34 in his career), making him a triple-threat that Broncos head coach Vance Joseph is excited to potentially deploy in the slot.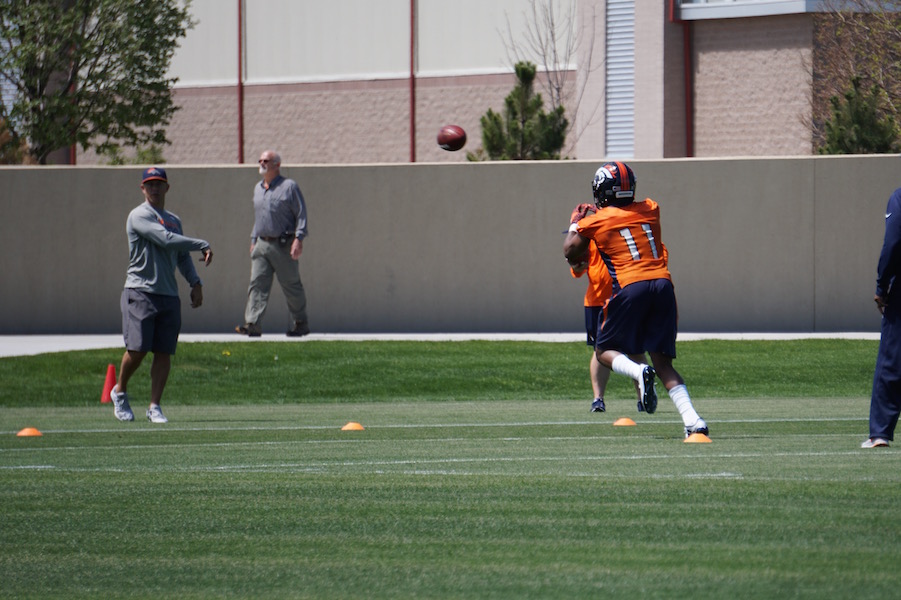 "He's a receiver that's built like a running back," Joseph said about what he saw from Henderson during the workout. "He's got a big upper body so he can break tackles. He's got a quick twist to play the slot position for us."
McKenzie brings a similar skill set out of Georgia as a fifth-round pick, but in an even smaller package. At 5-foot-8 and 173 pounds, he's shorter but only slightly heavier than Kalif Raymond who's competing with him for the mantle of "smallest Bronco." His stats don't pop out as much as Carlos Henderson's, but the competition he faced in college was significantly better. Against SEC talent, McKenzie compiled 823 yards on 98 catches over three years. He found the end zone seven times through the air as a senior and six times for his career returning kicks and punts. He also had four career touchdowns rushing for the Bulldogs. Like Carlos Henderson, he's a triple-threat with blinding speed. He also has exceptional hands, which translates to great ball skills, according to his head coach. "I think McKenzie for me, confirms his ball skills. Sometimes when you have a smaller receiver, their ball skills suffer. But, he's got big man ball skills and it confirmed today," Joseph said after Saturday's practice.
De'Angelo Henderson brings a combination of speed and power in a compact package. At 5-foot-7, 208 pounds, he's the shortest but heaviest of this trio. That size compares almost identically to former Jaguars running back Maurice Jones-Drew, whom he compared himself to following the workout. "Growing up, my favorite running backs were Barry Sanders and Warrick Dunn," he said. "For the most part, I try to do what they do, but at the same time, MJD [Maurice Jones-Drew] came along and started plowing through people. I thought, let me try that. There are definitely different guys that I looked at that play the game. I'm naturally attracted to the guys who are more my size."
That approach worked well at Coastal Carolina, where he piled up 3,479 yards over three years and 41 games. He found the end zone 42 times on the ground and 4 times through the air, including 35 games in a row to set an NCAA record. And while the players he models his game after are some of the best to ever play, he also knows that right now he needs to focus on learning from the veterans and coaches surrounding him in Denver and acclimating to being an NFL player.
"Coming from college, you know college," he said. "When you come to the NFL, it's a whole different level. Just increasing my knowledge. Just being a sponge to everybody. Just soaking up as much knowledge as I can from the older guys and the guys that have been around for a while. How can I last? How can I be successful? I'm sure the coaches and the guys as well will help me become a better man."
Overall, Joseph was impressed by the maturity his entire rookie class showed during their first real week of work as Denver Broncos, McKenzie and the Hendersons included.
"The first meeting we had Thursday evening was fun. It's a mature group. Everyone was up in their chair and taking notes and engaged. That's important because most rookies don't know what to expect. They`ll walk into meetings and they're slumping in their seat and not taking notes. But this group, they were engaged in our conversation. That was impressive with these guys. It's a good group. It's a handpicked group for our football team. I'm impressed with them so far."
Denver leaned heavily on young players in 2016, including rookie running back Devontae Booker, so those expectations shouldn't change much under Joseph. Denver needs to solidify its No. 3 receiver and its return game, which will give all three players plenty of opportunities to meet the expectations set upon them.
As for a longstanding expectation of the rookies from the veterans, that's the only expectation Coach Joseph might re-consider.
"I'm not opposed to that," Joseph said when asked if rookies will again be asked to carry the veterans' pads, "but we can't go too far with that. It's our job as the staff and as coaches to find the guys who can help us and fit our culture and mold them. Make them Broncos. It's hard to bring guys in and mold guys and bring them in when you're hazing and going too far. That becomes personal and we don't want that.