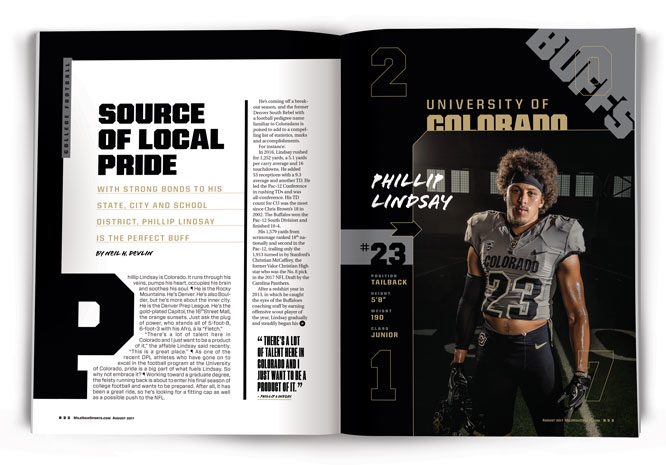 This story originally appeared in Mile High Sports Magazine. Read the full digital edition.
Phillip Lindsay is Colorado. It runs through his veins, pumps his heart, occupies his brain and soothes his soul.
He is the Rocky Mountains. He's Denver. He's also Boulder, but he's more about the inner city. He is the Denver Prep League. He's the gold-plated capital, the 16th Street Mall, the orange sunsets. Just ask the plug of power, who stands all of 5-foot-8, 6-foot-3 with his Afro, à la "Fletch."
"There's a lot of talent here in Colorado and I just want to be a product of it," the affable Lindsay said recently. "This is a great place."
As one of the recent DPL athletes who have gone on to excel in the football program at the University of Colorado, pride is a big part of what fuels Lindsay. So why not embrace it?
Working toward a graduate degree, the feisty running back is about to enter his final season of college football and wants to be prepared. After all, it has been a great ride, so he's looking for a fitting cap as well as a possible push to the NFL.
He's coming off a breakout season, and the former Denver South Rebel with a football pedigree name familiar to Coloradans is poised to add to a compelling list of statistics, marks and accomplishments.
For instance:
In 2016, Lindsay rushed for 1,252 yards, a 5.1 yards per carry average and 16 touchdowns. He added 53 receptions with a 9.3 average and another TD. He led the Pac-12 Conference in rushing TDs and was all-conference. His TD count for CU was the most since Chris Brown's 18 in 2002. The Buffalos won the Pac-12 South Division and finished 10-4.
His 1,579 yards from scrimmage ranked 18th nationally and second in the Pac-12, trailing only the 1,913 turned in by Stanford's Christian McCaffrey, the former Valor Christian High star who was the No. 8 pick in the 2017 NFL Draft by the Carolina Panthers.
After a redshirt year in 2013, in which he caught the eyes of the Buffaloes coaching staff by earning offensive scout player of the year, Lindsay gradually and steadily began his climb. As the first Denver South player on the CU roster since 1983 (Scott Martin and Shelby Nash), he played in all 12 games in 2014 and amassed 1,358 all-purpose yards. A year later, Lindsay played in all 13 games, rushed for 653 yards and earned a few postseason honors.
The CU media guide has Lindsay's name all over it, notably that he has 4,029 all-purpose yards (2,233 rushing, 719 receiving and 1,077 on kickoff returns) for third all-time in program history, is 22nd in scoring (144 points) and has 87 career receptions.
Perhaps best of all, Lindsay has been named team captain for the coming season. It's his third time, and don't underestimate its power, prestige and effect on someone who wears it well and embraces the responsibility. He joins former teammate Sefo Liufau (2014-16) and – get this – Pat Carney (1891-93) as the only Buffs to have a trifecta serving as captains.
CU head coach Mike MacIntyre isn't surprised.
"To me, Phillip Lindsay brings everything to our program; he's the heart and soul since Sefo Liufau moved on," the coach said. "He has taken Sefo's spot as our ultimate leader.
"He has the heart of a champion and his willpower is amazing – a phenomenal football player."
Coach Mike Mac says he has a pet nickname for his running back: "Tasmanian Devil." It has more to do with major effort than anything humorous concerning the classic Looney Tunes character.
"He's just a whirlwind of energy, 'positiveness' and relentlessness," MacIntyre said.
Lindsay is fueled by an array of ingredients, family personalities and happenings.
One is his motivation since an injury in his senior season as a schoolboy. Denver South's all-time leader in rushing (4,587 yards) suffered a left-knee injury in the Rebels' season opener, came back to play in the third game and got hurt again. It was a torn anterior cruciate ligament and he had surgery, an S-word running backs hate to hear.
"I struggled at the beginning," Lindsay admitted. "At one point I didn't think I would play again."
Without a lot of money to put into his rehabilitation, fretting about his future and not getting the proper treatment, Lindsay said "all the scar tissue was built up and I couldn't bend or straighten my knee. Luckily, I got with Ted Layne, a retired CU trainer. Without that man, I wouldn't be playing today."
Said Tony Lindsay Sr.: "He has come a long way and is a good kid, a very good kid."
In a more mature tone, the younger Lindsay admits that "attending that first year of fall camp I was trying to make a name for myself. I came in [at a lighter weight]; so I was always trying to prove myself. I was a hot head. I ended up redshirting and it was the best thing I could do."
Another is his heritage. He's a Lindsay and everyone associated with football in Denver knows the name. Break out a pad and pen to try to keep up with the following. His uncle and prep coach, Tony Lindsay, now heading the Far Northeast Warriors (née Montbello) is a former running back at Utah. Father Troy was a fullback at Colorado State. Cousins Gabe (wide receiver) and Tony Jr. (quarterback) played at Oklahoma State. Brother Zach Lindsay is a running back at Northern Colorado. Another brother, Marcus, is a running back at CSU-Pueblo. In addition, other family members Dominic and Matt have either played or coached in the game, and sisters Cheri and Sparkle were college athletes.
"It was a great feeling to see all of us grow up," Phillip said.
And then there's the pride he feels when he discusses where he's from – the DPL. Even though he's a young man, Lindsay is well aware of what has been happening. Most of the football talent and power has shifted to the suburbs around Denver. A fair amount of the individual talent continues to enroll elsewhere. The former Montbello High, which uniquely combined being in the suburbs (Green Valley Ranch) with the feel of an inner-city school, has been broken up and the main building has been housing multiple schools. A lot of the necessary funds being raised to support prep football haven't been rolling into Denver.
Lindsay remains unfazed.
"For a kid from DPS, I'm proud to be from there," he said. "In DPS, there's a lot of talent out there. You just have to go and find it."
MacIntyre appreciates the fact that CU football hasn't stacked up with other states' major universities in terms of regularly securing local talent. But having Lindsay on his roster and watching him blossom can't hurt the future. Lindsay was a very important signee and his evolution serves as a potential city model to be followed by hopefuls in the years to come.
"I definitely think so," MacIntyre said. "I know he is very proud being from Denver, very proud being from Colorado. He is living out his dream."
The dream's next chapter is just about here. Lindsay admits he has certain marks he'd like to attain in 2017, but insisted it's more about the team than any of his numbers.
"There are a lot of goals, the biggest is to just try to push myself this year," he said. "Everybody is gunning for you … on top of that, stay healthy and I have to have some luck staying healthy and just help my team win.
"I have one more good year left of college football. I'll be ready. This is it for me."
Uncle Tony said, "Man, you know what, I just want him to stay healthy and if he does that, he'll do really well. He has just been battling being hurt since he was in high school. Maybe he'll have a chance [to play in the NFL] if he stays healthy. If not, he has his degree."
Certainly, Lindsay holds out hope of turning pro, but he's also preparing for real life. He has a communications degree and is a few credits shy of another in sociology. His career choice is no secret. Police officer. What felon or petty criminal guilty of a misdemeanor would want a peace officer with the tenacity of Lindsay after him?
"I mean, everybody knows right now it's dangerous to be a police officer; there's a lot of negativity," Lindsay said. "I want to make an impact in my society and, honestly, wherever I go to make an impact.
"I'll be playing football and just being me, but after I'm done I want to continue to make an impact and change people and help people out."
Just as he helped out Colorado's football team – and with one year to go.
"I can sit here and say I helped build Colorado where it is today," Lindsay said. "And I hope to continue it. This is a great university, man, so much talent comes out of here … I want to be product of what I've done for my state."