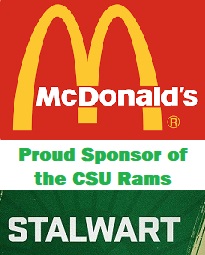 The CSU Rams have finally beaten the Boise State Broncos.
And all it took was a crazy fourth-quarter comeback, including a Brayden Fowler-Nicolosi Hail Mary completion to Dallin Holker as time expired, to win 31-30.
Coming into the game, the Rams were 0-12 all-time against the Broncos. And the way this one started, it seemed like Colorado State would have to wait yet another year to beat Boise State.
The Broncos ran all over the Rams with ease. Ashton Jeanty ran in two touchdowns and was well over the century mark in the first half as Boise State led 17-0 at the break. When CSU tried to put a field goal on the board before halftime, the Broncos blocked it. Everything was going BSU's way.
That ended at the half, as CSU put 10 points on the board with a quickness. But the Broncos stormed back, scoring 13 unanswered points, to lead 30-10. That included a third touchdown for Jeanty with only 6:12 remaining.
Colorado State then flipped a switch. Fowler-Nicolosi led a drive the length of the field in just over two minutes, with Louis Brown securing the touchdown. Then they onside kicked the ball, and went 70 yards in less than two minutes, with newcomer Dylan Goffney catching his first touchdown with the CSU Rams.
The Rams again onside kicked the ball, but Boise State recovered. That's when Colorado State's defense forced a 3-and-out and Fowler-Nicolosi was forced to go 88 yards in only 33 seconds. After a 44-yard pass to Tory Horton got them in range, Fowler-Nicolosi uncorked a Hail Mary to the end zone and Holker caught it off the bounce.
🙏THAT'S A CATCH! pic.twitter.com/mIbjum8Wqm

— Colorado State Football (@CSUFootball) October 15, 2023
Here's a second view:
😱😱😱 pic.twitter.com/i40koSkqvZ

— Colorado State Football (@CSUFootball) October 15, 2023
As you can see in this Win Probability graph from ESPN, Boise State controlled the game throughout and had a 99.9% chance of winning until the final play. It was a wild, 20-point comeback in 6:12 that will go on as one of the Rams best comeback wins of all time.
For Colorado State, it was a monumental win. Not just in their history—the first win ever against Boise State—but in the season, too. The Rams are now back to even at .500, and no one doubts Jay Norvell has the team headed in the right direction in Year 2.
Stock Up: CSU Rams passing game found footing in 2nd half
Brayden Fowler-Nicolosi
The Rams passing game was anemic in the first half, but it exploded in the second half. In fact, he and the team had only 46 yards of passing before the break.
But BF-N finished with 359 passing yards with 3 touchdowns and 1 interception. All three of those scores—to Brown, Holker and Goffney—came in the final six minutes of the fourth quarter.
That's the definition of clutch.
Fowler-Nicolosi started his season off great but played terribly in the loss to Utah State. This was a huge bounce-back game for him and the CSU Rams as a team.
Dylan Goffney
Goffney was supposed to be a big-time transfer from SMU, but he hadn't done too much with the Rams to this point. On Saturday night, Goffney enjoyed seven catches—matching his season total to that point—for 85 yards with a crucial touchdown.
👏👏👏 https://t.co/K1v3CAEiBI pic.twitter.com/8KfBbKPOvz

— Colorado State Football (@CSUFootball) October 15, 2023
If Goffney can continue to be an impact player, it just adds to the already deep arsenal Colorado State's offense has with Horton, Holker, and Brown, too.
Dallin Holker
Holker's stock is seemingly always rising. In fact, he's arguably the best tight end in college football right now.
The BYU transfer is an incredibly reliable receiver in the short-to-medium passing game, and he knows how to create yards after the catch, too. His 497 yards are currently second-most among tight ends, as are his 6 touchdowns. In fact, that Hail Mary touchdown catch tied him for most-ever in a single season for Colorado State tight ends with Cory Sperry and Kivon Cartwright.
Tory Horton
Horton, Horton, Horton. This was a slow night for the superstar receiver for most of the game, but he still finished with a quiet 10 receptions for 130 yards, no scores.
His 44-yard catch late in the fourth quarter helped the Rams move the ball into range for the desperation pass to win. That one wasn't so quiet.
With the great game in terms of yards, Horton now has 690, which is sixth-most in the nation.
Jack Howell
A quick shoutout to the star safety who has struggled at times this year.
He recorded a game and season-high 15 total tackles and one pass breakup which resulted in a Henry Blackburn interception.
Stock Down: CSU Rams run defense
Rams run defense
Colorado State couldn't even slow down, let alone stop, Ashton Jeanty.
Jeanty finished the game with a sensational 212 yards on 31 carries, good for a stellar 6.8 yard per carry average. He also scored three touchdowns on the soft Rams defense.
CSU is giving up an average of 161.8 rushing yards per game, which is just far too many. They need to find a way to play tougher up front moving forward.
Rams rush offense
While they are giving up way too much on the ground, they also aren't rushing well when they have the ball.
Part of the reason is missing so many talented players due to injury. Kobe Johnson and Avery Morrow were both out again on Saturday night, leaving Vann Schield as the team's starting back. Schield finished with 15 carries for 51 yards and 1 touchdown.
On the game, the Rams rushed for a paltry 42 yards. That's a -170 yard difference.
Colorado State still somehow found a way to win, but they need to get the rushing game going to keep from going one-dimensional the rest of the way.
Mohamed Kamara
Kamara didn't have a bad game, really, but he also didn't record a sack.
Kamara finished with 3 total tackles and half a tackle for a loss in the win. It was the first game all season he didn't have a sack, but luckily for him he still leads the nation in sacks with 9.5. Jonah Elliss of Utah is right on his tail, though, with 9.0.