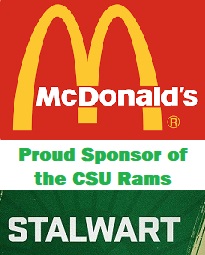 Well, that wasn't the season kickoff the Rams were hoping for.
"Well, that was disappointing to say the least," head coach Jay Norvell started his postgame press conference. "We played inconsistently in the first half. Offensively we got off to a good start on the first drive. Then we had four drives where we just came up short.
"I just grabbed the football team and I told them we've got a lot of good football players in that locker room. And it's my job to get them to play consistently," Norvell continued.
On Saturday, the Rams found themselves ahead 3-0 early but then gave up 36 straight points to the Cougars. Kobe Johnson's 98-yard kickoff return touchdown ended that scoring drought for the Rams, but with CSU down 26 points in the fourth quarter, the game was all but over at that point.
Still, Brayden Fowler-Nicolosi led the green and gold to two late scoring drives to finish the game as a 50-24 blowout.
Let's look at the Stock Up/Stock Down for CSU after that loss.
Stock Up
Brayden Fowler-Nicolosi
Starting quarterback Clay Millen was hit hard through three quarters and that was part of the reason why Fowler-Nicolosi came into the game.
"I did not like the way we didn't respond in the third quarter," he said. "That was disappointing. I thought Brayden came in and did some good things. Clay kind of got dinged a little bit, and I really didn't like the look in his eye, so we let Brayden play."
The sophomore came in and played well, going 13-20 for 210 yards and 2 TDs with one interception. It's possible he pushes Millen for the starting spot this year, too.
Kobe Johnson touchdown
Johnson was brought in thanks to his dynamic running abilities, but Avery Morrow got the start in the backfield. So, Johnson made the most of his opportunities and took a kick to the house, 98 yards.
𝗛𝗢𝗨𝗦𝗘 𝗖𝗔𝗟𝗟! 98-yards 𝐓𝐎 𝐓𝐇𝐄 𝐇𝐎𝐔𝐒𝐄!#Stalwart x #RamGrit 🐏 https://t.co/6PbBL6QGt5 pic.twitter.com/g9dvdT7MV8

— Colorado State Football (@CSUFootball) September 3, 2023
That kind of speed and electric ability is something the Rams have lacked on special teams, specifically in the kickoff return game, for years. If Johnson can continue to return like that, the Rams will be in good position literally and figuratively going forward.
Justus Ross-Simmons
Justus Ross-Simmons came into this year as the Rams' No. 2 receiver behind Tory Horton. And on Saturday, he showed out by leading Colorado State in yards (123) and a touchdown.
Part of that great production was this incredible catch and run from Fowler-Nicolosi in the fourth quarter. It was a blown coverage from the Cougars, but still great speed by Ross-Simmons to score from 75 yards out.
BFN ➡️ JRS = 6⃣#Stalwart x #RamGrit 🐏 pic.twitter.com/Lnr5vaNZYg

— Colorado State Football (@CSUFootball) September 3, 2023
Stock Down
Clay Millen
Millen was hammered by the Washington State defense, even if he was only sacked one time. It was a replay of last year, except for the fact he was also not as sharp as 2022, when he completed 72.2% of his passes.
Millen went 15-24 (62.5%) for 110 yards and one pick. The 4.6 yards per completion was nearly half of his average completion yardage last year (8.2).
It's a bit worrisome when Norvell admits Millen was "dinged a little bit," leading to BFN's entrance into the game. For now, it seems to still be Millen's job to lose as the starting quarterback. But Colorado State simply cannot be as bad offensively as we saw last year, nor during the first three quarters of Saturday's game.
Passing defense
Colorado State's passing defense has been hyped up this offseason. There's Jack Howell and Chigozie Anusiem, among others. But the defensive backfield was smoked by Washington State all game long. There were huge completions of 25, 26, and 50 yards, along with other explosive plays left and right for Washington State.
The Rams defense can't give up chunk plays all game long, even if the offense gets it rolling, or CSU won't be able to hang with many teams this year.
Rams running game
Colorado State's rushing attack was basically nonexistent in Week 1.
Morrow rushed 11 times for 29 yards, a paltry 2.6 yard per carry average. Meanwhile, Johnson carried the rock seven times for only 16 yards, an even worse 2.3 YPC.
Simply, the Rams offensive line wasn't good enough in either the running or passing game. That's a huge red flag because they were awful last year and were supposed to be much-improved this time around.
The good news is, the Rams now have a bye week. Millen can rest up and the rest of the team can continue to scout the CU Buffaloes, who enjoyed a massive, upset win over No. 17 TCU on Saturday.
Colorado State will likely be in trouble in Week 3, but now is the time to put the extra week to use in preparing for Coach Prime and Co.