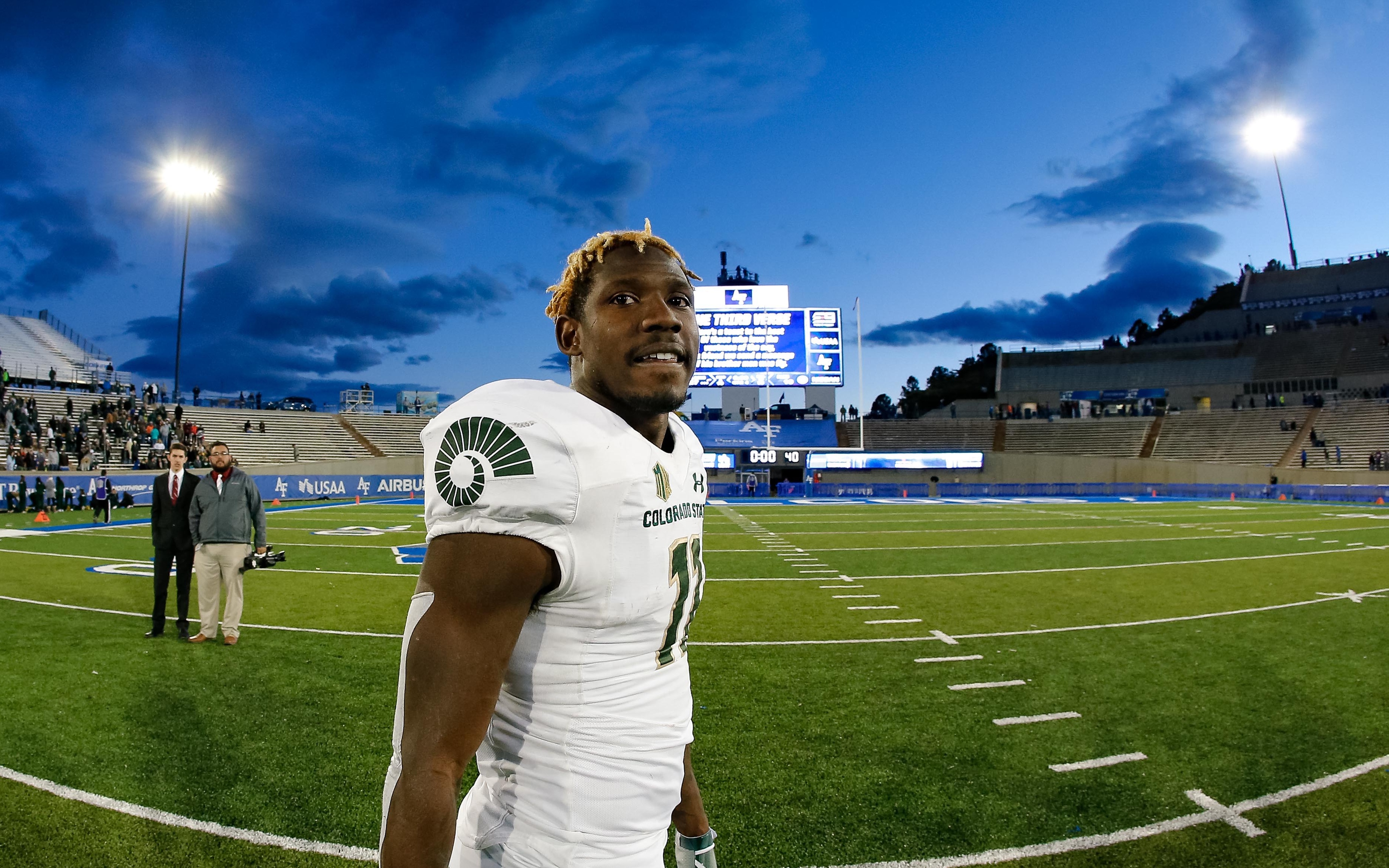 With their 27-19 defeat at the hands of the Air Force Falcons, Mike Bobo's Colorado State Rams fell to 3-9 on the season.
Without a doubt, this was Bobo's worst season as the team's head coach. The record, alone, bears that out. So does the 0-3 record in rivalry games. It was not only the first time in Bobo's four-year tenure in which the Rams struggled through a losing season, it was also the first time they missed a bowl game with him in charge.
"Pretty much a microcosm of our whole season," Bobo said of the loss to Air Force on Thanksgiving day. "Too many mistakes, turnovers. We lost the turnover battle. We didn't execute well enough to win."
Let's take a look at how this loss was, indeed, a microcosm of the sad 2018 season and the takeaways from this year.
1. Run defense was disastrous 
Air Force, an option team, runs the ball almost exclusively. The Rams knew the run was coming, and yet, they gave up an extraordinary day on the ground with 393 yards rushing to the Falcons.
"Obviously we couldn't stop the fullback," Bobo said. "If you can't stop the fullback against an option team, you're gonna have a long day."
Cole Fagan, the Air Force fullback, enjoyed an otherworldly day with 260 rushing yards — with a 7.6 yard per carry average — and one touchdown.
It was the seventh time on the season in which John Jancek's defense gave up 200-plus yards on the ground, and that doesn't include the 199-yard game against Hawaii to kick the season off.
In fact, the Rams allowed 219.5 rushing yards per game in 2018, which was the most since 2011. That means, obviously, they were worse in that aspect than in 2016 or 2017, which seemed unfathomable at following the departure of former defensive coordinator Marty English.
2. Scoring defense was dreadful
When it was all said and done, the Rams gave up a terrible 36.8 points per game, which was 116th out of 130 DI teams.
Again, it was a massive regression from the last two seasons, in which it seemed Colorado State's defense simply couldn't get worse. Under Jancek, they did.
An insight into how bad this defense was at allowing points: You have to go all the way back to 1981 to find a CSU defense that gave up more points per game (41.8 PPG). That team went 0-12.
3. Awful offense
Bobo's an offensive-minded head coach, and he's called the plays for the vast majority of his time in Fort Collins. Which is why it's even more concerning when the offense sputters.
It must be noted that due to health issues and visiting doctors instead of making meetings early in the season, Ronnie Letson called the plays on offense for the first four games. Bobo took over in the fifth game, a loss to Illinois State.
Still, no matter who was calling the plays, the offense put up a mere 22.8 points per game, which was 112th out of 130 DI teams. That means there was a 14-point differential per contest, or that the Rams lost by two touchdown per game on average. It was the team's worst scoring offense since 2012.
Considering all the talent on the offensive side of the ball, their struggles are a bit of a head-scratcher. But when one looks deeper, the injury to Collin Hill and the lack of experience and depth on the offensive line really hurt the offense.
Especially the latter. Not only did the Rams have to replace Jake Bennett and other stalwarts, Colby Meeks moved from guard to center and the rest of the line was cobbled together. K.J. Carta-Samuels didn't play poorly, but sometimes, he and Hill had little time to read the defense before having to react to a rusher in their face. The line gave up 30 sacks on the season, which was another major regression from the last two years.
4. Poor pass defense
It wasn't just the run defense that was bad, but the pass defense, too. The Rams allowed 9.14 yards per pass attempt — which is way too high — and 30 touchdowns through the air.
Why was that average so high? CSU gave up far too many explosive plays to opponents. An 89-yard pass play against the Buffs, a 64-yarder against Arkansas, a 60-yarder versus Illinois State, 55-yard play for Hawaii and the list goes on and on.
5. Lack of preparedness 
That leads us into the final takeaway, the lack of preparedness. 94 penalties for 789 yards is one way to measure it.
However, defensively, that lack of preparation was most easy to see. When the Rams knew to expect run — against Arkansas, Illinois State, Wyoming and Air Force — they couldn't even slow it down. Were they studying tape during the week? That goes for the pass defense as well, who routinely either missed tackles or was completely out of position to make a play on the ball.
Which is why it's surprising Bobo said he doesn't expect to make coaching changes this offseason.
"We evaluate everything after the season," he explained. "I don't expect any staff changes but sometimes guys leave…We need some consistency with the program. We've had three defensive coordinators in four years. We need some consistency."
Offensively, the lack of preparedness includes turning the ball over on offense. On Thursday, the Rams threw two interceptions and lost the turnover battle 2-0.
"Turnovers, we're the last in the conference in turnover ratio," Bobo explained of where they can improve going into 2019. "We can't turn the ball over as much as we have."
Simply, as Bobo admitted, there are a ton of areas in which these Rams must advance. Getting "tougher" and "stronger" are two of those areas, as he explained, while getting better prepared throughout the week, calling a more dynamic game offensively, taking some calculated gambles, and an overhaul of the defense are others. Oh, and getting some kind of production in the return game on special teams is key, too.
Postive notes:
Preston Williams was an absolute beast, finishing the year with 96 receptions for 1,345 yards and 14 touchdowns. While Williams says he's undecided on declaring for the NFL Draft, it seems likely he will after the one year with Colorado State.

Williams finished with the second-most touchdowns in a year for a Rams receiver (tied with Michael Gallup in 2017), and his yards are third-most for a single-season.

With Williams likely leaving, the Rams are in good hands with sophomore Warren Jackson. His 405 yards and four touchdowns were each career-highs, and those numbers could skyrocket next year.
Senior Josh Watson again led the rams with 130 total tackles and his 7.5 tackles for a loss were tied for the most with Emmanuel Jones.
Freshman cornerback Rashad Ajayi had a very strong season, with one sack and a pick-6 along with 33 tackles and six passes defended.