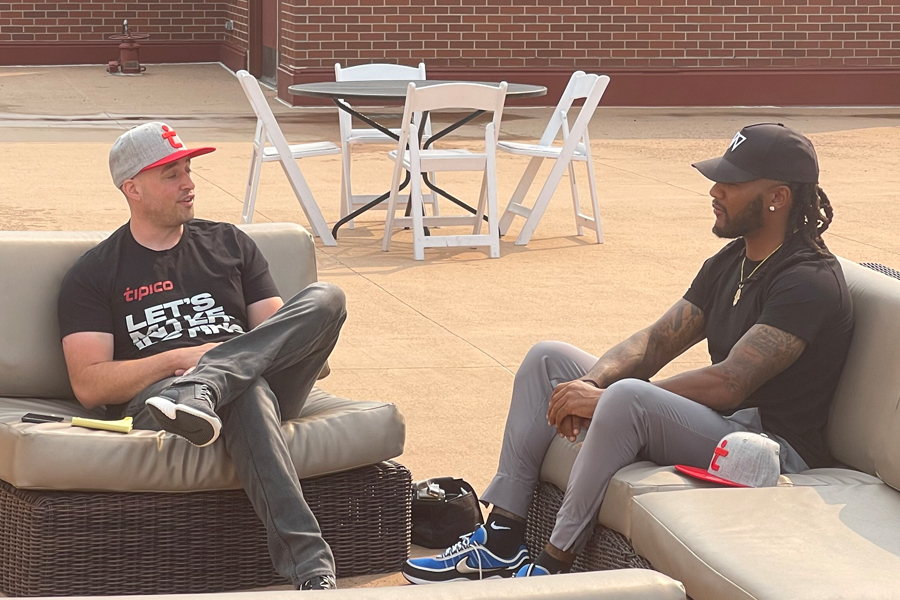 The following appears in the August Football issue of Mile High Sports Magazine
Talking bets, Broncos and the best secondary to ever play in Denver with SiriusXM's Brad Evans (@NoisyHuevos) and Super Bowl champion safety T.J. Ward (@BossWard43)
Special thanks to Tipico Sportsbook and the Denver Athletic Club and be sure to check out the videos below to see more of Brad's conversation with T.J.!
Brad Evans: There's a ton of excitement around this Bronco season this year, largely due to the hype – and it's kind of deafening – surrounding the defense. Pro Football Focus has the Broncos defensive secondary ranked No. 1. The D-Line is ranked in the Top-10. Because of that, there are people out there saying that the 2021 defense may be on par or possibly better than the 2015 team that you were on. Your thoughts.
T.J. Ward: They done lost they mind. They lost they mind! Why? 
Evans: On paper. The talent. Their grades. 
Ward: I take PFF with a grain of salt. They do some good things, but then they grade where some things aren't 'football compatible.' Some things in football you can't say it's a particular number. You're going to upgrade because of this, or downgrade because of that. There are too many nuances within the game that can affect a PFF score. I played in the pre-PFF era where you just watched film and this guy was good or he wasn't. And we didn't care about his PFF number. It was just, 'Is he a baller or is he not?' This Broncos defense definitely has some good players, but comparing them to ours? It's unfair to both sides. It's apples and oranges. (Our) team was one of the best defenses of all time. And now you're saying that five years later, in the same city, that this is going to be as good as one of the best defenses ever? Not even just a best Broncos defense ever – ever, ever, ever. I don't see it. 
Evans: And they don't have a dope nickname for the secondary. You can't copy the No Fly Zone, right?
Ward: I take Well, you earn a nickname. You've got to earn that. We came in and, weren't like, "Oh, we're coming in as the No Fly Zone." Nah, it didn't work like that. We just started shutting shit down. Nothing flies? That sounds like it sticks. Whatever they do on the field is what they're going to earn, a moniker or, or not. It's earned. It's not given. We take a lot of pride in what we did that year, and for – excuse me – a team that hasn't done anything to be in compared to us? I don't like it personally, but it's all good.
Evans: It's for fans to talk about. It strikes up controversy. Morons like me love to talk about it.
Ward: I love to talk about it. I love to give all the reasons why teams aren't as good as we were. 

Evans: It was a forgettable season last year, and at Tipico Sportsbook, they have a tagline and it's called "let's make this interesting." So that's what we're going to do here – I'm going to put you on the spot. Denver wins, right now at Tipico Sportsbook is at 8.5. You going to go over or under after that five-win season? 
Ward: I'll go over. Nine wins. Not by much, but over. There's the extra game. Depending on who the quarterback is, if it's Teddy, he's a great quarterback, that's going to come in and get you those wins that you were borderline losing last year. think two or three of those games, they win that they would've lost the year before. 
Evans: It's a tough division and they could be in the basement. I'm sticking with the under. But what about making the playoffs? Our friends at Tipico have the YES at +150 and the NO is at -190. So T.J., are you thinking the Broncos could pull a rabbit out of the hat and make the postseason? 
Ward: Nah, they're not going to make the postseason. The division is too tough, too much firepower and, the AFC is loaded right now. I'm going to say they don't make it.
Evans: You and I, my man, are all on the same page. The Chiefs and Chargers are the class of the division. You bring it up big picture. The Colts got Carson Wentz. We'll see if he can bounce back with a change of scenery. You've got the Bills. The Tennessee Titans are a Super Bowl sleeper right now. The Broncos aren't making it this year. 
Ward: Maybe in a year or two. 
Evans: Okay, last one for you, and it has to do with the Broncos head haunch. Vic Fangio…Coach of the year, set at 20-to-1 odds. What do you think? 
Ward: No. 
Evans: I love it. Just no. Emphatic! 
Ward: Well, we already went over the team's overs and unders and not making the playoffs. Under 8.5 wins and not making the playoffs – those things do not win you Coach of the Year.  
The Tipico Player Props! 
…as debated by Brad and T.J.
COURTLAND SUTTON O/U 1,007 receiving yards
Evans: OVER. Two years ago, when he was healthy in 2019, 72 catches 1,012 yards, six touchdowns that year. He's got the skills to pay the bills. It boils down to the quarterback play – that's it. I love Courtland Sutton; I'm slamming the over. Breaking out the sledgehammer, that's how confident I am on that one. 
Ward: OVER. He's a baller. He's a deep threat machine. He goes up and gets the ball. He's a big guy. He's not skinny. He can bully cornerbacks. If he stays healthy, I think a thousand yards is easy. 
COURTLAND SUTTON O/U 69 receptions 
Evans: OVER. Remember, two years ago he had 126 targets. That was 7.6 per game. So he is a workhorse wide receiver.
Ward: OVER. Like you said, he had 72 a couple of years ago without even blinking. So, coming back off that ACL, he's probably in the best shape of his life.
JERRY JEUDY  O/U 965 receiving yards 
Evans: UNDER. Ever so slightly. It is a 17-game season. I think he'll be right around 950, 960 yards in the end. Jeudy did have one of the worst catchable target rates in the NFL last year. 
Ward: OVER. There will be two 1,000-yard receivers for the Broncos. He gets open and he's great after the catch. So, as long as he catches it, 1,000 yards.
JERRY JEUDY  O/U 67 receptions 
Evans: UNDER. In 16 games last season as a rookie Judy had 113 targets, just 52 catches and the drops.
Ward: OVER. Right around 70.
JAVONTE WILLIAMS  O/U 800 rushing yards 
Evans: OVER. This is a dude that forced the missed tackles 48.4 percent of the time – not for the Sisters Poor University – but for North Carolina in the ACC. I think it could be a hot hand situation, and I think he's going to have some fiery fingers in the end. I've said this before and I'm sticking to it; I think Javonte Williams is this year's version of Jonathan Taylor.
Ward: UNDER. Running back by committee and Melvin Gordon is a baller. Also, they're in a division where they're going to have to keep up with high powered offenses. So, the chance of them running the ball heavily is slim to none because they're going to have to keep up. So that's another reason why I think he's going to be under. Juggernaut? I don't know if you can call him that yet, Brad. Probably right around 500-600 yards, combined 800 with some receiving in there. 
Rapid Fire! 
…with No. 43, T.J. Ward
Evans: Quarterback you'd most like to throttle but never got a chance to…
Ward: Aaron Rodgers. He's one of the best quarterbacks to play this game, and I haven't had an opportunity to get behind the line of scrimmage and get him. And Tom Brady, too. I never got to Brady."
Evans: Toughest wide receiver assignment…
Ward: "Megatron."
Evans: Biggest trash talking wide receiver…
Ward: "Antonio Brown or Brandon Marshall. When Brandon was with the Bears and I was in Cleveland, he was chirping all game –but I like it. Sure. I love guys that go back and forth. If they don't talk, it annoys me. I need you to talk back."

Evans: Running back you wouldn't want to have to tackle in the open field…
Ward: "Nobody. I ain't never been scared of nobody. Whoever bring it, I'm ready."
Evans: Playing in the heat or the cold?
Ward: "Cold. I'd probably rather the play in the cold because you can warm up. We've got heated benches –everything is heated on the sideline. But it's very, very hard to cool down. Then you start cramping. Once I start cramping, there's no stopping it. I'm going to cramp out, probably going to be done."