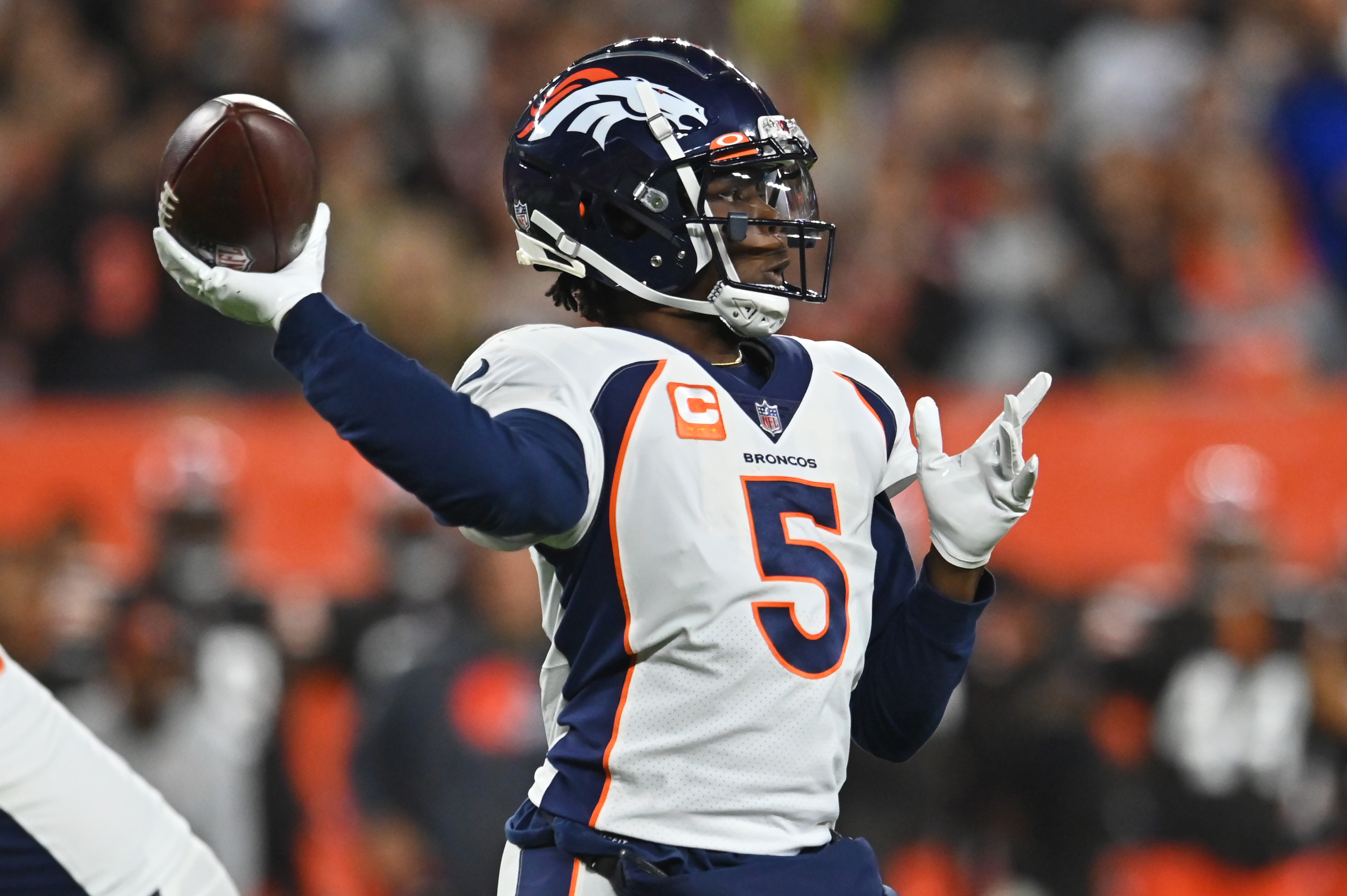 This season's iteration of the Broncos got off to a tremendous start out of the gates but quickly plummeted to looking like one of the worst teams in football.
Despite the team's dire straits, starting quarterback Teddy Bridgewater and seemingly the rest of the Denver Broncos are keeping the faith.
"It's definitely a locker room that's still together," Bridgewater told the media on Wednesday. "You can sense there's no panic. I said this to the guys yesterday. I'm like, 'Man, we've got to have a sense of urgency. It's not time to panic, but it almost is because this thing can go in the wrong direction fast.' I think we have that sense of urgency, and we have to go out there with the right mindset. It starts in practice. If we practice with the right mindset and make this a competitive environment, then we can turn this thing around. We're sitting at 3-4. I think if you look at it, we've played 10 games—three preseason games and seven regular-season games. We're right at the halfway point, and we're not in a bad position. We'd like to be in a better position, but that's on us. All we can do is control what's in front of us. We can't go back and fix what happened in the past. If we have that right mindset like, 'Hey man, we've got so many more opportunities, that the past won't even matter.'"
With that said, Bridgewater knows a lot of the blame for Denver's recent struggles lies with him, and that he himself has to improve to get this team back on track.
"It starts with holding yourself accountable and taking ownership in what's going on here," Bridgewater said. "I take full accountability of not getting out to fast starts in games and the passing game not being efficient early in games. I turned the ball over a couple times these past couple games. When you take accountability for those actions and you take ownership, it sends a message to the team. That's all we've been talking about—just owning this thing. [With] all the things that have been going wrong, you point the thumb at yourself. When you win, you give your team credit, and you point the finger at them. This goes back to 'Hey, the quarterback gets too much credit.' I don't really care about the blame part because I know that if I'm playing at my best, then we're in position to win a football game. That's my mindset—just do whatever I can to help this team win without trying to do too much."
Despite his poor on-field play as of late, Bridgewater remains an excellent leader in the locker room, as that quote helps exemplify. He's been praised at every stop he's been at since college for his leadership and affability.
Bridgewater also went more in-depth on his leadership style.
"With this game, certain guys get themselves going in certain ways," Bridgewater said. "You have those guys who need that pep talk, that rah-rah or that certain music, but I'm the guy man who's just going to be calm always. [I'll] make sure that guys believe that they're special and they're here for a reason. [I'll] continue to build guys' confidence up until kickoff and throughout the course of the game. It's a locker room that has a ton of guys who have confidence in themselves. They look forward to Sundays and just going out there and showcasing their talent. Guys are juiced up mentally and ready to go on Sundays."
Hopefully, that style pays dividends this Sunday, against the Washington Football Team.