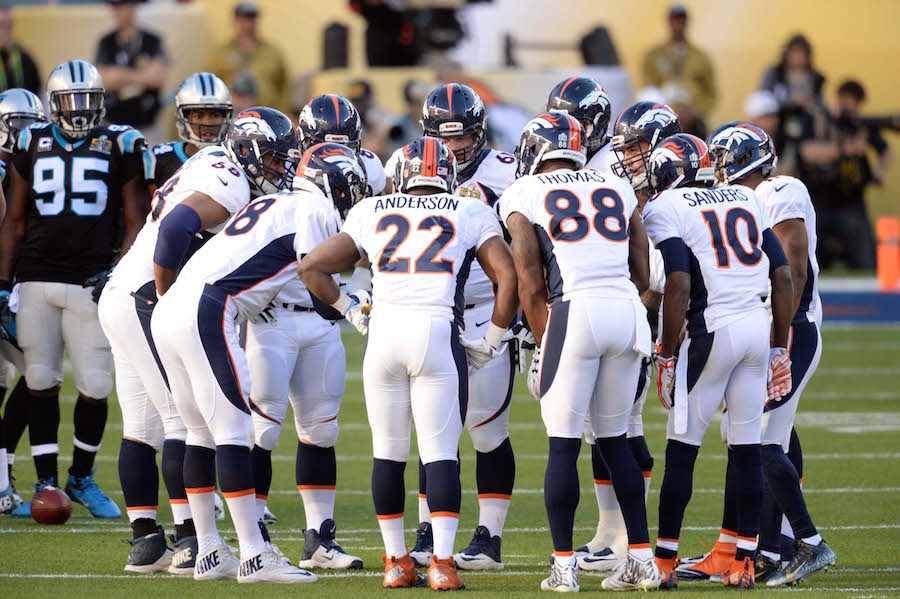 "I myself am made entirely of flaws, stitched together with good intentions." ― Augusten Burroughs, Magical Thinking
You're probably more likely to find the above quote tattooed on an emo's shoulder blade than written on a whiteboard in an NFL team's locker room, but in reality it has a place in all 32.
Every NFL team is flawed.
And while the No. 1 intention of owners is to make money, success is a close second (especially because, in general, success leads to more dollars with which to stuff their filthy rich pockets).
So, in a roundabout way, NFL owners, and therefore their teams, do indeed have good intentions.
Now that it's been established the inspirational quote fits this narrative, let's lay it out there: The Denver Broncos remain, on the whole, the least flawed team in the AFC. They should be the favorites to represent the conference in Houston, on February 5, 2017, making Super Bowl trips routine again around here.
Least flawed and not flawed are two dramatically different things; the Broncos have a handful of issues heading into their title defense this season, but when you poke around the AFC, not a lot of teams should have fans shaking in their little space boots. Here's the breakdown, assigning the other 15 teams into one of four flawed categories and Denver in a league of its own.
The Flawed Beyond Repair
Cleveland Browns – Next.
Jacksonville Jaguars – The Jaguars offense took steps in the right direction last year, but they gave up a conference worst 448 points on defense. One of the many Broncos to bolt this offseason, Malik Jackson, isn't going to fix that on his own.
San Diego Chargers – Philip Rivers isn't getting any younger, and for that matter neither is Antonio Gates. Melvin Gordon could be the next Wisconsin running back bust – this team has 4-12 (again) written all over it.
Tennessee Titans – The NFL's least polarizing team stepped out of the spotlight even more this offseason after trading away the No. 1 pick. The sophomore version of Marcus Mariota won't have enough help to sniff a .500 record.
The Flawed Pretenders
Buffalo Bills – If Super Bowl teams were based on who has the craziest fans, #BillsMafia would be packing their bags for Houston. And we're not talking loud crazy, we're talking batsh** crazy. Bills fans are psychos, but their team is a trendy dark horse pick that always underachieves.
Houston Texans – Brock Osweiler received a little more than $10 million per career NFL start from the Texans, but if you think the Brockweiler is the missing piece to get Houston over the top, and past a Denver defense (among others) that knows him well, pass over whatever you're smoking.
Miami Dolphins – Ryan Tannehill got big money from Miami, and immediately regressed. His TDs were down from 2014 to 2015 (27 to 24), and so was his completion percentage (66.4 to 61.9). It takes an elite defense to bail a QB out (hey, we know that) – bad news for Dolphins fans, their defense isn't elite.
New York Jets – Right now, their QB situation is the direst in the NFL. Until Ryan Fitzpatrick comes back (far from a given), this team's ceiling is six wins. Even if the beard does return, the Jets are just another mediocre AFC East team who will win seven to nine games.
Oakland Raiders – Oakland's no longer the laughingstock of the conference, but it's a long road from cellar dweller to the Super Bowl. And Denver fans know as well as anyone, Jack Del Rio doesn't get it done in big moments; Da-Raiders are still a couple years and a new coach away.
The Flawed Contenders
Baltimore Ravens – It's painful to say, but it'd be a major surprise if the Ravens aren't the biggest bounce back team in the AFC. But just a bounce back doesn't mean they'll be back in the big game. A) Joe Flacco's not elite (ha), B) Rahim Moore won't sniff the playoffs in Cleveland.
Cincinnati Bengals – As long as Andy Dalton's under center, the Bengals could go 16-0 in every regular season and still find a way to not win a postseason game. The Red Rocket has become the Carmelo Anthony of the NFL playoffs; heck, his mere presence last year while hurt jinxed them against the Steelers.
Indianapolis Colts – Andrew Luck's pesky spleen derailed his 2015 campaign, and many expect the promising, perennial MVP candidate version of Luck to return this season. That may happen, but the defense still gave up 408 points last year and didn't improve much, if at all, this offseason.
Kansas City Chiefs – KC made a cute little run last year before running into the Patriots and bowing out in the AFC Divisional. Much like their QB, Alex Smith, who hasn't been able to win the big game, neither have the Chiefs as a franchise for more than two decades. That isn't changing with Smith under center.
Pittsburgh Steelers – Perhaps the most dangerous QB, RB and WR duo in the league, Big Ben, Le'Veon Bell and Antonio Brown are a formidable trio. But The Steel Curtain has been Steel Hurtin' in recent years; it's hard to win shootouts in the playoffs and Pittsburgh won't do it this coming year.
The Flawed Runner Up
New England Patriots –Tom Brady has lacked a dynamic, deep threat wide receiver since he had Randy Moss almost a decade ago and Rob Gronkowski can only do so much facing constant double and triple teams. Ultimately, New England doesn't have enough firepower on offense to beat the elite defenses in the playoffs. Plus, they struggle to win in Denver, striking out in two of the last three AFC title games at Mile High.
The Flawed Favorite
Denver Broncos – Everywhere but QB (and yes, that's a big but) this team is more loaded than Johnny Manziel on a Tuesday night. They have nine legitimate Pro Bowl contenders on defense, two of the best wide receivers in the league, a top-10 running back and a much-improved offensive line. And frankly, Mark Sanchez has said and done all the right things since he's been here. You might remember him for the butt fumble, but instead should remember him for his back-to-back AFC Championship Game appearances early in his career.
The Broncos don't need any inspirational quotes to show them the way, but even with their flaws, this team is stitched together with championship parts. That fabric's strong enough to lead to a third Super Bowl appearance in the last four years – and maybe even deliver another parade.