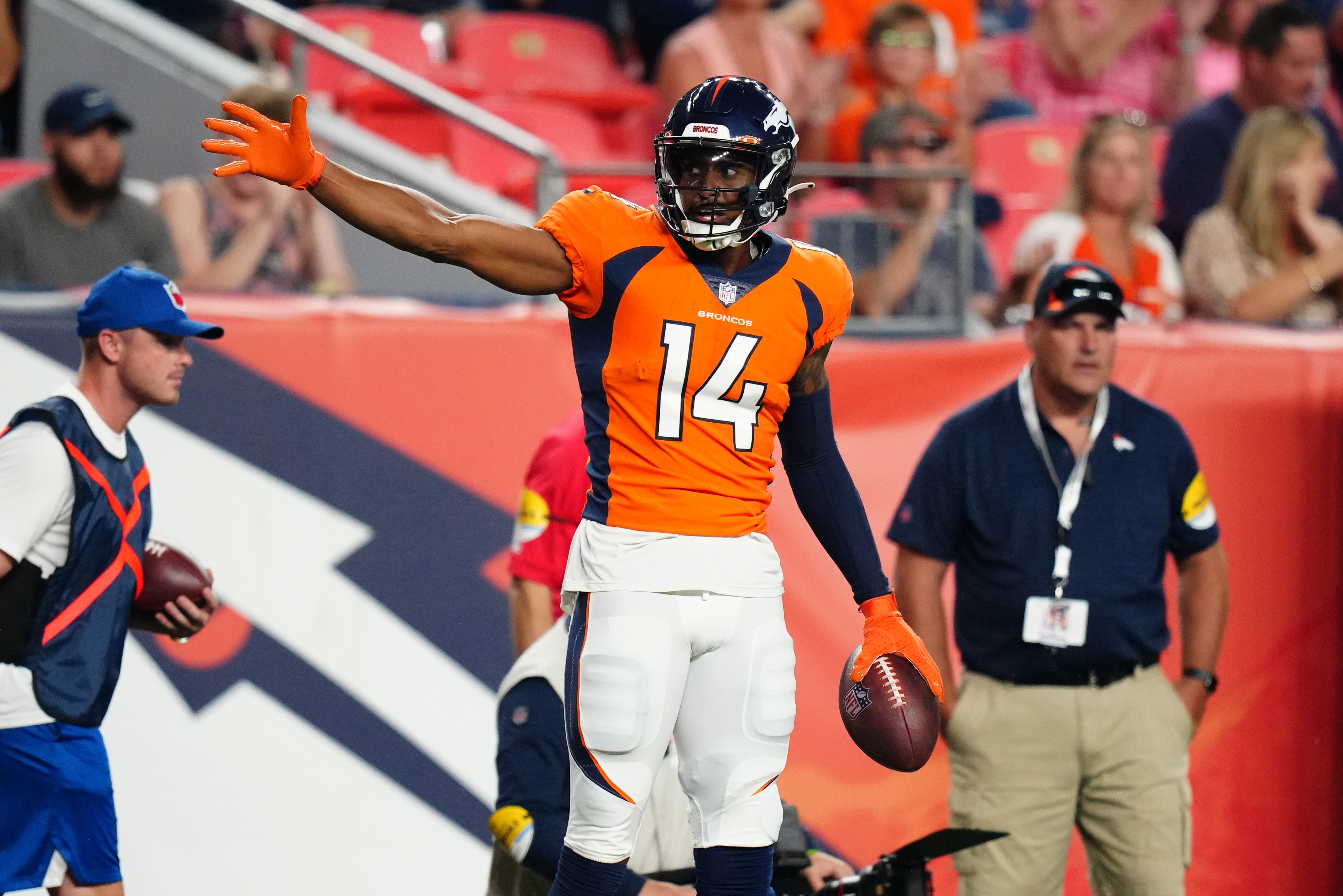 The Denver Broncos are spiraling, having dropped their second game in a row, the latest being a loss to the Pittsburgh Steelers. Straight out of the gates, Denver allowed a touchdown on the Steelers first drive of the game and then immediately went 3-and-out following a delay of game penalty on their first offensive play of the game.
They did find some semblance of life in the 4th quarter, clawing back from a double digit deficit and put forth a mildly competitive showing, but the damning cracks in the foundation of both the offense and defensive units showed again.
Best Offensive performance- Courtland Sutton- 78.0 (17th of 131 receivers)
Once again, a Broncos wide receiver takes the mantle of best offensive performer this week.
On a day where there were not many bright spots, Courtland Sutton stood out and made plays for his team. With seven receptions on 11 targets, 120 yards receiving, and a touchdown, Sutton was easily the most consistent offensive player in the loss to the Steelers.
COURTLAND SUTTON. #BroncosCountry

📺: #DENvsPIT on FOX
📱: NFL app pic.twitter.com/GGCsGXApXB

— NFL (@NFL) October 10, 2021
This isn't new territory for Sutton as he has graded out in the top 20 wide receivers through the first five games, according to PFF.
If this team wants to get back to it's winning ways, the veteran wideout is going to have to play an enormous part in getting this offense corrected and Teddy Bridgewater should look for him to shoulder that load because he is capable if doing so.
Worst Offensive performance- Noah Fant- 40.9 (57th of 63 tight ends)
Something is wrong with Noah Fant and it's beginning to become very troubling. Against the Steelers, Fant's stat line was 3 receptions on 4 targets, for 30 yards. Not only was the offensive output completely underwhelming, but PFF had him graded out as the worst run blocker and the worst pass blocker on the entire offense.
This is becoming more and more of a problem for Denver. As productive assets have sustained injuries the opportunity for Fant to blaze a personal trail within this offense is at an all time high and for some reason he has been unable to live up to the first round value that was attached to him.
Additionally, either the coaching staff is unable or unwilling to create plays to get him the ball and let him see what he can do with it which is more of an indictment on them then it is on Fant.
Still not a single target to Noah Fant … I don't understand

— Romi Bean (@Romi_Bean) October 10, 2021
Something has to give or the word "bust" might start to get bandied about.
Best Defensive Performance- Mike Purcell- 89.1 (14th of 99 defensive linemen)
Mike Purcell has been a defensive force for the Broncos thus far this season. His ability to maintain his assignment and shut down the opposing team's running game has been stellar and nothing to scoff at.
A player like Purcell is invaluable to a defense because you can play him with the expectation that he will do his job and he will do it to a high level. It may not be the flashy plays you get from an edge rusher or a player like an Aaron Donald, but the impact is still felt, and teams still are made to respect it.
Great play for Mike Purcell ends in pain. pic.twitter.com/SOsJIMm4YH

— Joe Rowles (@JoRo_NFL) October 10, 2021
Purcell is a team first player and is willing to put his body on the line in it will get his team the win. Expect to see more of the same from Purcell as the season continues forward.
Worst Defensive Performance- Kyle Fuller- 26.4 (125th of 126 cornerbacks)
A player who hasn't seen the bottom of this list so far this season was Kyle Fuller but unfortunately this week changed that outlook.
Fuller had an all-time bad game in a Broncos uniform and arguably in his NFL career.
Seventy-three of the Steelers' 85 yards on their first series came at the expense of Kyle Fuller.

— Andrew Mason (@MaseDenver) October 10, 2021
Pittsburgh has an array of talented pass-catching players, but it appeared that whomever Fuller's assignment was play-to-play, was able to beat him down the field and this happened time and time again throughout the day. He was simply picked on over and over.
Fuller is a talented vet that was brought in specifically because he had seen success in coach Fangio's defensive system. He had been a solid acquisition up until this showdown with the Steelers but his feeble performance is going to leave a sour taste in the team's mouth.
Hopefully for his sake, and Denver's, he can bounce back and shake off an all-time stinker.