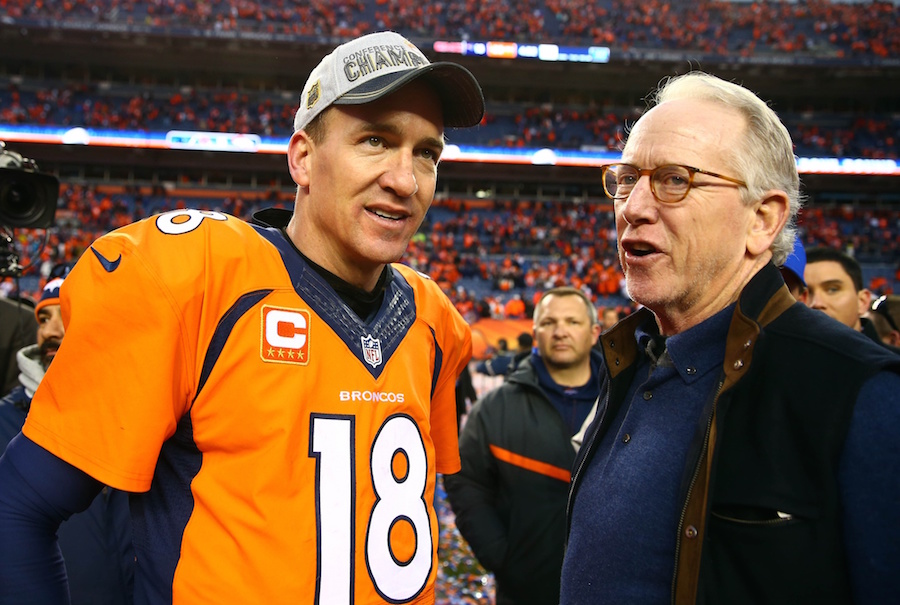 Happy Father's Day to all of the dads out there! As we send our best wishes to the fathers in our lives, we look at a few Denver Broncos, both past and present, and some of their famous fathers.
It is one thing for someone to make a name for themselves in athletics, but we have a few examples of fathers who also oversaw their sons going on to reach some pretty amazing feats as well. These are a few of the dads that spent many hours in the backyard throwing the football back and forth with their young players, only to see them say "Hi, Mom!" when the television cameras found them on the sidelines.
Here are a few Denver Broncos who have/had some very talented fathers as well.
The third-year tight end missed his entire rookie season with a knee injury, but the Broncos believe that Heuerman still has a very bright future ahead. Selected in the third round of the 2015 NFL Draft, Heuerman showed that he is capable of stretching the field during his collegiate career. He averaged over 15 yards per catch at Ohio State, and last year he caught nine passes for 141 yards. This season, Heuerman should be pushing for playing time in Mike McCoy's new offense.
Jeff's father Paul was a talented athlete, himself. He was a letter-winning basketball player at the University of Michigan from 1977-80, playing alongside such talented players as Mike McGee, and Phill Hubbard, who went on to solid careers in the NBA. As a junior, Paul Heuerman averaged nearly 10 points, and six rebounds per game.
The Broncos are hoping that Billy Turner can earn a spot on this year's offensive line. Turner was a three-time national champion while playing his college ball at North Dakota State University. He was drafted by the Miami Dolphins in 2016, but has had trouble playing tackle against the more powerful pass rushers. The Broncos have moved him to guard, and are hoping he can provide some depth to their offensive front.
Turner's father, Maurice, played a few seasons in the NFL, after a strong college career. While at Utah State, he racked up nearly 2,000 yards as a running back for the Aggies. He was drafted by the Minnesota Vikings in 1983 and played three seasons as a running back with the Vikings, the Green Bay Packers, and the New York Jets.
Coach Klint Kubiak and Area Scout Klein Kubiak
After a productive playing career at Colorado State University, Klint Kubiak jumped into coaching right away. He started out at Texas A&M, and then got a job helping out the wide receivers with the Minnesota Vikings, under then-offensive coordinator Bill Musgrave. After a brief stint at the University of Kansas, Klint was hired to the Broncos coaching staff in 2016. He works as an offensive assistant, and will also help with the Broncos quarterbacks.
Hired by the Broncos as a personnel intern in 2014, Klein Kubiak served as a player personnel assistant in 2015, evaluating pro prospects, creating opponent scouting advance reports and scouting collegiately in the Colorado and Wyoming regions. Klein graduated from Rice in 2013, having played wide receiver for the Owls.
Their other brother, Klay, played a backup QB role at Colorado State. He opted to graduate early, forego his senior season and get an early start on his post-playing career. Klay is now a coach at a Houston-area high school.
It's no surprise that the Kubiak boys got into coaching, following in the footsteps of their father Gary, who coached the Broncos to their third Super Bowl victory in 2015. After a nine-year playing career, serving as a backup quarterback in Denver, Gary stepped into coaching and showed that he had a mind for the game. For more than 20 years, Gary was a very good offensive mind, and an excellent leader. He was a part of four Super Bowl winning teams, as a coach with the San Francisco 49ers, and the Broncos. He retired following the 2016 NFL season.
He only played four seasons in Denver, but what a golden era it was. Manning led the Broncos to a 45-12 record as a starter, and led them to the Super Bowl twice. He set franchise records for yards, winning percentage, completion percentage, and touchdowns in a season, just to name a few. In 2013, Manning led the Broncos offense to NFL records for points in a single season. Then, in 2015 he quarterbacked the team to a Super Bowl 50 victory.
Peyton's father Archie never had the success of his son in the NFL, but he was an excellent player in his own right. He was a top-notch quarterback while at the University of Mississippi and was drafted by the New Orleans Saints with the second overall pick of the 1971 NFL Draft. The Saints of that era were a laughingstock of the league, and Manning managed to get them above .500 only once. Yet, he was still elected to the Pro Bowl twice in 1978 and '79, and threw for nearly 24,000 yards in his career.
The greatest Bronco of all has to be on this list. In 1983, the Broncos made one of the most impactful trades in NFL history, bringing Elway to Denver. Elway joined the Broncos and turned the franchise into one of the most-respected clubs in the league. He led the team to five Super Bowls, winning two, and was elected to the Pro Football Hall of Fame in 2004. Following his playing career, he ended up in the Broncos front office and has proven to be just as formidable in that role. He has led the Broncos back to the Super Bowl twice, and was a big part of their 2015 Super Bowl victory.
It's no wonder that John turned out to be such a savvy football man. His father taught him a great deal from the time he was very young. Jack Elway played quarterback for the Washington State Cougars back in 1950. He then began his career in the world of coaching. After a number of jobs as an assistant, he eventually landed head coaching jobs at Cal State Northridge, San Jose State and Stanford. Jack posted an 80-60-4 record as a college coach, and eventually joined the Denver Broncos scouting department in 1993. He remained in that role through the 1999 season following the Broncos back-to-back Super Bowl winning seasons of 1997 and '98.