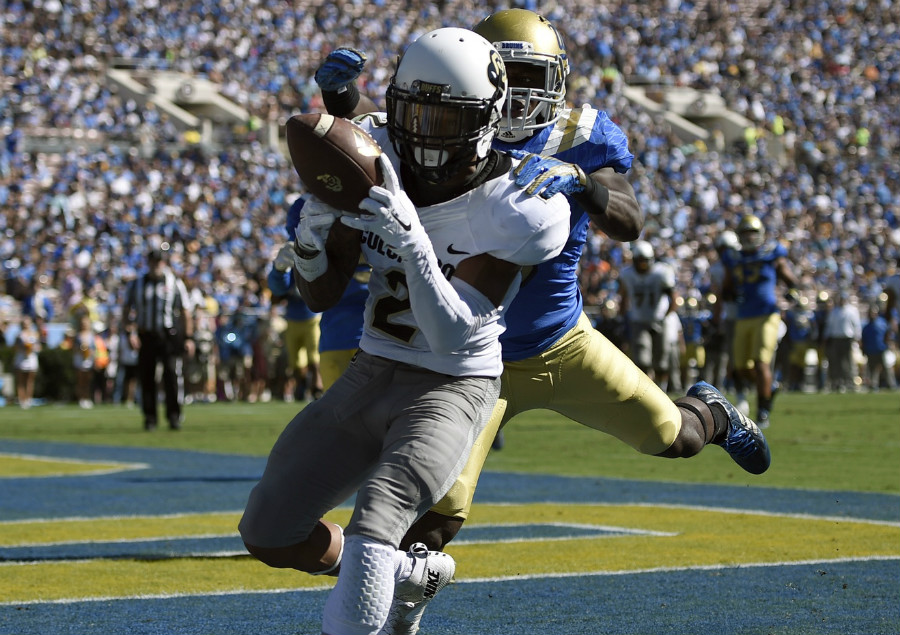 If someone told me before Saturday's game that the Colorado Buffaloes were going to be locked in an intense battle with the 24th ranked UCLA Bruins, I would have laughed it off. Somehow, though, that's exactly what happened.
It was probably the Buffalos' best performance of the year, and that's why it's going to hurt the most.
Watching as the guys straggled off the field in disbelief, attempting to understand how they keep coming up just short week in and week out, it's clear that the Buffs aren't looking on the bright side; this one stings.
At the half, Colorado trailed 21-6, but they turned the game on its head at the start of the third quarter with a 75-yard drive that ended in a Donovan Lee touchdown. The best part about the drive, though, was the run game; the Buffs didn't throw the ball once, dominating the Bruins up front.
UCLA bounced back and scored before CU responded with a Diego Gonzalez field goal. But as they entered the fourth quarter, the Bruins looked to be in control with a 28-16 lead.
Then the tide turned. Jordan Carrell sacked UCLA's quarterback Josh Rosen, causing him to fumble, and an in-stride Samson Kafovalu scooped the ball up and returned it for a CU touchdown. Suddenly, you could see a change in the body language of the players, the excitement as they huddled on the sideline; they believed they could win.
Colorado's defense then got another stop and Liufau threw a beautiful bomb to Devin Ross, followed by a determined Carr run and a Nelson Spruce two-point conversion. For the first time, the Buffs held a lead at 31-28.
But just as quickly as the lead was given, it was taken away. UCLA responded quickly, scoring and taking the lead back, 35-31. And despite all the fight the Buffs had exuded all day, that final score broke their back; the team just seemed too tired.
The last drive ended in a Liufau interception.
Statistically, the Buffs looked like the winning team, dominating the Bruins in seemingly every category but the score: first downs (34 to 16), total yards (554 to 400) and passing yards (312 to 262). The most shocking statistic, though, was the school-record 114 offensive snaps (UCLA finished with 59).
But in the end, the Buffs weren't able to execute when it mattered. And really, the only statistic that truly matters is 35-31.