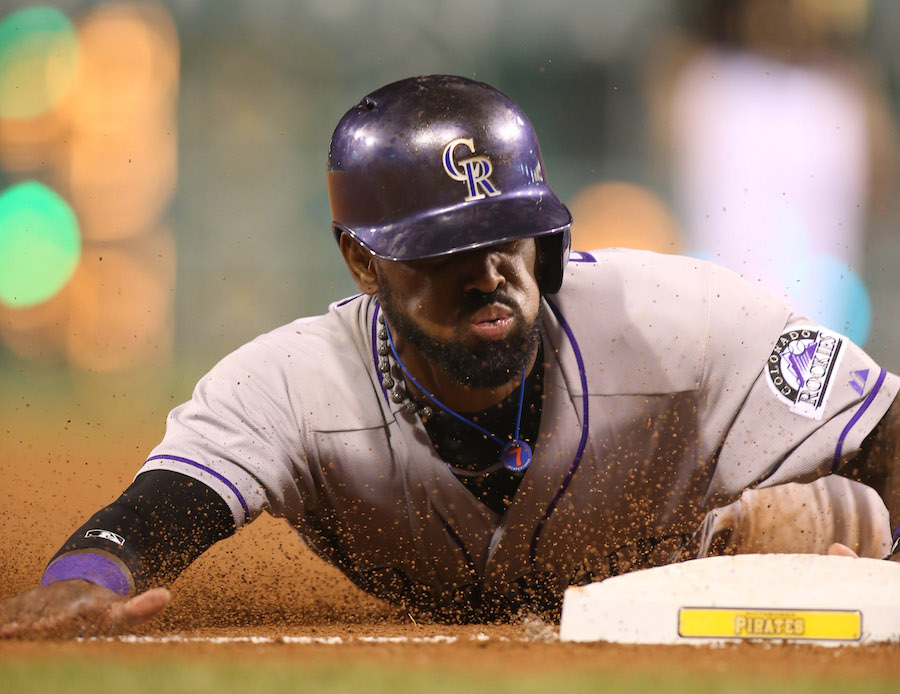 What would you do with $34.5 million?
While visions of Ferraris and mansions and vacation homes in exotic lands percolate in your mind – stop – and pretend, for just a moment, that you're Colorado Rockies GM Jeff Bridich.
Now what would you do with $34.5 million?
If sitting in the cockpit of the previously envisioned Ferrari are a suspended shortstop and an aging, struggling right-handed pitcher, then you're not channeling your inner Jeff Bridich very well. The real Jeff Bridich would surely be imagining something – or someone – better.
The real Jeff Bridich, unfortunately, is currently saddled with a $34.5 million expenditure that's giving him exactly zero return on investment. Shortstop Jose Reyes sits in MLB "timeout," forgoing $7 million of the $22 million the Rockies were supposed to pay him this year. Next year, he's owed $22 million again. Thirty-five-year-old pitcher Jorge De La Rosa is on Triple-A assignment, initially healing up but now just working out the kinks in what's been a disaster of a season, all while earning a cool $12.5 million. In total, the two players and their salaries – which rank first and third on the list of highest-paid Rockies – are eating up 37.5 percent of the team's total payroll.
In simpler terms, the mid-market Rockies are wasting a boatload of money. But, it's not so simple; there are two ways to look at this situation.
First, there's the "glass half full" way of assessing the Rockies current predicament. At the moment, the Rockies are one game above .500 and are sitting just 1.5 games out of first place in the NL West. That's not too bad, especially considering that they're doing so with one arm tied behind their back.
De La Rosa is supposed to be the staff ace, but he's effectively done nothing this season, even when he was healthy. Before getting injured, he posted a record of 1-3, "aided" by a baffling 10.18 ERA. One can't fault Bridich for a pitcher's injury, and if De La Rosa is truly over the hill, fear not, he's in the last year of his contract. Since we're looking at the "half full" glass, we can also assume that if and when De La Rosa gets back, he can only get better.
And when you look at Reyes, it's fair to say that the plan was never to have him contribute anyway. That wasn't the goal, at least not in a long-term sense. Reyes was supposed to bide the time until prospect Trevor Story arrived, and it just so happened that Story showed up ahead of schedule. That's a good thing, but it makes Reyes worth even less. Consider that Troy Tulowitzki (who's currently hitting a pathetic .200 and has hit three fewer homers and has eight fewer RBIs than Story) would have made $20 million this year, $20 million in 2017, '18 and '19, and then $14 million and $15 million in '20 and '21 respectively (with some bonus opportunities, too) and the Reyes contract really doesn't seem that bad. Over the long haul, will Tulowtizki be a better player than Reyes? Probably. But the oft-injured, perpetually unhappy ex-Rockie has a contract that could potentially be even more crippling than Reyes' deal. One must credit Bridich for successfully untying that noose.
The glass half empty? Well, that's where the pill gets tougher to swallow. What if the Rockies had all that money to spend? What could they possibly do? What could they have done prior to the season if that $34.5 million wasn't being used on bad investments? This past offseason, could the Rockies have gone after a "solid" (see "not Zack Grienke money") starting pitcher like Jordan Zimmerman, who signed a five-year, $110 million deal with Detroit? Perhaps another decent reliever, maybe in that $7-9 million per year range? How about next year? They've got at least $12.5 with which to work. Would Bridich go shopping for a solution at first base? How about more pitching? Someone closer to a closer perhaps?
What would the Rockies record be if there wasn't all that money going to waste? With a current record of 19-18 "as is," the thought could almost turn Dinger green.
Right now, the Rockies have one of the best hitting lineups in baseball. Forget about the "Coors Field Factor" – these guys can hit. And here's a bit more good news. For years, the only way the Rockies could sign a true superstar was to sign him to a ridiculously long contract (see Tulowtizki and Helton). Once the Reyes situation gets cleaned up – as expensive as it might be – the Rockies not only have a solid team, they've got a little bit of money, too. Credit Bridich for positioning them as such.
Sure, they'll need to plan for core players like Story and Nolan Arenado – eventually. As is, they just swept the Mets, something they hadn't done since 2007 (and we all remember what happened then). They're not as far off as one might think.
Especially if they had that extra $34.5 million.