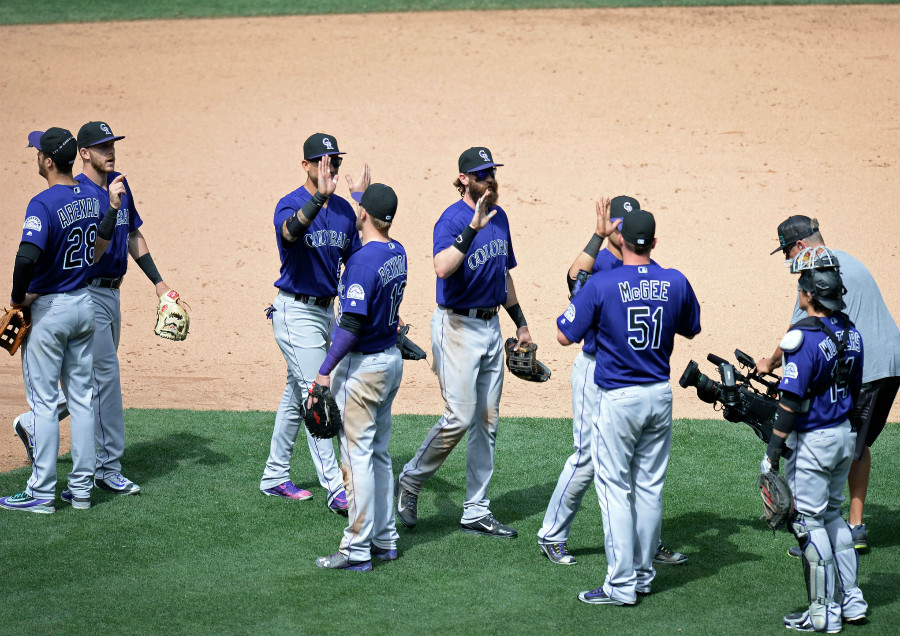 The Colorado Rockies starting rotation has not had a formidable squad in what seems to be an eternity, but this year, at least there's been promise.
This year the Rockies entered the season with a pitching staff including Jorge De La Rosa, Jordan Lyles, Tyler Chatwood, Jon Gray (missed first few starts recovering from injury) and Chad Bettis.
As of May 5th only three of the five still stand in the rotation today, and those three have all shown progress as the season has moved forward.
It was evident once the season started that something was wrong with De La Rosa and Lyles, resulting in the optioning of Lyles and a spot on the disabled list for De La Rosa.
The other three, however, have found their stride and are currently producing for the Rox at a level that is catching many by surprise.
And while Jon Gray has yet to earn his first win, and while he's had a couple rough starts to an outing, he's showing the ability to be the true strikeout pitcher we've hoped he could be.
In his previous start, Gray managed to toss six innings, allowing two runs on four hits while striking out 11.
This was significant improvement from his previous starts, where he got rocked; Gray said he was unlucky, and that may be all it was.
He is only 24 and has an extremely bright future in front of him. His wipeout slider and solid fastball should only continue to get better, and the Rockies are hopeful that he can turn out to be a big part of their rotation moving forward.
Next is Chad Bettis.
Bettis has put together a strong start to his season thus far, owning a record of 3-1 and an ERA of 3.89.
Bettis is the type of pitcher that has solid stuff night in and night out. Nothing really jumps out with Bettis; he is a reliable arm that can keep you in games.
Tempo is the key to Bettis, as manager Walt Weiss told Patrick Saunders of The Denver Post:
"He's really throwing the ball well and we love the way he competes. I love the tempo he works at and the way he executes pitches. I love his makeup, and he's got the stuff to go with it."
Bettis has a career ERA of 5.00, which isn't bad for a pitcher who makes half his starts at Coors field.
His hot start could evolve into sustained success throughout the year, adding yet another solid, young arm to the Rockies arsenal.
Tyler Chatwood is the final arm that rounds out the Rockies "Big Three".
Chatwood has been outstanding to start the year, owning a record of 4-2 with an ERA of 2.15. Even more impressive, his road ERA currently stands at 0.33.
Chatwood has been lights out on the road, not allowing any runs in his previous 24 innings pitched.
Pitching on the road has been one of the biggest downfalls of the Rockies in recent years, but Chatwood seems to handle it just fine.
You get the vibe that when Chatwood is on the mound, the Rockies chances of winning go up, and it's been a long time since we could say that about a Rockies pitcher.
People speculate that he could just be starting off strong and may fall of later in the year, but he has made five starts against five quality opponents, three of which rank inside the top 10 of scoring offenses. He's proving himself early, and there's no reason, other than the Rockies are cursed, to predict his faltering down the road.
Chatwood has settled into a groove and looks like he could be a staple in the Rox's rotation for years to come.
All three guys have promise; they're young, they're talented and they're improving. At 27, Bettis is the oldest of the three.
If these guys can solidify themselves at the top of the rotation, the Rockies will have an opportunity to build a legitimate Major League staff. All they'd really need is two solid arms to round out the group, and suddenly we're talking about the Rockies in a whole new light.
And yet, it's still just the first week of May; we have a lot of season still to go. If the Rockies want any chance of competing for a playoff spot, if they want any chance of being relevant in September and October, these guys need to continue to get better, not worse.
But there is hope, and that's better than nothing.