On Monday, Peyton Watson offered a pretty great first impression of what Denver Nuggets fans can hope to see from him next season.
"No ego. I'm willing to do whatever it takes to play. Offensively, defensively, 50-50 balls, whatever it takes. I'm ready to play."
The word that comes to mind with Watson is "polished" because of how fantastic he is with the media, communicating clearly and effectively. His expressions are dialed in. His words are well-articulated. It's clear that the second-year player, just 20 years old and the youngest member of the Nuggets summer league roster, is wise beyond his years.
When Watson was first selected with the 30th pick in the 2022 NBA Draft, many eyebrows were raised. A rookie who averaged 3.2 points per game in his only college season? How ready could Watson possibly be to contribute to a championship contender? New general manager Calvin Booth had spoken to the media prior to the draft about how important it was to take advantage of Nikola Jokić's prime, how important it was to deliver every step of the way. Selecting Watson seemed to conflict with that notion, but a year later and with the Nuggets winning a championship just three weeks ago, perhaps he's exactly what they need now.
"Coming in last year, my back was on the wall. I had everything to prove," Watson shared with local media on Monday. "I'm still proving things, but I found a place where I fit, where they embrace me. So now, it's just about getting better and continuing to help us win."
Watson's back was up against the wall last year, and had the Nuggets asked him to be a contributor in October of 2022, it's unlikely he would have been ready. Rather than throw him into the fire immediately, the Nuggets placed him on a player development plan that involved a mix of G League reps, NBA conditioning, and veterans to lean on.
In 19 games for the Grand Rapids Gold across the G League Showcase and regular season, Watson averaged 33.7 minutes, 20.5 points, 7.2 rebounds, 3.1 assists, 1.4 steals, and 1.5 blocks per game. The scoring efficiency was merely okay, and the turnovers were higher than desired, both negative factors to be expected from such a young player. Still, the production was very, very impressive. Only one other G League player averaged that combination of steals and blocks during the same period, and Watson showed some impressive defensive instincts.
"A year ago today is like night and day," Watson admitted. "There's so much work that went in, no days off the entire year. I just feel a sense of comfortability."
Watson invested time and focus into that development, and the Nuggets saw everything they needed to see from him at the G League level before elevating him to the Nuggets during the middle of the season. He spent the rest of the year building up his body and learning from the veterans on the bench. Watson added some weight and filled out his frame just a bit more, though it appeared that the Nuggets would have to wait and see what Watson could really be after the playoff run.
Then, the end of the regular season happened.
In the final six games of the year, the Nuggets decided to lean on Watson and his youthful legs a bit more. The Nuggets were resting up for a playoff run, and Watson was chomping at the bit to play some real minutes. Michael Malone decided to throw Watson out there against Kevin Durant and the Phoenix Suns, what many expected to be purely a "welcome to the NBA moment, rook" kind of experience. Instead, Watson flourished, accumulating five points, eight rebounds, and two blocks in 26 minutes against Durant, Devin Booker, and a Suns team playing pretty hard.
That performance by Watson and the rookie's professionalism led Malone playing him against the Golden State Warriors, who the Nuggets defeated without Nikola Jokić on the floor and Watson in the closing lineup. The rookie played 20 minutes, scored eight points, grabbed five rebounds, and blocked Warriors megastar Stephen Curry three separate times. It was an impressive moment to behold.
Watson continued to play during the final four games and showcased defensive tools, athleticism, rebounding, and playmaking. There are of course some holes in his game still, but for him to make an immediate impact when receiving his first major opportunity shows a level of poise beyond his years. Watson comports himself like a veteran, of which he had much guidance throughout his rookie year.
"Gotta give [all the credit] to my older teammates, my vets from last year," Watson shared. "We were a championship team obviously, so those guys taught me their fair share of experiences as well."
When asked to expand, Watson provided a level of insight into how the veterans helped him improve his confidence to new levels.
"They just tell me to always remember why I'm here and how much work it took to get to this point and what it's going to take to get to the next level. I never question my game. I just go out there and play my hardest, try my best. The chips will fall where they may."
The Nuggets didn't end up playing Watson in the playoffs – only garbage time – but there were multiple instances when Malone referenced Watson as a player he could go to if the situation called for his skill set. Denver didn't end up needing to change their rotation that often during a 16-4 playoff run, but for Malone to even reference a 20-year-old rookie as a possible counter offers a level of insight into the impression Watson left on the coaching staff.
Now, when presented a new challenge at summer league, Watson is meeting the opportunity head on. He has spent the vast majority of his days since the championship parade preparing for this stretch, and he's setting a great example for his teammates as the only roster player with NBA experience. Summer league head coach John Beckett is challenging Watson to go outside of his comfort zone.
"Just to be a leader," Watson described of the goals the coaching staff gave him for summer league. "I've been here for a year, so I've got a little experience under my belt, but I'm learning as well. They want me to be vocal out here, teach the guys as much as I know just from a player's perspective."
Beckett, who has been a part of the Nuggets organization since 2014, began in Denver as a player development coach. He was promoted to an assistant coaching role in 2019 but still utilizes his player development background to work with young players like Watson. Beckett has high hopes for Watson and says the team will be oriented around the 20-year-old in a variety of ways.
"Peyton's always had a certain hunger," Beckett told local media on Monday. "Peyton's always been very confident, always wanted to play. So, now he's getting the opportunity to get out there, and a lot of the offense will revolve around him. Defensively, he will get the challenge of guarding a lot of the opposing team's best players."
"Next year, a lot will be expected of him."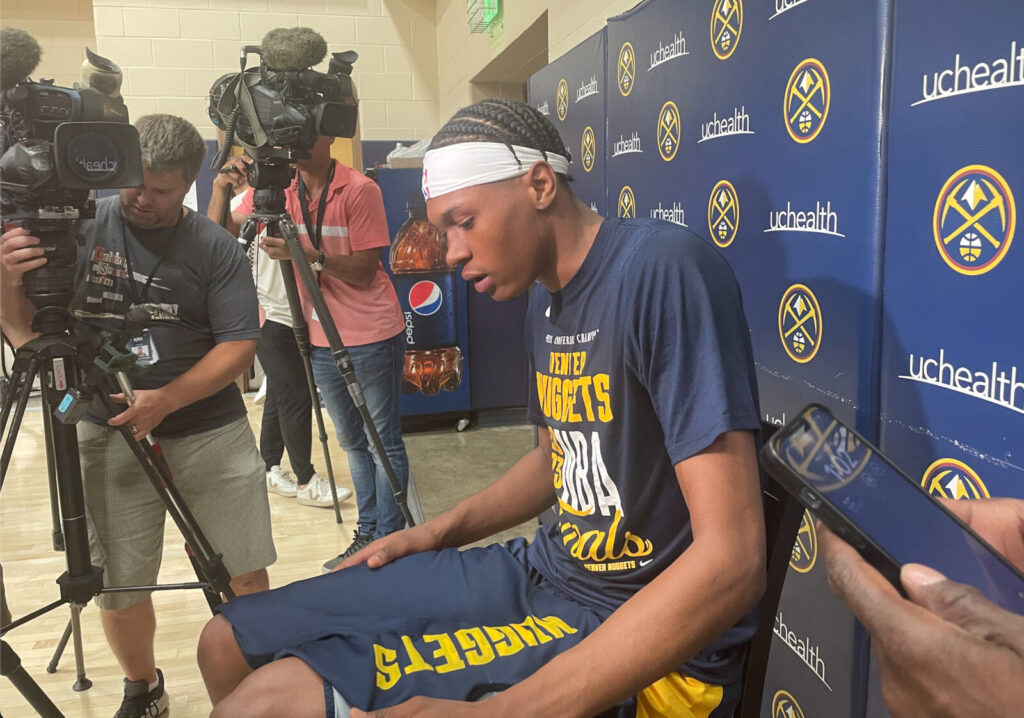 There's a lot of pressure being put on Watson's shoulders at such a young age, but the Nuggets wouldn't do so if they didn't believe he could handle it. They're closer to him than anybody else, and there seems to be a clear understanding of what he can become in the NBA if pushed to his limits. Athletic, playmaking, two-way wings are a rare commodity, even though every team is searching far and wide to find the next great wing. The Nuggets took a chance on Watson, drafting him earlier than expected knowing that they may not have a chance to draft a player with his combination of physical tools and perimeter skills ever again.
Now, all Watson has to do is let the hard work and natural talent show through.
"I'm still making a name for myself in this league," Watson declared to us. "But as part of this organization, everybody knows the work that I've put in last year, the dues that I've paid."
The role that Watson will play for the Nuggets next season is still a mystery. The addition of Justin Holiday removes a bit of the pressure of Watson immediately becoming a consistent rotation player on a championship contender. Still, the Nuggets have time next season. They know what they have to do to be champions. They've already proven it to themselves. Perhaps there's a balance to strike between the veteran savviness of Holiday and the enticing potential of Watson. Malone will have to manage that balance, and he should do it well with some of the immediate pressure removed following a championship run.
Summer league will offer a nice update on Watson. If he flourishes, there will be plenty of excitement heading into training camp for what Watson can bring to the table next season.