Ask almost any NBA player, and they will tell you that Media Day is rarely a fun experience.
Speaking to media for the first time can be a drag, and it takes a while for players, coaches, and media to all get in the rhythm of the NBA season. There will be bumps along the way, and there will be days when the conversations aren't great.
Today, the conversations were great.
From President/Governor Josh Kroenke and General Manager Calvin Booth to veterans Reggie Jackson and Justin Holiday, the interviews and energy were indicative of healthy expectations and a great basketball culture. The Nuggets just won a championship, and they're hoping to win another one (or more). That was the message presented across the board.
"When you achieve the ultimate goal, your natural reaction is step back, to relax a little bit," shared Kroenke. "We don't have the exact same roster as we did last year, We have the same starting five that we feel is the best in the NBA, but our bench is going to look a little bit different. So, can our new guys embrace those new roles? Can certain guys step up into new roles?"
"I think winning the championship was a huge step for our program moving forward, and we probably, quite frankly, did it a lot sooner than a lot of people thought we would," emphasized Booth. "Repeating would be great. More importantly, how do we sustain this and how do we win multiple championships?"
There's a mature air about this team and its vision presented by Booth, who had luxury of seeing last year's vision executed as flawlessly as can be expected with the Nuggets achieving the 1 seed and going 16-4 in the playoffs.
"The good thing about this team that they proved last year is if we start playing well at the right time, we can win," Booth shared on Monday. "That will be the goal this year. It won't be to get 65 wins. It won't be to be undefeated in October and November. How do we get this team playing the right way at the right time?"
Though Booth might be approaching the season from a long term perspective, Nuggets head coach Michael Malone understands the stakes facing the Nuggets once again.
"Today is the start of a new season. A new challenge," Malone declared. "We understand what's at stake. We're going to get everybody's best 82 games this year. We have gone from being a team that's hunting to now, we're going to be the hunted. Hopefully our guys understand the responsibility that comes with being a defending champion. There can be no off-nights because we're getting everybody's best this year."
Here are some other storylines to emerge from Nuggets Media Day:
---

The Starters are set. The Bench is not.
Michael Malone knows he has the best starting lineup in the NBA, at least "according to the analytics." He also knows that the rest of the rotation is still entirely up in the air.
Malone's message on the bench unit: "Who can join Christian Braun?"
Malone was excited to have Braun at his disposal last season and called him the Bruce Brown replacement on Monday, but it's fair to wonder who will replace Braun's role in this situation. The Nuggets head coach mentioned a few options but spent a chunk of time discussing UCLA second year wing Peyton Watson.
"Peyton Watson I think in the last couple weeks of the regular season showed glimpses of being the player he has a chance to be and of the potential he has. Peyton's going to get a chance to play, and I'm excited to watch his progression and see how he handles this opportunity."
Among other players mentioned for second unit opportunities beyond Braun and Watson: Reggie Jackson (who Malone says had a great summer in the Nuggets gym), Justin Holiday, Zeke Nnaji, DeAndre Jordan, and the three incoming rookies Julian Strawther, Jalen Pickett, and Hunter Tyson.
So, nearly the entire back half of the roster.
"Competition is healthy, and I look forward to watching these guys compete," Malone emphasized.
Expect the initial second unit for the Nuggets to roll out in training camp to feature Jackson, Holiday, Braun, Watson, and Nnaji, a small but switchable group.
The importance of veteran leadership
Last season, Michael Malone and several players made special mention of veteran leadership helping the team achieve their goals. Throughout the championship run, incumbent Jeff Green as well as newcomers DeAndre Jordan, Ish Smith, and Kentavious Caldwell-Pope were praised for their ability to help the Nuggets navigate the regular season, stay focused on their goals, and stay proactive.
With Green and Smith leaving, it was fair to wonder what the veteran leadership for this season's squad would look like, but it appears there are some new faces stepping into the role. Reggie Jackson and Justin Holiday were praised for staying around Denver this summer and helping out the rookies and young players. Jackson struggled upon his arrival in Denver and wanted to get better in the offseason. It's clear that his example (along with imparting some veteran wisdom) made an impression on young players like Nnaji, Braun, Watson, Strawther, Tyson, and Pickett.
Jackson and Holiday are going to be great veterans in Denver. Their chemistry together reminded me of Green and Jordan from last year, laughing and having fun. Their relationship extends back over a decade of time, and that kind of reunion can be perfect in a situation like Denver.
The Nuggets have several young guys in need of direction. Perhaps Jackson and Holiday can help in that regard.
Jamal Murray also shouldered some veteran responsibilities while in Denver this summer.
"We've got a lot of young guys," Murray shared. "So it's just kind of getting them up to speed, some good criticism, staying on them, knowing that they're going to make mistakes but we just want them to have the right mindset…I had a bench that helped me, so it's only right that I try to pass it on and try to help my team as best as possible."
Of course, Jordan remains the king of veteran leadership. He held court during his media session today and appeared perfectly at ease. Jordan's ability to have fun, keep the season light, and help the Nuggets remain focused on what matters proved to be invaluable last year.
"Last year wasn't my first year doing that for teams," Jordan proclaimed. "I think it just got publicized more because of how good we were."
Jordan's modest, but he really did help the team in a tremendous way. Coming off of a championship, the Nuggets will once again need someone to remind them how hard it is to win and what building championship habits looks like. Here's to Jordan doing that for the Nuggets once again.
A new All-Star in Denver?
Michael Malone wants Jamal Murray to be an All-Star this season. He made that blatantly clear in his press conference today. He wants that validation for Murray.
"I want Jamal Murray to be an All-Star. I want him to be a first time All-Star this year. I want Jamal Murray to be an All-NBA player, and to do that, he's got to be able to do that in October. He's gotta do it in November. It can't be a slow start…I think if Jamal can continue to play the way he played during those playoffs and get off to that strong start, that will be so impactful for our group."
Murray has yet to achieve an All-Star appearance in his career, in major part due to starting seasons slow consistently. Last year after his first 25 games, Murray averaged 21.5 points and 6.6 assists per game on tremendously efficient shooting splits. If Murray can bring that level of play to October and November, there's no reason why he can't earn an All-Star nod this year.
For his part, Murray didn't focus on individual awards, saying quite clearly that he prioritizes winning another championship over everything else.
Michael Porter Jr. also mentioned that he believes the Nuggets roster still has a lot of individual motivation after winning a championship.
"Aaron [Gordon] wants to be a first time All-Star. I want to be an All-Star. Jamal, you know," Porter emphasized. "Joker's done that could be done in the league, two MVPs, a championship, Finals MVP, but he's still motivated."
It's rare for teams to have multiple All-Stars in a smaller market, but the Nuggets can make it happen by winning and playing consistently great basketball early in the season. Most impressions for All-Star appearances happen in the first month of the season, and if the Nuggets dominate out of the gate, then they're likely to have multiple All-Stars on their team for the first time since Carmelo Anthony and Chauncey Billups in the 2009-10 season.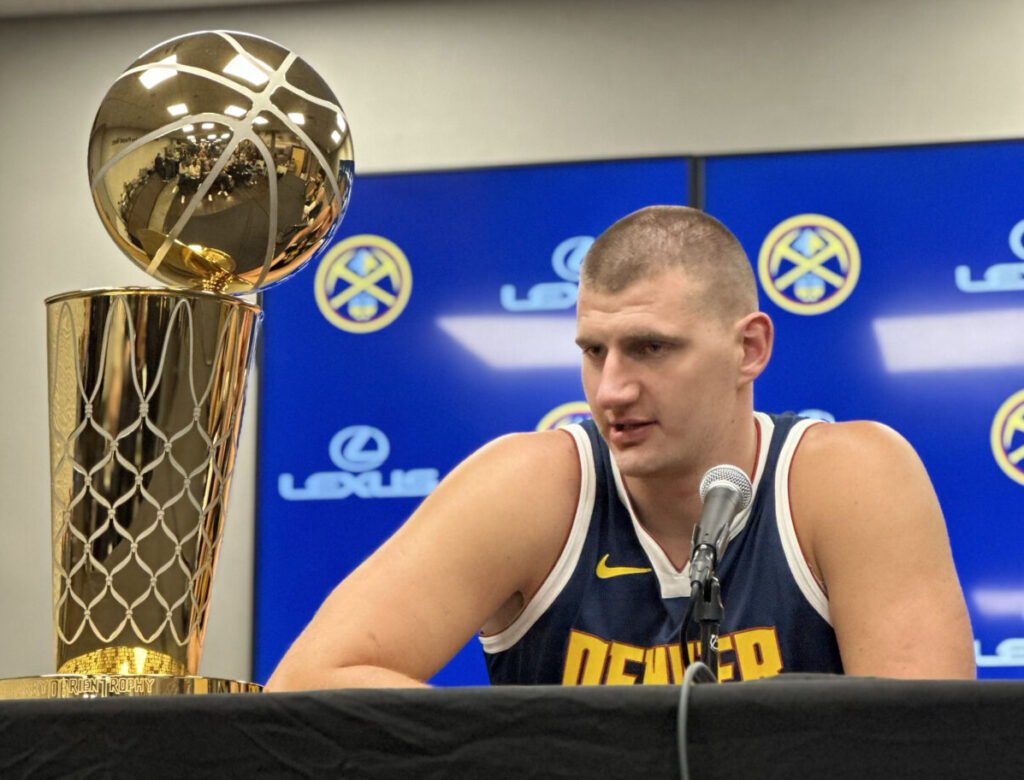 New rivals, Same goal
The mentions of both the Boston Celtics and Milwaukee Bucks were frequent throughout Media Day.
"The NBA landscape has shifted dramatically in a week's time, right before we started this year," shared Michael Malone. "Last year is over. We have a new responsibility."
"We know it's going to be a lot harder," shared Porter. "We see the teams that are getting put together around the league, and it's a crazy league right now with the moves Boston made, Phoenix, the Lakers, Milwaukee. There's a lot of really good teams in the league right now."
The Nuggets know they're not the hunters anymore, and they have to adapt.
"We got a target on our back," said Murray. "A lot of teams are going to do everything they can…we just have to stay the course."
So, how are the Nuggets planning to respond?
"Win as much games as possible. Try to have fun during the period," shared Jokić of his goals for this year. "Probably win another one. Like Jamal said, why not?"