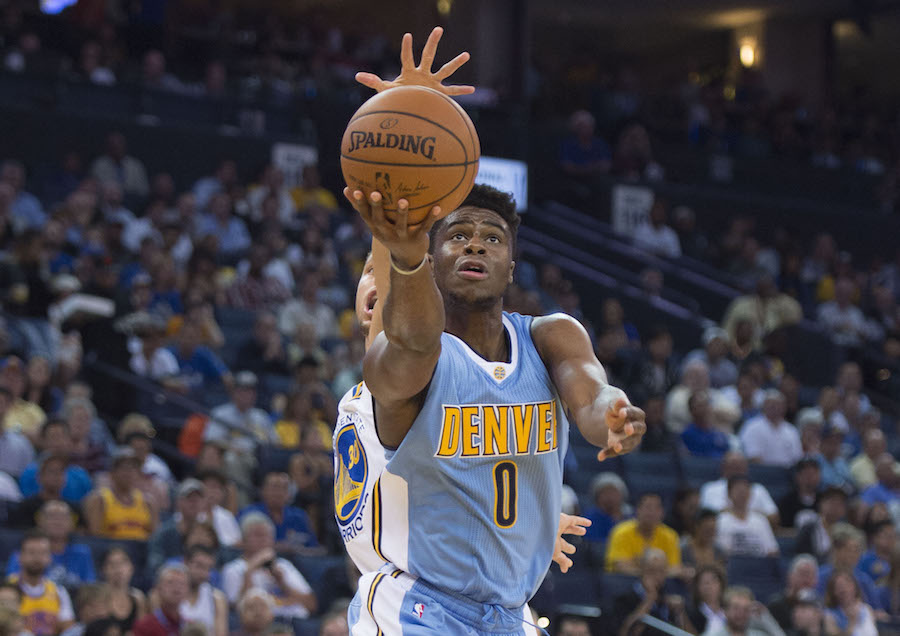 When Emmanuel Mudiay was selected seventh overall by the Denver Nuggets, he came into his first NBA offseason without much of an idea of what to expect. Emmanuel was a 19-year-old kid, fresh off an injury-riddled stint in China. He had to catch up to the speed of the game, as well as start to learn from an entirely new coaching staff with entirely different offensive and defensive principles. While a rookie's first offseason can be intense, it's more about grasping the identity of the league than development.
This offseason will be a bit different than that.
This coming offseason will be huge in showing signs of the player Emmanuel has the potential to be. It will show his mental fortitude and how well he can handle the rigorous life of a professional athlete. Does Mudiay have the mindset and work ethic to fine-tune his game constantly? Or will he be content with the natural talents he already has?
From what we've seen, it looks to be the former.
Mudiay has to already taken it upon himself to be better as a player and a leader. He has upped his field goal percentage consistently as the season has worn on, climbing from an awful true shooting percentage of 40.7 percent pre-All Star break to a still low, but more respectable, 47.4 percent post-All Star break. The higher that rises, the more dominant he'll be driving to the rim, too.
He has taken the time to work on his shot with assistant coach Dee Brown and player/coach Mike Miller. It is much more fluid than it was at the beginning of the season, and he's shooting closer to the apex of his jump. He has upped his shots at the rim considerably during the month of March, too, with 80 attempts — his previous high being 56 in November —  and has converted at one of his highest clips as well, 48.7 percent.
His excessive turnover issues seem to be dissipating as well. Mudiay averaged 3.5 turnovers a game pre-All Star break and 2.6 turnovers post-All Star break. He still needs work handling heavy on-ball pressure, but that should come with more experience.
And with his decision to play in China, instead of for Larry Brown at SMU, Mudiay only played in 10 games for the Guangdong Southern Tigers due to an ankle injury. Because of that, he didn't receive any of the development that he would have received at the NCAA level, making his transition to the NBA much harsher — opening night with the Nuggets marked his first real experience since high school.
The fact that he's still first among rookie in assists (5.5 per game) and has been the driving force behind this young and talented Nuggets squad speaks wonders to his mental toughness. His ability to develop and fine-tune his game at such a young age speaks to how humble and dedicated this young man is.
Nonetheless, there's still work to be done:
DEVELOPMENT TO LOOK FOR
The big "hitch" in his jump shot:
Emmanuel Mudiay has been known to have an awkward shot since he was in high school. Mudiay would shoot off one foot instead of setting his feet and it was sending him fading on every shot. He had a strange "kick" of his feet while shooting, which slowed down his jump shot and led to him shooting on the way down. This meant a lot of lost energy, as he was shooting with his arms, not his legs
Slowly but surely, that "hitch" has been ironed out. Every once in awhile it'll rear its ugly head, but it's significantly better than it was in the early months of the season. A big part of this has to be attributed to Emmanuel's tireless work ethic and the coaching of Dee Brown and Mike Miller.
It's still far from fixed, though.
Mudiay's "kick" is an aspect of his shot that has probably been there since he first started shooting a basketball; it's second nature. To break that down is a bit too intense for the middle of the season. This type of re-working would take Mudiay changing the way he jumps when he shoots, the way he steps into his shot, how each piece of his shot is timed and how to transfer the energy differently from his legs and into his shot. It seems that Dee Brown and Mike Miller have worked Mudiay into a solid foundation with his shot, and once the offseason sets in, they'll start working on deleting his extra step entirely.
If he can lose the extra kick, his shot could be a highly effective aspect of his game.
More offensive touches in the post:
Mudiay turned 20 years old on March 5. He is already 6-foot-5 and 200 pounds. Give the young and driven point guard an entire offseason in the gym and on the stairs of Red Rocks with the endlessly energetic Steve Hess and Mudiay will enter his sophomore season stronger, faster and quicker than ever before. If he can take all of his physical advantages and learn to use then in the post against other guards, his offensive game could take off.
He already has the strength and size to out power most point guards in the game, and a good chunk of shooting guards. If he can clean up his jumper and create a mid-range post game, then his offensive inefficiencies will disappear and his strengths will become even stronger. If teams have to play tight on him, then his quickness and ability to get to the basket get exponentially more useful.