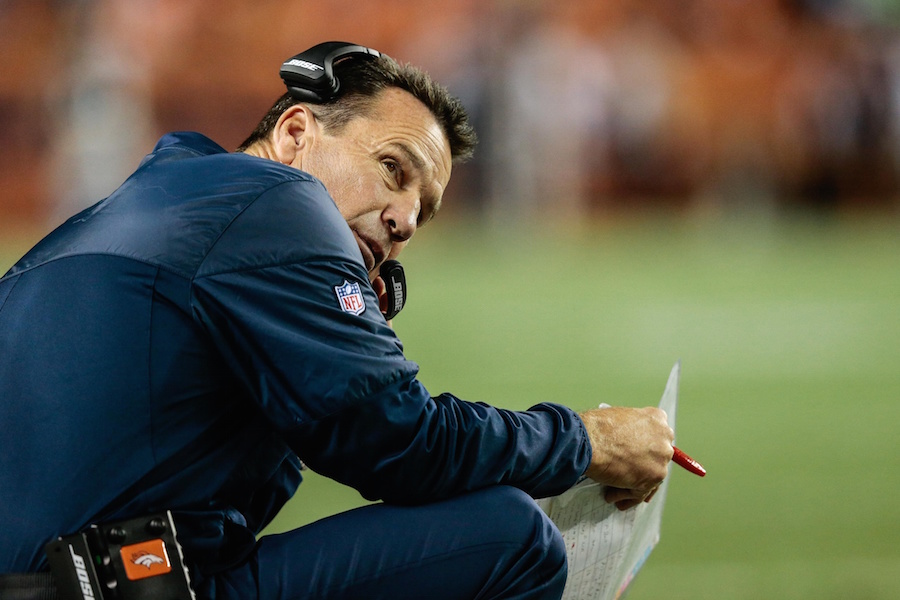 The NFL is all about innovation, specifically on the offensive side of the football. From the West Coast offense to the wildcat, offensive gurus have always found ways to stay one step ahead of defenses. Gary Kubiak, once thought of as one of football's great offensive minds, appears to falling behind the curve to the detriment of his team.
There are two kinds of coaches in the NFL: The ones that mold systems to best utilize the talent and the ones that force their talent to work within their system. The prospect of figuring out which camp the Broncos offensive coaches fall in is daunting.
Under Kubiak and Dennison, Denver's offense has lacked any sort of identity. With Peyton Manning under center, they forced the future Hall of Famer to run a hybrid of their offense and the system he was comfortable with, only to scrap the experiment when it was obviously not working. Then, when Manning went down and Brock Osweiler took over, Denver's offensive brain trust felt it was time to fully integrate their system. That didn't work either, and Osweiler's displeasure with the system played into his decision to leave Denver.
This season it was thought that with two young, athletic quarterbacks Broncos Country would finally see what made Kubiak such a hot commodity in the early 2000s. Not so fast. Neither Trevor Siemian nor Paxton Lynch has had such success this season (outside of a few good quarters here and there).
The running game has been equally stagnant. C.J. Anderson, Ronnie Hillman, Devontae Booker, Kapri Bibbs — it hasn't mattered who's started in the backfield, no one has shined carrying the rock. No longer is Kubiak the running back whisperer.
Denver has a multitude of problems on offense and you'd need two hands to point fingers at those at fault. The players deserve blame. Booker can't seem to break a tackle, Demaryius Thomas' effort still continues to be an issue and the big boys up front haven't blocked anyone all season. John Elway deserves blame, specifically when it comes to the offensive line. Elway has whiffed time and time again when drafting an offensive lineman, leaving this team with no depth amongst that group. But it's become clear that Kubiak shoulders a majority of that blame.
His offensive scheme simply isn't cutting it. Not only does it look antiquated and outdated, but Kubiak also appears to have completely abandoned the bread-and-butter elements. When's the last time he rolled the quarterback out of the pocket or run play-action? It's frankly baffling. Denver's offense has become a series of 5-yard outs and running back dives between the tackles, which has led to three-and-out after three-and-out because everyone knows what's coming.
That's on the coaching staff.
It's reasonable to say that Kubiak doesn't have the players he needs to succeed (specifically on the offensive line). He's always relied heavily on a solid front five and he simply doesn't have that. It's also fair to say that Kubiak isn't making much of an effort to put his players in a position to succeed. Running Booker straight up the middle 15 times a game isn't working; why not try getting him to the outside? When your tackles are being eaten alive play after play, why not give them tight end help? They drafted an athletic quarterback, why not utilize that athleticism?
Kubiak isn't stuck in between offensive identities; he no longer has an offensive identity. He has cycled through four quarterbacks with mixed results. He's yet to find a running back capable of eclipsing the 1,000-yard mark. And Kubiak can't decide whether or not to mold his system to his players or bring in players that fit into his system.
Instead of innovating Kubiak is stagnating. And because of this, the quarterback debate has become somewhat pointless. Siemian or Lynch, Lynch or Siemian, it doesn't matter. They both are running an outdated, bland, directionless offensive scheme.
Kubiak and Dennison have a decision to make; dust off the old playbook and get back to the basics (play-action, quarterback rollouts, etc.) or scrap this offense all together and start playing to your player's strengths. Kubiak's offense used to be a game-changer; it's time for him to change his game.