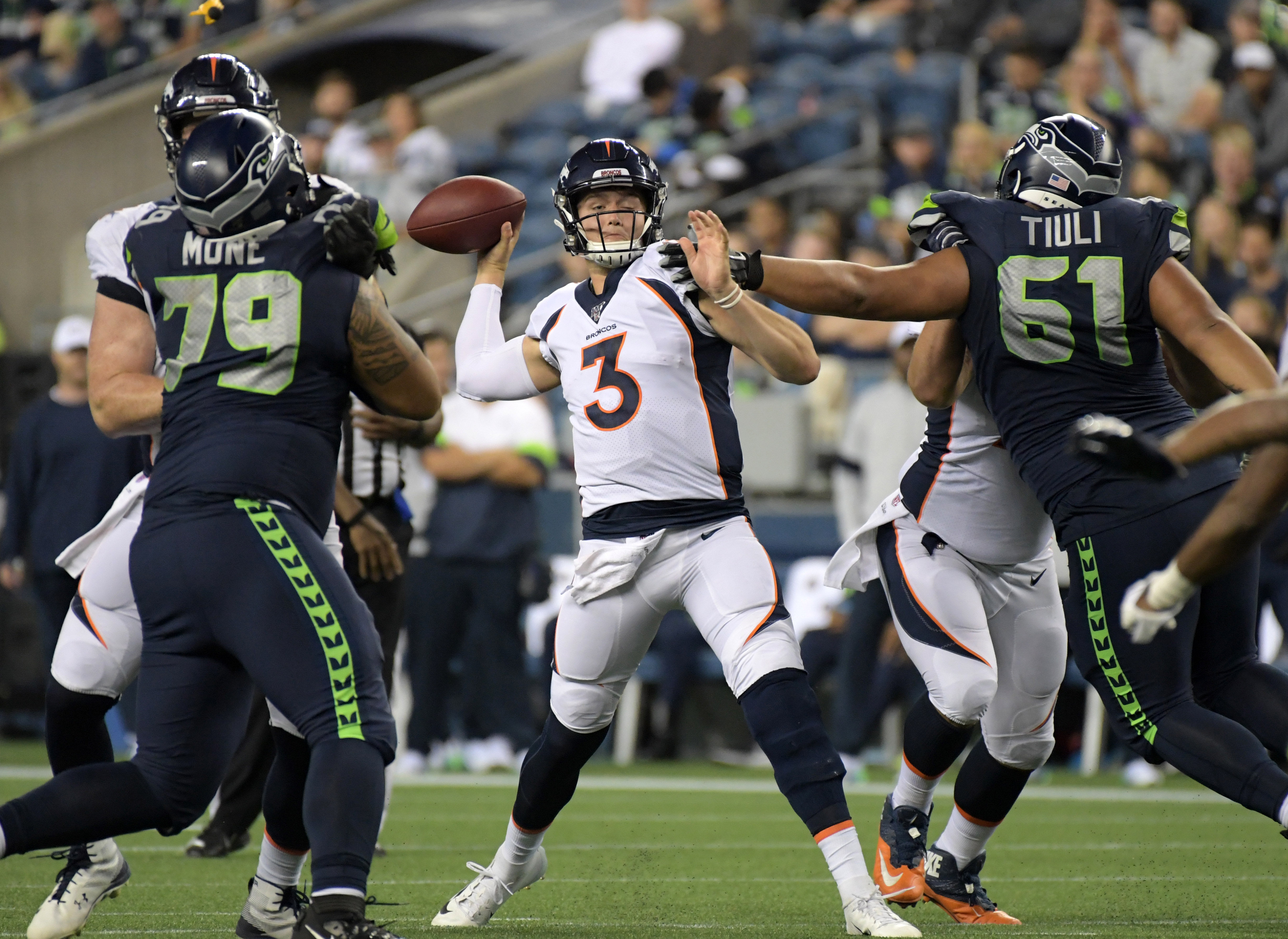 Several players made their case for a roster spot on Thursday as the Denver Broncos played preseason game No. 2 against the Seattle Seahawks in Seattle.
It was the debut of Joe Flacco, who played in only one series going 3/4 for 19 yards. Flacco's only incompletion was a missed fade-route towards Courtland Sutton on third-down in the end zone on the opening drive of the game, an opening drive that finished in three points after driving for 12-plays, 78 yards that took off 6+ minutes of clock. Royce Freeman had the big burst on the drive, taking a third-down hand-off from Flacco 50 yards to set up the red zone finish.
After Flacco's exit the Broncos offense turned to Kevin Hogan. Hogan had a fairly quiet game going 3/7 for 27 yards.
Then the Broncos inserted Drew Lock into the game and the rookie signal-caller Lock did a 180 from his hall of fame game performance. Lock looked comfortable and in control as the Broncos drove down the field on a 12-play, 60-yard drive that spent over five minutes off the clock.
Lock finished the game 17/28 for 180 yards and a touchdown. Lock also threw an interception and was sacked three times, including one for a safety.
Thumbs up
Dre'Mont Jones put another solid game on tape, getting into the backfield of Seattle and playing disruptor all over the field. A bit more consistency to Jones' game, Jones disrupted the Seattle backfield and did so on multiple series.
Malik Reed put on a show, consistently swimming past the Seahawks offensive line. Reed was strong in the hall of fame game and has impressed in practice on a consistent basis. Reed registered a sack and four total tackles.
Starting offensive line. Royce Freeman rumbled for 50 yards in the opening drive through a hole that was the size of the Royal Gorge. The starting offensive line showed promise and flashed some dominance as the Broncos went right down the field, utilizing the run game to hammer at the Seahawks.
Su'a Cravens flashed some solid tackling getting involved in five total tackles, third-highest in the game for Denver. The young safety also recorded a tackle-for-loss in the game.
Drew Lock. While Lock did have some down moments in the game, Lock bounced back nicely from his disappointing hall of fame game. Lock was in control and strong in his first drive of the game. Coach Fangio also noted Lock's performance postgame, saying "He threw it pretty damn good."
Thumbs down
Devontae Booker did not help his case right out of the gate. Booker fumbled the opening return and only rushed the ball twice. In a committee rushing attack, both Devontae Jackson and Khalfani Muhammad received more rushes in limited time as the Broncos turned to the air. Booker was not targeted on a pass in the game.
Death-by-inches. Head coach Vic Fangio didn't mince words about penalties postgame. "When you commit that many penalties, I don't think many of them were pre-snap penalties. The penalties were during the course of
play because you have poor technique or you're not good enough….We have to make these guys aware of the proper technique and hopefully, they're good enough to play honest downs without fouling."
Khalfani Muhammad. After a strong hall of fame game, Muhammad was quiet on the ground and missed a critical block on a blitzing linebacker that resulted in a safety. Muhammad carried the ball three times for -4 yards.
Injury news:
Austin Fort, the undrafted rookie tight end out of Wyoming tore his ACL on his only catch of the day and is out for the season.
Andy Janovich left the game with a pectoral/upper body injury and is scheduled to have an MRI Monday.
You can follow Ronnie Kohrt on Twitter for more news regarding the Broncos by clicking here and catch up on latest conversations about the Broncos, or listen to the podcast below.
Follow along all training camp with Ronnie Kohrt as he recaps every day of Broncos Training Camp, and broadcasts live at 7am on Mile High Sports AM 1340 | FM 104.7.