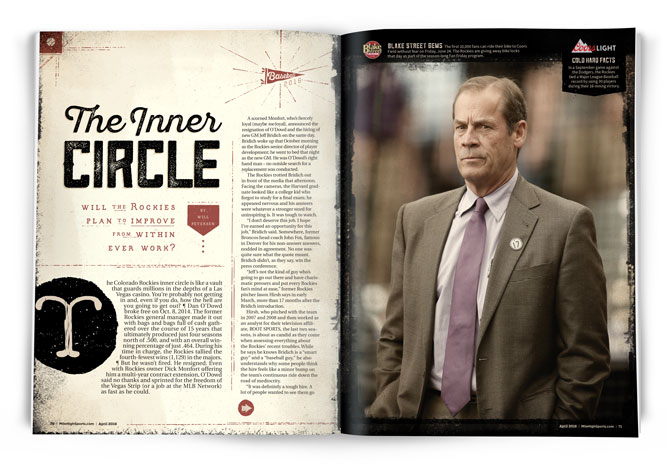 This story originally appeared in Mile High Sports Magazine. Read the full digital edition.
The Colorado Rockies inner circle is like a vault that guards millions in the depths of a Las Vegas casino. You're probably not getting in and, even if you do, how the hell are you going to get out?
Dan O'Dowd broke free on October 8, 2014. The former Rockies general manager made it out with bags and bags full of cash gathered over the course of 15 years that ultimately produced just four seasons north of .500, and with an overall winning percentage of just .464. During his time in charge, the Rockies tallied the fourth-fewest wins (1,129) in the majors.
But he wasn't fired. He resigned. Even with Rockies owner Dick Monfort offering him a multi-year contract extension, O'Dowd said no thanks and sprinted for the freedom of the Vegas Strip (or a job at the MLB Network) as fast as he could.
A scorned Monfort, who's fiercely loyal (maybe too loyal), announced the resignation of O'Dowd and the hire of new GM Jeff Bridich on the same day. Bridich woke up that October morning as the Rockies senior director of player development; he went to bed that night as the new GM. He was O'Dowd's right-hand man – no outside search for a replacement was conducted.
The Rockies trotted Bridich out in front of the media that afternoon. Facing the cameras, the Harvard graduate looked like a college kid who forgot to study for a final exam; he appeared nervous and his answers were whatever a stronger word for uninspiring is. It was tough to watch.
"I don't deserve this job. I hope I've earned an opportunity for this job," Bridich said. Somewhere, former Broncos head coach John Fox, famous in Denver for his non-answer answers, nodded in agreement. No one was quite sure what the quote meant. Bridich didn't, as they say, win the press conference.
"Jeff's not the kind of guy who's going to go out there and have charismatic pressers and put every Rockies fan's mind at ease," former Rockies pitcher Jason Hirsh says in early March, more than 17 months after the Bridich introduction.
Hirsh, who pitched with the team in 2007 and '08 and then worked as an analyst for their television affiliate, ROOT SPORTS, the last two seasons, is about as candid as they come when assessing everything about the Rockies' recent troubles. While he says he knows Bridich is a "smart guy" and a "baseball guy," he also understands why some people think the hire feels like a minor bump on the team's continuous ride down the road of mediocrity.
"It was definitely a tough hire. A lot of people wanted to see them go outside the organization, myself included. Jeff keeps his cards close to his chest. He's got a very dry personality, so he's not very forthcoming for what his ultimate game plan is for this organization. That's a big frustration with fans because they're looking at him like, 'Well, where the hell are we going?' There just seems to be a lack of answers. You get a lot of non-answer answers from him," Hirsh says.
Meanwhile, Bridich called O'Dowd "a father figure, a willing and interested mentor," the day he was promoted. Now with one season under his belt in which the Rockies went 68-94, Bridich is best known for trading away fan favorite and All-Star shortstop Troy Tulowitzki. Only time will tell how closely that transaction will resemble some of O'Dowd's more notable moves. When the former GM unloaded Matt Holliday, Carlos Gonzalez turned into a perennial All-Star and Huston Street became the closer on the 2009 team that advanced to the NLDS. When he bailed on pitcher Ubaldo Jimenez, and got Alex White, Drew Pomeranz, Matt McBride and Joe Gardner in return, history does not reflect as kindly. Five years from now, the acquisition of troubled shortstop Jose Reyes and pitching prospects Jeff Hoffman, Miguel Castro and Jesus Tinoco will surely be a measuring stick for Bridich.
Bridich, though, has a defender in the Rockies' color commentator for the last 19 years, George Frazier. While he officially stepped away from the microphone for the Rockies last October, Frazier still has plenty of thoughts worth sharing.
"I can understand the fans' viewpoint [of wanting to hire from the outside], but no one knows your organization better than what you have inside your organization. It doesn't mean just because Jeff worked under Dan O'Dowd that he's going to be Dan O'Dowd. They think, 'Oh, he was just a puppet so he's going to do it the same.' That's the farthest from the case. Jeff Bridich wants to win," Frazier says by phone from Oklahoma, where he's calling 20 OU baseball games this year and coaching his grandson's little league team.
Sure, Bridich wants to win. That's something few would debate. But the question is, "Does he know how to build a winner?" As Frazier suggests, Bridich, who came from within, has plenty of knowledge of the organization. Unfortunately, the organization wasn't winning during his time under O'Dowd. It's logical that Bridich knows what hasn't worked. Knowing what will work in the future as a result is a more difficult discovery.
The Bridich hire was the perfect example of the perception that Rockies have a tight inner circle. It's perplexing they didn't look outside the organization, instead promoting O'Dowd's right-hand man after O'Dowd busted out despite being asked to stay. And access inside the inner circle isn't easy (just like that vault in Vegas) but the Rockies may be loosening up the screws a little bit.
***
As March was nearing its end, it's fair to say Bridich probably had a million different things on his mind.
Who would round out the starting pitching rotation? Is Gonzalez a cornerstone piece or a potential trade chip? Can Trevor Story help fans forget about Tulowitzki?
But the man in charge of all the team's plans took 30 minutes out of his busy Monday morning in Arizona to chat about a variety of topics with Mile High Sports Magazine.
Bridich defended the comments he made about O'Dowd at his opening press conference.
"You can look at the decisions we made, some of them were very good and ended up being good decisions and some of those decisions ended up not working. I feel like if I'm doing a good job as an employee I need to be able to self-evaluate and keep my eyes and ears open to learn from mistakes we've made in the past and learn from positive things we've done. I think that's a good thing for any employee to do and certainly one that worked as close with Dan as I did. You mentioned 'father figure' and 'mentor' and all that; I made those comments with that kind of thought process in mind," Bridich says.
Bridich also acknowledged certain frustrations fans may have with his personality. He's the first to admit his demeanor in a public setting or in front of the media is by design.
"It's who I am. It is part of the strategy," Bridich says. "You assume a position like this and you've got to make choices on how you want to do your job. It's a choice on my part and how I best think I can serve the organization and operate in this job. I think it's different than some other people – whether in Denver or in the sports industry in general. But, you know, it's a strategy that feels right to me and I'm going to keep that strategy close to my chest."
One question thrown Bridich's way draws a quick form of "no comment."
"I'm not going speak specifically about past personal decisions like that," Bridich says when asked if he was involved with the decision to part ways with former Rockies vice president of communications, Jay Alves.
As a longtime inner circle member, it's important to understand who Alves was, some of the things he may have done and why the decision to move on from him shortly after Bridich was hired could signal the start of a new era.
***
Former Mile High Sports Radio host and current SEC Network studio anchor Peter Burns is well known to Rockies fans from his time in Denver and his relentless effort to put pressure on the team to get better. A quick Twitter search shows Burns started the "#Roadto100" campaign, his quest for the Rockies to finally lose 100 games, back in May of 2012. They came close that year, losing 98, but haven't reached the anti-milestone yet.
Why did he come up with the hashtag? His introduction to team helps provide some answers.
As soon as Burns got his radio gig in Denver he reached out to Rockies PR, which at the time, was led by Alves. Burns wanted to head down to spring training, check out a game, get a credential and start building potential contacts for his show.
"The first question I got asked was, 'Are you going to be hosting with Mark Kiszla?' And I said, 'Well, yeah, that's who my co-host is' and they said, 'Then you'll never get a Rockies player on your show – ever.' That was the first day I started on the radio. I just wanted to [extend] an olive branch with them and that's what they ended up saying. It was already off to a bad start to say the least," Burns says.
Kiszla, a Denver Post sports columnist, had his fair share of battles over the years with the team, but this seemed to be an extreme punishment for a brand new co-host.
Later that summer, after the tragic Aurora theater shooting, Rockies outfielder Michael Cuddyer was up for the Roberto Clemente Award, with the winner receiving $100,000 for the charity of his choice. Cuddyer chose the charity A Precious Child, which happened to be a partner of the Jessica Redfield Foundation.
Redfield was one of 12 senselessly killed at a midnight screening of "The Dark Knight Rises" on July 20, 2012. The up-and-coming star in Denver sports media was like a "little sister" to Burns. He was a mentor to Redfield, saying she moved to Denver in part because of how much he loved it. In fact, Burns co-founded her foundation to fund scholarships to support young people who want to study sports journalism. Burns thought having Cuddyer on his show at the time to promote the cause would be extremely beneficial all around.
"It was a fan-driven vote to see who won, so there was no harm in promoting it. Basically, I asked the Rockies, 'Will you help Michael Cuddyer come on our show to help promote this great thing? It's good for Cuddyer and we can help raise $100,000 for this great cause.'
"The Rockies said no because what had been said about them on our show and written about them [by Kiszla]; they declined the Cuddyer request," Burns says.
Alves, who as noted is no longer with the team, was reached for comment, and denied Burns' version.
"To say there was a 'ban' regarding Mr. Burns' radio show is not accurate. I made a decision for that one request not to not have Mr. Cuddyer appear. As the batting leader at the time he received numerous interview requests for his time and part of my job was to make decisions of where and when he would appear. We declined that request and I am sure disappointed Mr. Burns," Alves wrote in a message on LinkedIn.
While it's unclear what led the Rockies to move on from Alves in November of 2014 after 17 years with the club, Burns doesn't think his situation wasn't particularly unique.
But have things changed on a PR front since Alves departed? In a recent e–mail exchange, Kiszla says yes.
"Jay is in the rearview mirror. And the Rockies are in a much better place with Warren [Miller], who is a total pro," Kiszla wrote.
Miller, the team's new director of communications, is the man responsible for setting up the Bridich interview with MHSM. It's a good bet that wouldn't have happened as recently as 2014.
But even with things on a much better track from a PR standpoint, largely because someone new from the outside was brought in, questions still remain about the Rockies' inner circle – like any inner circle, they have common ideas that bond them together. One of those ideas, if true, could be a frightening one for fans who support the team year after year: Does the organization privately think the team can't win at altitude?
***
In 2012, O'Dowd attempted something he hoped would be revolutionary and combat his team's pitching woes. He tried a four-man rotation with a strict pitch count. Credit O'Dowd for attempting an out-of-the box idea. But, at the same time, he deserves none. "Paired pitching" didn't work, and the Rockies were questioned across Major League Baseball.
In August of that season, former Rocky Mountain News columnist Dave Krieger penned a column for his personal website, blitzkrieg13.com, that offered what could be considered an "admission" pertaining to the organization's feelings about playing at altitude.
Krieger wrote:
This is the crux of the difference in perception inside and outside the organization. Many fans believe playing at altitude is a minor or negligible issue, just another variable like the short porch at Yankee Stadium or the wind at Wrigley Field. Even mentioning it is just an excuse for poor performance, they believe. 
Within the organization, it is considered the central challenge of operating the ball club. O'Dowd calls it the Rockies' "Goliath." The reason they don't talk about it more publicly is it's already next to impossible to get free agent pitchers to come to Colorado. Emphasizing the difficulty of succeeding here as a pitcher will only make that situation worse.
"Altitude has now been used as a scapegoat for their shortcomings. It feels like someone along the way said 'We don't need to concern ourselves with pitching because we can always use altitude as an excuse for why we can't pitch here,'" Hirsh says.
Hirsh went on to point out that altitude doesn't bother the greats; take Clayton Kershaw, for example. Since 2013 he's 5-0 with a 3.09 ERA at Coors Field and the Dodgers have won all seven games he's started in Denver. Yes, he's a Cy Young Award winner, but the notion it's impossible for anyone to pitch in Denver is silly.
Hirsh also (sharply) notes Coors Field seems to be the only place in baseball that has the stigma of being "un-pitchable."
"People haven't made excuses for pitching at other places and giving up a lot of home runs, yet the Rockies continue to use their home stadium as an excuse for why they can't pursue big name free agents," he says.
Quick test: Does anyone remember pitchers being scared of signing with the Baltimore Orioles, New York Yankees or Toronto Blue Jays recently? If they were, news of those concerns didn't reach this dusty ol' cow town. And here's a fact: Camden Yards (222), Yankee Stadium (219) and Rogers Centre (203) all gave up more home runs than Coors Field (202) in 2015. Unless one of those three cities got hit with a massive movement of tectonic plates recently, they're all playing at a significantly lower altitude than the Rockies.
"Is there something with the altitude? Absolutely. But the issue is, it wasn't always like that. How did they compete back in the day? The altitude didn't change over the last five years. I missed that. The ballpark didn't get put on 5,000-foot stilts and now they're playing at 10,000 feet. This has everything to do with them trying to justify their failure in how they've built the organization," Burns says.
The man may have a point. The Rockies team ERA was 4.22 in 2009, the last year they made the playoffs. From 2012 to '15 it's ballooned to an average of 4.89. Two of those four years it's been over five, with the 4.44 ERA they put up in 2013 the only reason the average isn't also higher than five.
That, naturally, comes back to who's been on the mound for the Rockies the last few years. It hasn't been like it was in 2009. Jorge De La Rosa (16-9), Ubaldo Jimenez (15-12), Jason Marquis (15-13), Jason Hammel (10-8) and Aaron Cook (11-6) comprised a rotation in which all five starters finished with records north of .500. In 2015 the Rockies' six main starters went a combined 38-51.
So what's this evidence say about why the Rockies can't seem to turn it around? First, all the years before Rocktober 2007 and after the playoff run in 2009 seem to be a more accurate representation of the Monfort-O'Dowd (and to some extent Bridich, who arrived in 2004) regime than those two miracle seasons. The Rockies were bad when O'Dowd arrived from 1999 until 2006 (one winning season) and they've been bad since 2010 (one winning season). Second, it depends on whom you ask.
Hirsh and Burns are generally on the same page, both agreeing the Rockies may have leaned on altitude as a scapegoat, particularly recently. Back in Oklahoma, Frazier says hold the phone; pitchers just don't want to come here.
"I'll use Yovani Gallardo as an example. There was supposedly, and I don't know this, strong interest from the Rockies [this offseason]. He has no other offer from 29 other teams, but then he signs in the middle of February with the Orioles and he takes a huge discount. Is that a guy you want to overpay to come here and pitch when you know he doesn't really want to be here? That's the thing I look at as to why you need to draft and develop," Frazier says.
While Bridich denies any pitcher in particular has declined an offer from the club because of Coors Field – "No I can't sit here and tell you that's been the case," he says – he does think some have a poor mindset about pitching in Colorado.
"There are certainly guys who have gone on record and have said they struggle in Denver – they struggle in altitude. I think those things are well documented and probably talked about ad nauseam. For me, in terms of pitching, there's really no magic potion or some sort of secret pill – I think a lot of it has to do with constitution of the athlete and what's inside – the type of competitor and the type of belief that person has in himself," Bridich says.
When pressed on whether free agency could be a direction the Rockies explore for bringing in top-tier pitchers moving forward, Bridich doesn't rule it out, but makes it clear the team is going to continue to stick with its longtime strategy.
"The fact that we're heavily devoted to scouting, drafting, developing – I would be surprised if that ever changed for us," Bridich says.
So if the philosophy on that front is going to stay the same, what really has changed in the switch from O'Dowd to Bridich?
"I think any time there is a regime change or some sort of leadership change people look and say, 'Okay, so where are the substantive changes going to come from?' I think there are things going on that would constitute change. Is it at the perfect pace for every fan or every individual in the media? No. It's not possible to make everyone happy all at once. We have to be both patient and persistent [with some of the changes] because we believe they're going to add up over time," Bridich says.
It's easy to see why those on the inside defend the Rockies and where they're headed; they believe positive changes are being made, but an undisputable fact remains: The team has finished at least 12 games under .500 each of the last five seasons while drawing 33,386 fans per game, eighth among National League teams.
Dan O'Dowd eventually departed the inner circle, but the reality is the Rockies are rolling on without him. Like the house in Vegas, the Rockies have continued to win on the bottom line, despite the losing product on the field ‒ one they insist they're working to change.