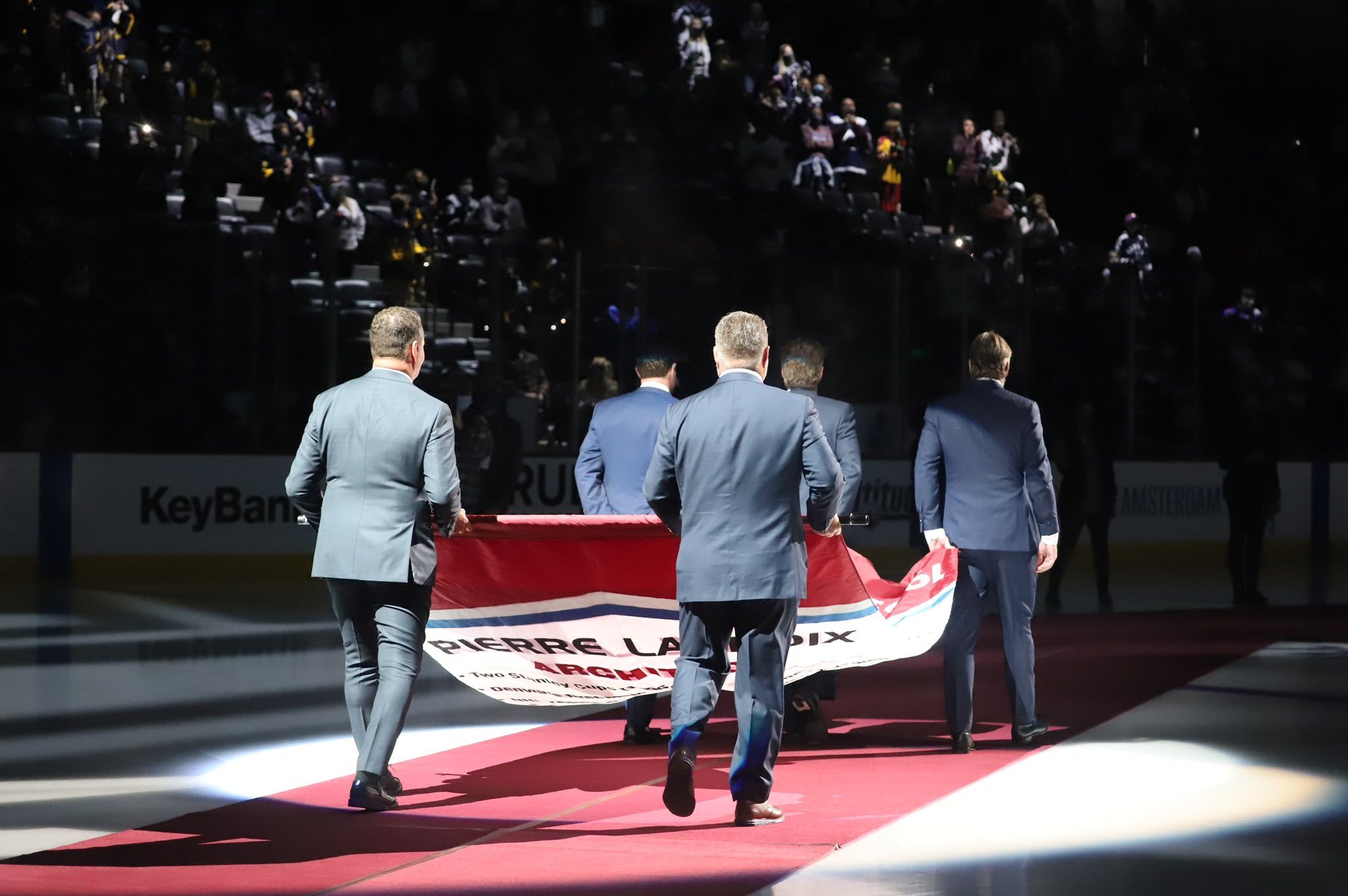 Not many things could push the actual game to an afterthought. Especially one that nearly saw the home team erase a late three-goal deficit.
But the Avalanche's banner-raising ceremony for the late Pierre Lacroix — the general manager and architect of the team's two Stanley Cup championships — certainly stole the spotlight Saturday at Ball Arena.
Lacroix, who passed away in December, was honored by the Avs with a banner highlighting his accomplishments hanging in the rafters alongside six of the most iconic names to ever don the burgundy and blue.
His son and former Avalanche forward Eric Lacroix spoke about his father in length before the banner was raised. The rest of the Lacroix family, including his wife Coco, were also on the ice.
Missing from the ceremony was Patrick Roy — he was the only one of the six retired names that was not present. But the others, Joe Sakic, Peter Forsberg, Milan Hejduk, Adam Foote and Ray Bourque were there. And they unveiled the banner by walking it out onto the ice in their respective positions.
Listen to "Pierre Lacroix Night at Ball Arena" on Spreaker.

Lacroix was known for his great attention to detail. And having Joe Sakic at center, with Forsberg and Hejduk on both sides of him and Bourque and Foote behind, was just one of many ways the organization honored Lacroix.
Another example: Lacroix's favorite number was five. So the organization began the pre-game ceremony at 5:55 p.m. local time.
But beyond all the aesthetics, it was the memories of Lacroix and his character that were highlighted most.
"They were the first ones. Coco and Pierre were the first ones that walked in when we had our first child," Foote said. "When one of our kids got sick, they were the first ones there to see them. He really cared."
Another Avalanche legend, Forsberg recalled the care Lacroix had for his health more than his ability to perform on the ice. His career was often mired with injuries and health issues despite him being one of the most dominant NHL players of his era.
In 2001, Forsberg missed the latter half of the Avalanche's Stanley Cup championship run because of spleen removal surgery following their hard-fought second-round victory over the L.A. Kings that went the distance. Forsberg remembers the conversations he had with Lacroix during his recovery.
"He was great. During the Stanley Cup Final, I wanted to come back and play after the spleen injury and he was like 'no, no, no I care about your life," Forsberg said. "I don't care if we win the Stanley Cup, this is your health."
Forsberg also had conversations with Lacroix in 2011 when he tried to make his comeback, one that lasted two games and saw his playing career finally come to an end. By then, Lacroix was five years removed from relinquishing his role as the general manager. But he remained the team president.
"I've always had a foot problem there and we decided we'll at least try," Forsberg said. "He said to me if it doesn't work, fine, no problem. Just go out and see if you can play. If it's works, awesome. If it doesn't, don't worry about it."
Forsberg's relationship with Lacroix never wavered, even in 2005 when he and Foote both moved on because of the newly implemented salary cap after the 2004-05 lockout. Forsberg signed with Philadelphia and Foote joined the Columbus Blue Jackets. Both players ended up becoming captains of their new teams.
But less than three years later, they would both return to Colorado — to a place where they felt like they were part of a family.
And that family started with the legacy that Lacroix built. Nine consecutive division titles, six Western Conference Final appearances in seven years, 487 consecutive sellouts and Two Stanley Cups. Those accomplishments all meant something.
But Lacroix's care for his family — his hockey family — was his greatest accomplishment.
And his legacy will forever live in the rafters of Ball Arena.
__
Aarif Deen is our Colorado Avalanche beat reporter. He covers Avs games live from Ball Arena and attends practices, media availabilities and other events pertaining to the Avs on the daily beat. He is also a co-host of Hockey Mountain High: Your go-to Avalanche Podcast. Deen joined Mile High Sports upon completion of his bachelor's degree in journalism and master's in business administration from the University of Michigan – Dearborn. Before Mile High Sports, Deen worked for the Michigan Wolverines Athletics Department as the assistant sports information director.
Follow him on Twitter @runwriteAarif
Listen to "Pierre Lacroix Night at Ball Arena" on Spreaker.