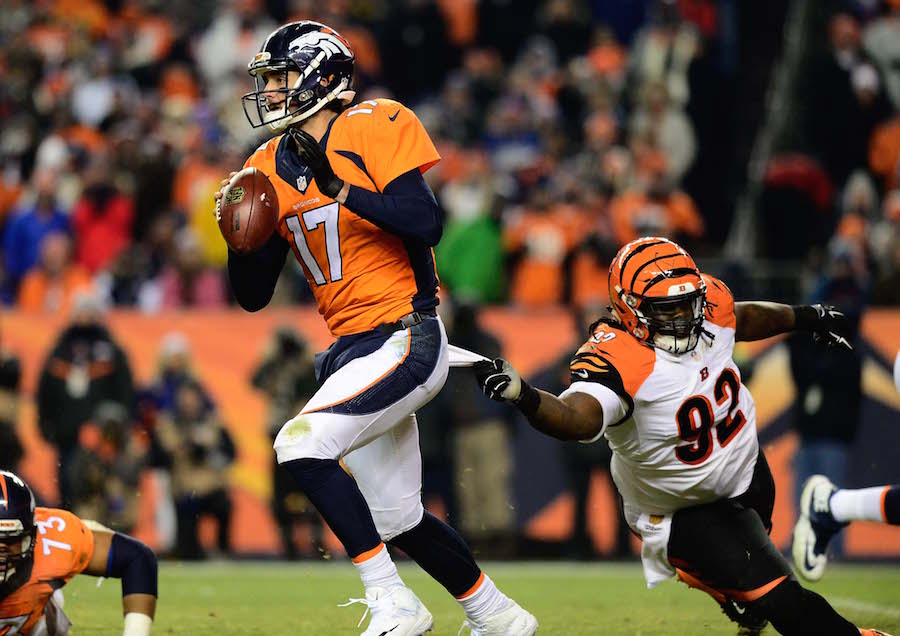 "It's a grind to get here and when you get here there are certainly no guarantees either. We beat a really good football team tonight; they only lost one game coming into the season. Everybody did their part. There is no question our defense led the way. Everybody did their part and I'm honored and grateful to be a part of it," Peyton Manning said following the team's Super Bowl 50 victory. What an understatement.
Every team experiences injuries during the difficult NFL season but the now-Super Bowl 50 Champion Broncos' starters got hit by injury or suspension at eight of nine position groups on both offense and defense. Never has the "next man up" cliché  been more appropriate for not only a contender, but the proud owner of the Vince Lombardi Trophy.
On offense and across the entire team, no backup player performed more admirably or under more pressure than Brock Osweiler in relief of Manning in Weeks 9-16. Several players shuffled along the offensive line. Out of the gate in the offseason, left tackle Ryan Clady went down, then three weeks into the season his successor, Ty Sambrailo, joined him on injured reserve. The guards battled injuries all season. Evan Mathis, Louis Vasquez and rookie Max Garcia rotated constantly, including in the Super Bowl. C.J. Anderson and Ronnie Hillman traded starts throughout the year, found themselves on the injury report often and Anderson suited but did not play in Week 14. Emmanuel Sanders needed Week 11 off as well due to the constant pounding his 180-pound frame took. Only starters Owen Daniels, Virgil Green and Matt Paradis were available to play on offense the entire season.
The dominant defense that took the world by storm Feb. 7 was equally impressive the entire year in spite of some key injuries and suspensions. Derek Wolfe sat out the first four weeks of the year due to suspension. Vance Walker, Antonio Smith and others admirably held his spot. DeMarcus Ware missed five games over the course of eight weeks at outside linebacker, leaving Shaquil Barrett and Shane Ray to grow up fast and fill his shoes. The safety position quickly became an area of concern following the Broncos win over the Patriots on Nov. 29. Ward missed three games in a row with an ankle injury and free safety Darian Stewart joined him on the sidelines in Week 15 and exited early in Week 17.
On top of those lengthy injuries, Sylvester Williams, Danny Trevathan and Aqib Talib each missed a game. Brandon Marshall also played only three plays in the regular season finale and Chris Harris Jr. played about half of the divisional playoff game against the Steelers and nursed a serious shoulder injury all the way through the Super Bowl win. That left just Malik Jackson and Von Miller to play without major incident or injury through the entire season.
Here is a look back at three vital performances by the "next man up" that allowed the Broncos to go on a historic run to Santa Clara, California.
Brock Osweiler Week 16 versus the Bengals
Osweiler taking Manning's place was undoubtedly the biggest substitution of the season, as he guided the Broncos to a 5-2 record while traversing the gauntlet of the Chicago Bears, New England Patriots, Pittsburgh Steelers and Cincinnati Bengals to name a few. His most exciting performance was no doubt a 30-24 overtime win versus the Patriots in Week 12, but that simply set up a "must win" against the playoff-bound Bengals for a shot at the number one or two seed in the playoffs.
Against Cincinnati Osweiler threw for 299 yards, completing 27-of-39 attempts with one touchdown, finishing the evening with a 100.3 passer rating. He had a spectacular throw to Daniels late in the fourth quarter to set up a game-winning attempts by Brandon McManus that went wide left. In overtime, Osweiler guided the offense on 14 plays and set up the game-winning field goal. The 20-17 win gave vaulted the Broncos over the Bengals and the Patriots' loss in Week 17 to the Miami Dolphins, coupled with their earlier loss to the Broncos, handed Denver precious home-field advantage throughout the playoffs.
"I think this game, when you focus on your job, when you focus on the task at hand and when you focus on what's really relevant for that situation and for that day, it keeps you focused. That's how I've been handling that. Most of all, this isn't about Peyton. This isn't about myself. Tonight is about this football team," Osweiler said immediately after the win over Cincinnati. "We had our backs against the wall coming off of two losses. We're back at home in front of the best fans in world on prime time Monday night and we knew we had to get a win."
Osweiler was pulled the following week as the offense sputtered early against the San Diego Chargers but rallied under Manning to win. Osweiler's playing time was over for the season but his contributions cannot be understated.
Shaquil Barrett Week 6 versus the Cleveland Browns
Barrett joined the Broncos in 2014 as an undrafted free agent from Colorado State University but was active for only one game in the 2014-15 season and did not see a down. Entering training camp, it was unclear what role he would have on the team, but that soon changed. Barrett, along with rookie Shane Ray, dominated the preseason When Ware was held out of the team's game in Cleveland, Barrett got his first start.
He more than made the opportunity count. As the offense struggled and turned the ball over three times, the defense had to come up with turnovers of their own. Barrett was a monster, compiling nine tackles (six solo), three tackles for a loss, 1.5 sacks, one pass defensed, one forced fumble and one fumble recovery.
His sack, fumble and recovery came in the third quarter with only a slight 10-7 Broncos lead. He had great awareness to not only hit quarterback Josh McCown but find and recover the football. The Broncos ensuing drive ended in a crucial field goal and a six-point lead. The Broncos eventually won 26-23 in overtime.
"I don't care what his name is or where he's from, but I know that when it's down to a play, he makes plays. All I know is every time I looked up, he was making plays. What an opportunity he's gotten and what good job he's done taking advantage of it," head coach Gary Kubiak said of Barrett directly following the win.
Max Garcia the entire season
Garcia joined the Broncos via the 2015 NFL Draft as the team's fourth round pick (133rd overall) and was expected to sit and learn from a veteran group in front of him. He impressed so much in training camp that he leapt ahead on the depth chart and was poised to start the regular season before All-Pro guard Evan Mathis joined the team.
Being behind two All-Pro guards normally would have meant Garcia would see a lot of time on the bench, but injuries and his quick progress would not permit such a route. Garcia was quickly dubbed "The Future" by his teammates along the offensive line for his quick study, progression and future potential.
He started four games at left guard, one at right guard between Weeks 12 and 16 but he also played 48.9 percent of offensive snaps in 16 of the Broncos' 18 games this season. That time was critical to giving Mathis and Vasquez a quarter of the season's offensive snaps off in order to stay fresh. Both veterans suited up for every game but each missed one game on offense due to various injuries. Garcia epitomizes what this team did to get to and win Super Bowl 50. Vasquez knew that his position and throughout the team had the talent and more importantly, the will to get it done.
"It has taken everybody on this team, literally everybody to get where we are at. We fought, scratched and clawed our way to the position we are at," Vasquez said Jan. 7. "The guard rotation and guys not batting an eye at 'the next man up' when a case arises just shows the heart and dedication of our team."
The Broncos have nearly an endless array of sources for their improbable championship, but it truly took everyone and the talent that stepped up matched and at times, miraculously exceeded those who were forced to the sidelines. The entire roster, unlike some champions, can truly revel in their trophy and upcoming rings.
---
Email Sam at [email protected] and follow him on Twitter @SamCowhick.