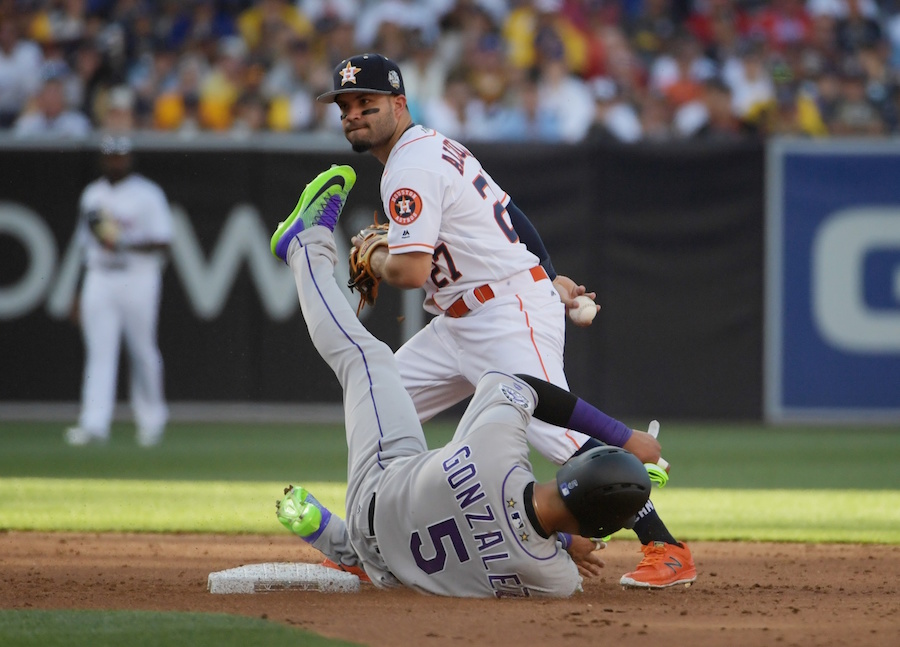 The Colorado Rockies avoided baseball's most ignominious mark in 2012; coming up two losses short of hitting the MLB benchmark for single-season ineptitude – 100 losses. The Houston Astros did. In fact, Houston's 2012 was the baloney to a white-bread-and-baloney sandwich of 106, 107 and 111 losses from 2011 until 2013. Now, in 2017, the Rockies are a playoff team, and the Astros are World Champions for the first time in their 56 seasons of existence.
In 2014, Sports Illustrated called their shot — saying on the cover of the June 30 edition that the Houston Astros would win the World Series in 2017. The cover featured none other than 2017 World Series MVP George Springer. Cover jinx be damned.
In July 2017, SI published a story about how the Colorado Rockies learned to tame the toughest pitcher's park in baseball. It wasn't a cover story, and they never predicted the Rockies would win the World Series, but is a Rockies world championship by 2020 that far-fetched?
After surviving the #RoadTo100, which thankfully never reached its destination, the hope that Rockies fans can hang their hat on this day after the Astros took their name off the list of "franchises that have never won a world championship" — a list the Rockies still occupy — is that Houston and Colorado share a markedly similar organizational philosophy, and even roster makeup.
As Ben Reiter wrote in that feature, "Astro-matic Baseball," Houston made a cosmic shift in their thinking in 2012 — hiring away a pair of analytics gurus, general manager Jeff Luhnow and now special assistant to the GM for process improvement Sig Mejdal, who had helped propel a St. Louis Cardinals' resurgence that began in the early 2000s and lasted through 2015. In the 16 seasons from 2000 until 2015, St. Louis missed the playoffs in only four seasons. They went to the World Series four times in that span, winning twice. Luhnow and Mejdal were there for both wins, and were stolen away by Houston following their 2011 world championship.
The Rockies, too, have fully embraced advanced analytics and made changes in the front office. While Jeff Bridich was not plucked from another organization like Luhnow — he joined the Rockies organization in 2004 after working for MLB with the Arizona Fall League — Bridich has turned things at 20th and Blake on their ear since his promotion to general manager following the 2014 season. Those defensive shifts that the Rockies began to deploy with greater frequency and success beginning in 2015? The Astros were on the leading edge of that movement back in 2013. Bridich may have had to wait for the departure of Dan O'Dowd and Bill Geivett to depart to put all his plans into action, but his fingerprint on the organization began well before that.
Now, the club is seeing the fruits of his efforts with a roster and coach staff that finished above .500 for the first time since 2010 and made the playoffs for the first time since 2009 this past season. As senior director of player development from 2011 through 2014, Bridich was instrumental in the selection and development of talent including Tyler Anderson (2011), Trevor Story (2011 supplemental), David Dahl (2012), Jon Gray (2013) and Kyle Freeland (2014), all of whom made significant contributions at the big-league level over the past two seasons. And those are just the first-round picks. Since being promoted to director of baseball operations in 2005, he's also had his hand in drafting and developing second-rounders Charlie Blackmon (2008), Nolan Arenado (2009) and Chad Bettis (2010).
The names above represent the core of a roster and rotation that figures to again compete for at least a Wild Card spot in 2018, not to mention key trade and free agent acquisitions like D.J. LeMahieu (2011 trade) and Gerardo Parra (2016 free agent).
Houston has a similar homegrown construction. And the similarities don't end there. The 2017 World Series MVP, George Springer, led his club in home runs (34) and was second in RBI (85) in 2017 out of the leadoff spot and playing center field. Springer, 27, is a right-handed, slightly younger version of Blackmon, who led Colorado with 37 home runs (tied with Arenado) and was second in RBI with 104 (also behind Arenado). He also led the National League with a .331 batting average, which was second only in baseball to Houston's Jose Altuve. The Rockies have their own contact-plus-power second baseman in LeMahieu. Houston's Carlos Correa has the makings of an Arenado, only at shortstop, where Colorado has a potential star in waiting in Story if he can just learn to cut down on his strikeouts.
Where Houston is a step ahead of Colorado is the one area that's been a bugaboo for the Rockies since their inception — on the mound.
The 2014 SI article cited three of Houston's young starters who were coming of age at the time, 26-year-old Dallas Keuchel, 24-year-old Jarred Cosart and 24-year-old Brett Oberholtzer. And while Keuchel, the 2015 Cy Young winner, is the only one of that group still on the roster, Luhnow traded Oberholtzer for Ken Giles, who saved 34 games for Houston this season (fourth-most in the American League).
Houston finished the 2017 regular season with 101 wins, one behind the Cleveland Indians (last year's AL Champions) for second-most in the junior circuit. They did so with a patchwork rotation that included converted reliever Brad Peacock and 33-year-old journeyman / injury prone righty Charlie Morton. The two combined to pitch six innings (two for Peacock and four for Morton) of one-run, three-hit ball in the decisive Game 7 on Wednesday in Los Angeles.
For as much as Coors Field gives hitters plenty of real estate to drop singles, doubles and triples, not to mention home runs in the mile-high air, the heavy Houston air and climate-controlled environment (when the roof is closed) of Minute Maid Park gives pitchers devastating movement to curveballs, sliders and sinkers. The two parks could not be more opposed, as Coors Field ranked first (again) in "park factor," which compares the rate of stats at home vs. the rate of stats on the road. A rate higher than 1.000 favors the hitter. Below 1.000 favors the pitcher. "Coors Canaveral," as it was once dubbed, led the majors at 1.332 this season, while "The Juice Box" was an MLB-low 0.826.
Therein lies the real question as to whether the Rockies can do in 2020 (or sooner) what the Astros did in 2017.
Colorado boasts an impressive young rotation that SI's Albert Chen wrote in 2017 "learned to (somewhat) tame Coors Field." Led by Gray, Colorado had four starters age 25 or under who won at least 10 games this season. Gray, 25, started just 20 games due to a foot injury, but posted an impressive 10-4 record in 2017. Freeland, the 24-year-old hometown hero, was 11-11 with several dominant performances including a near no-hitter in July. German Marquez was 11-7 and was at his best in July and August, going 5-1. The Rockies were 8-3 in his 11 starts those two months. And Antonio Senzatela, 22, was the first Rockies pitcher to 10 wins before having his innings cut back to protect his arm.
Can that group, along with Anderson, 27, and Bettis, 28, overcome the challenge of Coors Field? Bridich addressed that matter in a fashion similar to Houston.
A.J. Hinch took over as manager of the Astros in 2015 and delivered the club's first winning season in eight years. The former big-league backstop led Houston to the playoffs in his first season at the helm. Hinch flipped the switch on a 92-loss afterthought and turned them into an 86-win contender.
Bud Black guided Colorado to the playoffs in his debut season as Rockies manager in 2017. The former major-leage hurler also delivered Colorado's first winning season in six years. Black flipped Colorado's record from 75-87 to 87-75 and had his team on pace at one point for the best finish in franchise history.
Bridich made moves at the trade deadline this year to give Black a punchers chance down the stretch – adding All-Star reliever Pat Neshek and former All-Star catcher Jonathan Lucroy. Luhnow made a move for six-time All-Star and 2011 Cy Young winner Justin Verlander at the deadline. The move revitalized Verlander's season and the veteran went on to go 4-1 in the 2017 playoffs; Houston won five of his six starts. Last offseason, Houston added veteran backstop Brian McCann.
If Bridich can retain Neshek and Lucroy, both free agents, Colorado could have a pair of valuable assets as they strive to reach the same plateau Houston just reached.
The SI story about this year's Rockies didn't make the same bold projection as the cover of the June 2014 issue. The Rockies were mentioned on the cover, but weren't the focal point. (That honor went to Sydney McLaughlin and Mackenzie Gore, the Gatorade High School Athletes of the Year.) But is a 2020 World Series run that big a stretch for the Rockies?
Sure, they will play this year's World Series runners-up, the Los Angeles Dodgers and their seemingly unlimited payroll, more than any other team outside of the NL West. And yes, they still have to tame the beast that is Coors Field 81 games a year. But Bridich is building the Rockies the right way, and the roster pieces are in place to make a realistic run not so far off as 2020, but as soon as 2018.
If the Houston Astros can do it, there's no reason the Rockies can't.