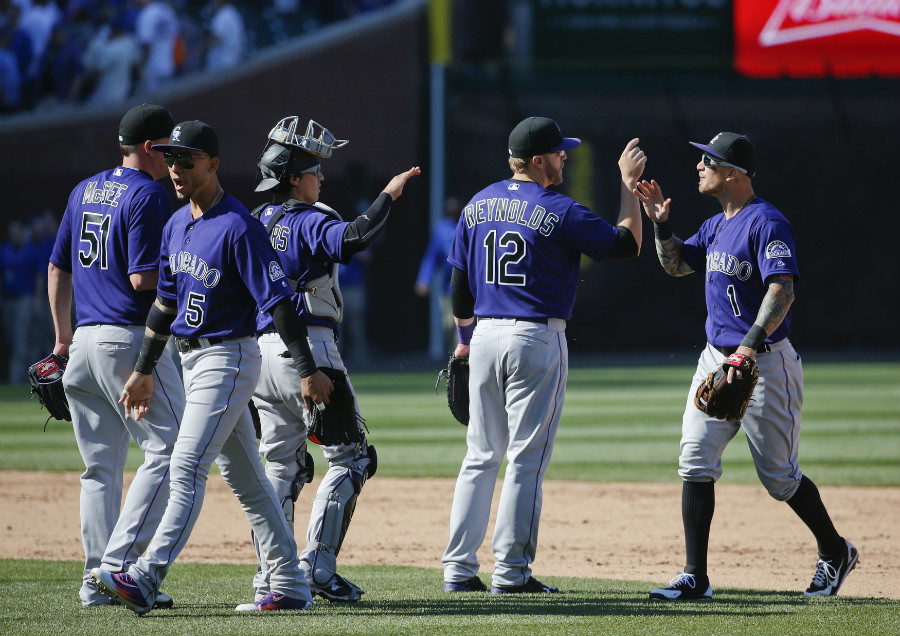 The Colorado Rockies have won two of the three games in each of their past two series, and they did it against two of the best teams in baseball.
The Colorado Rockies managed to take grab series victories against both the San Francisco Giants and Chicago Cubs, each of which are either the leaders or tied for the lead in their division.
"If you take it back to the previous series, the Giants came into our place as probably the hottest team in baseball, and we won that series," Manager Walt Weiss told Patrick Saunders of The Denver Post. "So to come in here and beat the hottest team, that's a nice week right there."
A nice week indeed as the Rockies improved to 7-5 on the season and are now tied for first place in the National League West.
"This was huge." said Nolan Arenado  "It's really big for our confidence. To come here for a weekend series in front of big crowds against their arms, it says good things about us."
The Rockies over the past two series have played solid baseball, doing a little bit of everything to notch back to back series wins.
The Rockies have won in blowout fashion, as well as in close contested contests, doing the little things along the way.
The bats have been hot and the pitching has sufficed, which has resulted in the team winning four of their last six games.
The team has a team batting average of .290, which is good for third best in the majors thus far.
The pitching staff has done just enough to win games, despite being ranked as the poorest staff in the big leagues by ESPN.com, owning a combined era of nearly seven, almost a full run higher that the second poorest staff in the game.
The Rockies are notorious for getting off to a sizzling start, but returning to mid-season form by the month of May.
The Rockies will look to keep rolling as they head to Ohio to take on the Cincinnati Reds.
The Reds are projected to be one of the worst team's in the big leagues, which should give the Rockies another opportunity to get a series victory.