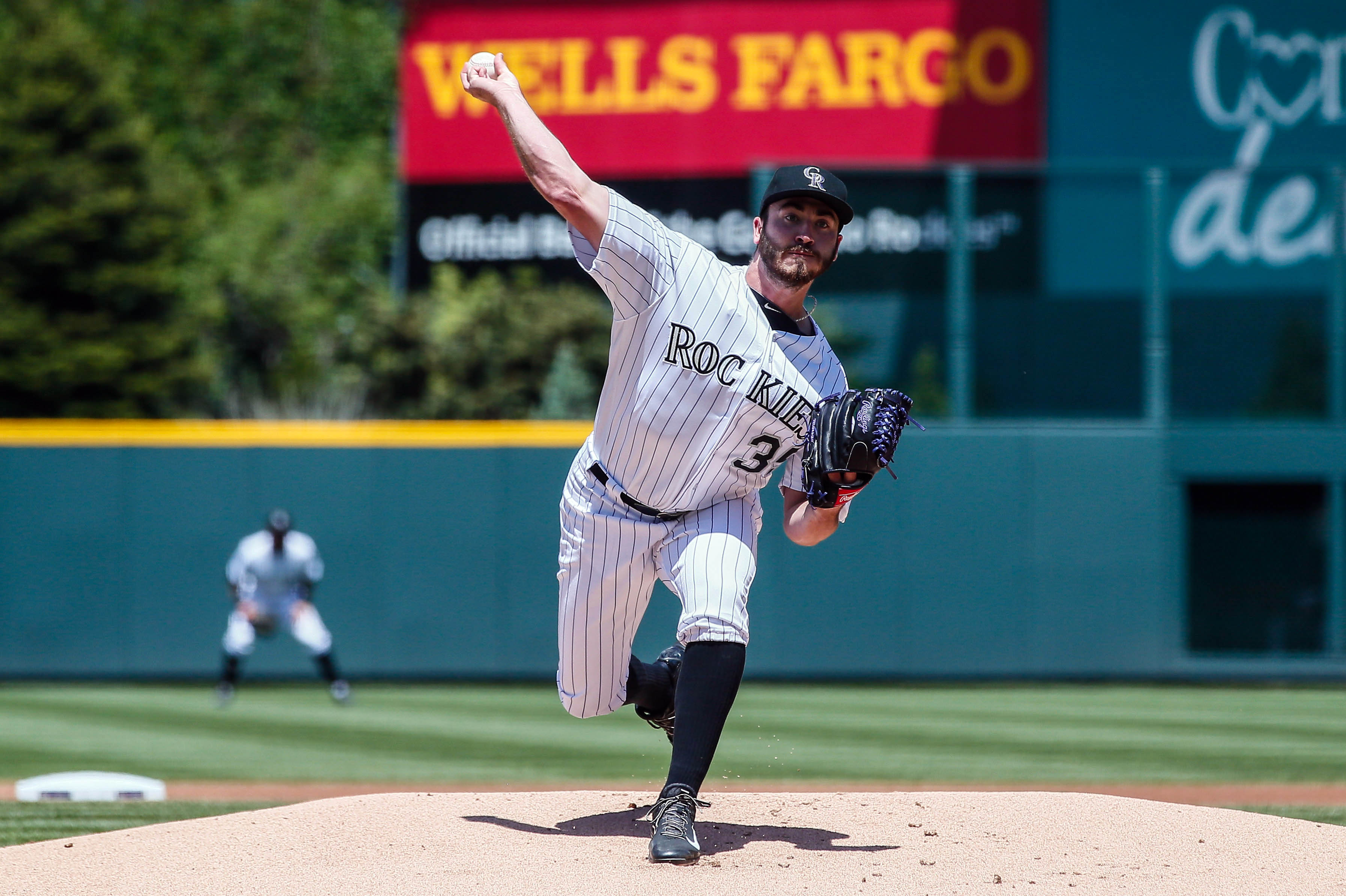 Some may say that the Rockies' rotation of three catchers could lead to "too many cooks in the kitchen," but Chad Bettis would have to disagree.
"[Having three catchers] is a little bit more beneficial than it is a hindrance, because you're able to pick everyone's brain and find their different theories," Bettis said before the game. "See what might have worked with me and [Nick] Hundley, me and [Tony] Wolters, [Dustin] Garneau and compile everything to attack hitters."
Coming into the game, the Rockies needed all hands on deck to end their home losing streak. Those "cooks" were fundamental in helping Bettis become the stopper. Bettis said it's awesome to be noted as such, but he wanted to give his team the best chance to win by commanding both sides of the plate with his fastball.
Garneau, who caught this particular game, has earned the backup position with Hundley on the DL, and Bettis is more than comfortable with his new catcher.
"We go way back to Double A. My approach doesn't waiver with a different catcher," Bettis said. "Working with him has been nice and very beneficial to both of us. It's exciting to have him back up here."
Manager Walt Weiss backed that sentiment, praising his new catcher who made his second major league appearance this season.
"Dustin takes a lot of pride in the defensive side of things. He's put together some good at bats, and I think on the offensive side he looks as good as I've seen him," Weiss said. "I don't have a lot of history with him but he is in a good place offensively. Very relaxed at the plate."
Garneau is sticking to his defensive fundamentals, as that's what he believes got him to the big leagues. He wasn't satisfied with his day at the plate, but he is asking veterans, specifically Ryan Rayburn, what makes them successful on the batter's box. When it comes to offense, Wolters and Hundley can't keep Garneau out of their ears.
"I try to pick everybody's brain I can. It's kind of like a buffet; I'm just taking what I can," Garneau said. "I've had a lot of minor league help, too. Today wasn't a good day at the plate. But I caught a win for the team so that's all I really can do. And have to do."
Even though he said that his approach with catchers is consistent, Bettis admitted before the game that his approach against the Diamondbacks has changed a little bit, especially since this is the third time he has faced Arizona this season. For Bettis, that means pitching from a place where it isn't all heart — or, rather, emotion — by throwing more change ups.
As the game progressed, Bettis' off-speed pitch that became most effective was his curveball, as it dipped in the mid-sixties.
"The curveball wasn't necessarily something I was trying out, but if it's that slow that's fine with me," he said. "It's beneficial to have separation like that, but I paid for it in the seventh inning with [Nick] Ahmed hitting one, so it's a work in progress."
Overall, the approach worked for Bettis Wednesday, as he tied a career-high in strikeouts ( eight), matching his total from July 12, 2015 against the Braves. When he left in the seventh, it was with a three-run lead, but unfortunately that wasn't enough to earn the win.
Nothing is more important than winning to Tony Wolters, who was in Garneau's backup position not so long ago. Even on his off day, he is giving his two cents to Bettis. Wolters has mirrored Nick Hundley's routine, and now Garneau is doing the same.
"I look up to [Hundley] because he keeps a good calmness to his catching," Wolters said. "He constantly challenges me to get better. We have a great friendship going on. We want everyone to succeed. It's on a deeper level than baseball. Nick and I take it to the extreme. We both believe that everyone here are brothers."
Wolters does not consider himself a mentor to Garneau, but rather vice versa.
"I really look up to [Garneau], too. I met Dustin in spring, and he's been catching for a long time too. He knows what he is doing back there. He keeps the game simple and does his job really well, and I can't wait to get to see him get a win today."
Thankfully for the Rockies, Tony Wolters got his wish.