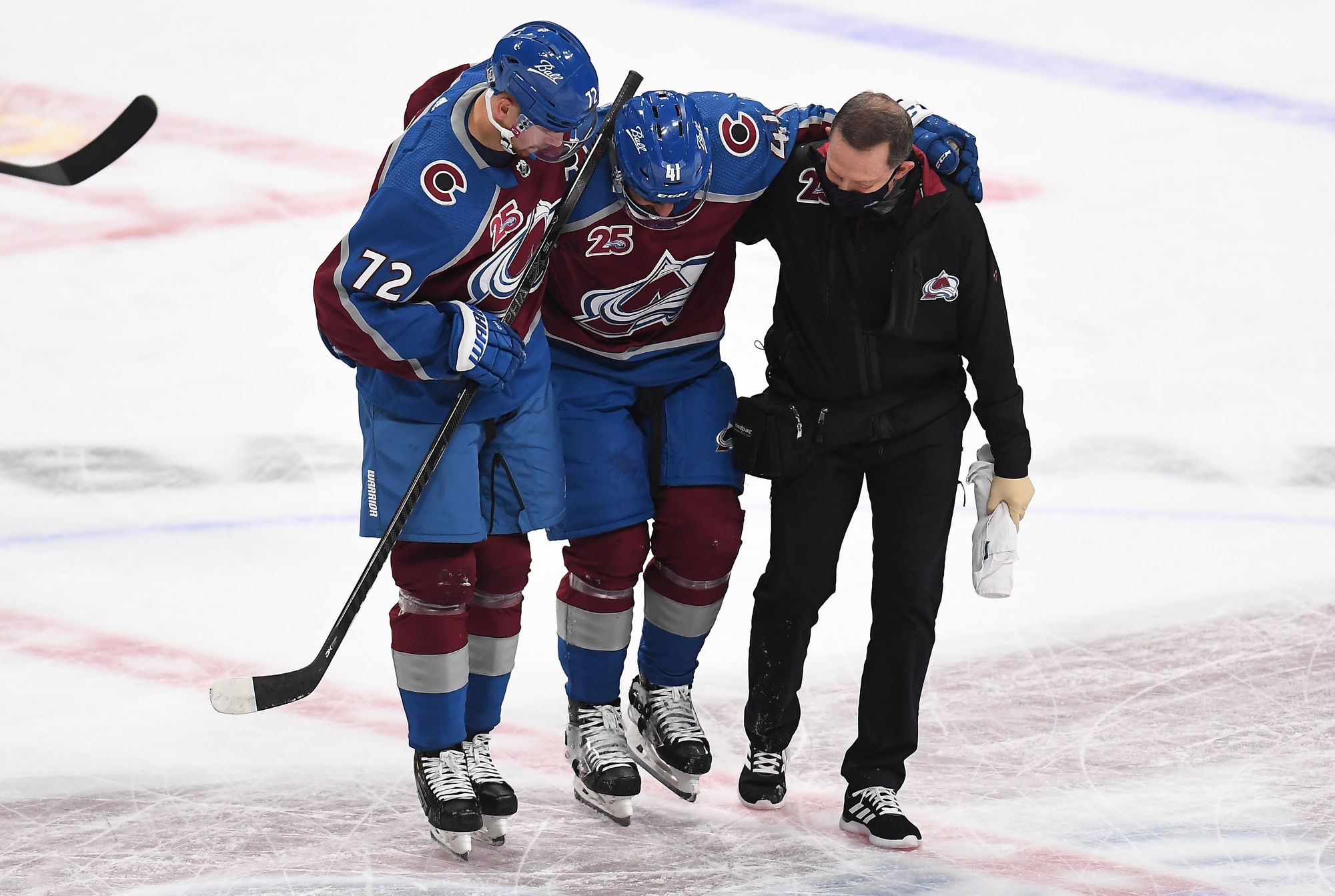 (Has anyone else noticed that the audio companion to the Altitude TV video feed is coming from the future?)
Maintaining an unrelenting sugar high—which science says isn't real but it totally is—through breakfast, lunch, and dinner is no easy feat, but it comes with the caveat of realizing that the weakened Colorado Avalanche certainly haven't been weak during what is no doubt an utterly frustrating injury stretch for both fans and players alike.
Let's start with the good news. That MacKinnon guy, the one that was so thrilled about his healthy breakfast option, is poised to return the lineup so Valeri Nichushkin can stop carrying the squad. No. 29's return to the lineup will not only allow Gabriel Landeskog or Mikko Rantanen, depending on the night, to stop playing center and return to winger activities, but it will also potentially inject some goalscoring back into the lineup.
The bad news is that the team is still without Pavel Francouz or any solid backup netminder, J.T. Compher and his catchy 877-GOALS-NOW hotline, and Erik Johnson, Cale Makar, Conor Timmins, Bowen Byram, Denis Gilbert, or like every other defenseman in the existence of the sport of hockey. And when it comes to Frankie and The Condor, it's like they're missing persons. Someone get Sherlock Holmes on the line.
For Cale Makar, hearing his return "could be as early as tomorrow or it could be two months from now" is as concerning as it is mysterious. But also what the heck does that mean?
(And also also—full transparency here—the longer he remains out the more my fantasy team suffers, and I need to beat John Reidy this week.)
Irregardless, Colorado hasn't truly suffered when it comes the the absences throughout the roster. The team hasn't lost more than two consecutive games though it hasn't won more than three in a row either. Instead, the Avs are just buoyantly floating along, winning more than they lose and winning regularly enough to be average. And average is just fine given the circumstances—and the division in which they're playing.
Sure, the club has spotted its opponent two goals in each of the previous three contests. But only two were defeats and one was in overtime, so it's like a half win-half loss.
Speaking of half wins, reporting out of Canada has revealed that at least a portion of the NHL's next broadcast rights will belong to the four-letter. That's right, ESPN, the sports arm of the evil empire of mouse, has allegedly reached a seven-year agreement to be one of an unknown number of providers beaming all the hockey content you can handle straight into your digital devices.
ESPN has already been showing hockey games digitally via ESPN+, as well, so there is some expectation NBCUniversal may leverage its new Peacock service to be a streaming competitor.
Disney's media takeover marches forward and the one millionth streaming service to exist in our lifetime may also have NHL games.
Well, at least Altitude TV-starved fans in Colorado may get to see some hockey in the future.