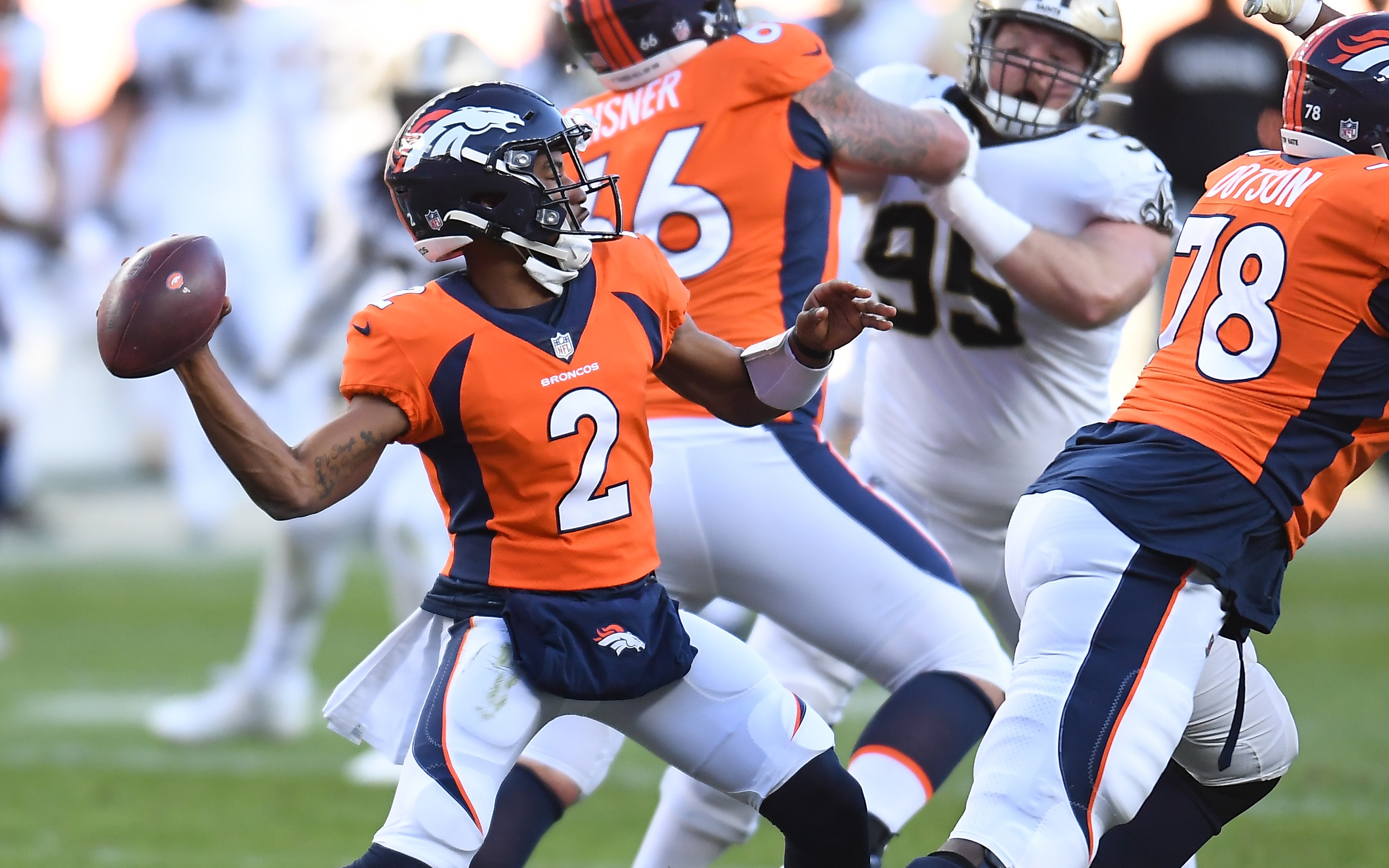 The Denver Broncos had a non-quarterback start at QB for the first time since 1965.
That should tell you just about all you need to know about this, the weirdest game in Broncos history. Or, at least, the weirdest in decades.
Just like at your Thanksgiving, the seats were empty at Mile High Stadium. On top of that the Broncos had to call an audible and change their offense completely; imagine your turkey burned to a crisp right before dinner time. And the only thing to be thankful for was when the time finally ran out.
Phillip Lindsay technically started at quarterback for the Broncos, albeit in the Wildcat offense. That's how weird a game it was.
The Broncos were without any of their quarterbacks on Sunday after the signal-callers talked to one another without their masks on. Jeff Driskel, the third-stringer, had to go home on Thanksgiving after testing positive for coronavirus.
After Lindsay, Kendall Hinton did come in, a practice squad receiver-turned-quarterback for Denver.
The backup, backup, backup, backup quarterback; who knew a practice squad player could get ready one day? That's faster than it takes a turkey to thaw!
Hinton was awful to start, going 0-7 in the first half with one interception and two more could've been picks. Then, it finally happened.
Early in the second half, Denver trailing 17-0, Hinton finally completed his first pass of the day. A nice little tight end screen to Noah Fant went for a first down.
But the next throw was his second interception. At that moment, Hinton's stat line read: 1 completion, and 2 interceptions. How weird is that? So weird, it was the first time since 1998 a team had more interceptions than completions.
Hinton was like a green bean casserole that had been left out overnight; rotten.
You can't blame the kid, he's a rookie, undrafted player who is a slot receiver on Denver's practice squad. They didn't even have a practice to get him ready, or more than 26 hours to teach him the playbook, which isn't realistic.
That's like teaching your 3-year-old to make mashed potatoes; it ain't happening.
The Broncos ran the ball with Lindsay at "QB" many more times than they threw it. So much so, Lindsay earned his first-ever fumble with the Broncos (a bad snap by Lloyd Cushenberry) and the star running back even hurt his knee, sadly.
That pushed the backup, backup running back Royce Freeman in as "QB." Both Lindsay and Freeman either kept or handed off to Melvin Gordon repeatedly, but the Broncos ran for 100 yards on 31 carries, an atrocious 3.2 yards per carry.
The only points Denver scored on the day came on a career-long, 58-yard field goal by Brandon McManus. He was the bright point; call him an Odell IPA to go with your Turkey Day.
At the end of the day, Denver passed for a mere 12 yards — which sounds like a joke — and got absolutely destroyed 31-3.
It was the first time since 1994 the Saints beat the Broncos in Denver. On that day, John Elway was injured, leaving the Broncos with their backup QB. Weird stuff, friends.
This was, without a doubt, one of the wackiest and wildest games in Broncos history, dating back to 1960. Vic Fangio even looked like the crazy uncle at the dinner table, challenging a a certain catch by Michael Thomas which, after further review, was complete as they called it on the field.
The Broncos fell to 4-7 on the season, and even if some fans believed the NFL was unfair in disqualifying all their quarterbacks before the game, this season was lost before this loss. 2020's been a weird year in general, even for us regular folks, and it's been really difficult for Denver's football team.
They've lost a ton of players due to injury, Drew Lock has been basically the worst quarterback in the league, and that was before his facemask mess-up.
This will be the fifth straight year they miss the playoffs, and we've seen many bungling Broncos games over that time. But nothing as weird, and wacky as this game.