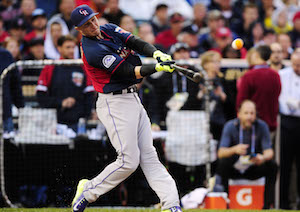 Thanks to Tuesday's nail-biter over the Phillies, the Rockies are now (at least temporarily) duking it out with Oakland for the undesirable mantle of "fewest wins in baseball."
At 14-22, a full nine games back in the division almost a week before Memorial Day, hope is fading fast at 20th and Blake.
And having lost two key contributors already this month – Adam Ottavino for the season and Corey Dickerson to the 15-day DL – good news for the club remains few and far between.
But last night's 6-5 victory, thanks to a two-out eighth inning home run from Nick Hundley, offered some glimpses of hope for the Rockies. Specifically, that the club could land more than one All-Star come July.
Here's a quick look at the candidates and their cases for Cincinnati…
Nolan Arenado | 3B
The Gold Glove third baseman should be a lock, if just for his defensive prowess, but he's also putting up offensive numbers that could translate to the best year of his young career.
His .273 batting average is just a few hundredths below his career number. He's already sitting at seven home runs through 34 games, putting him on-pace for 34 for the year – nearly double his career high. He's also nearly a third of the way to his RBI total from last year, which was also a career high.
Fans across MLB are used to seeing Arenado flash the leather; this could be the year he shows them what he's capable of doing with the lumber.
If the Rockies only place one player on Bruce Bochy's National League squad, Arenado is the safe bet. But there are three more who could, and maybe should, make the midsummer classic roster…